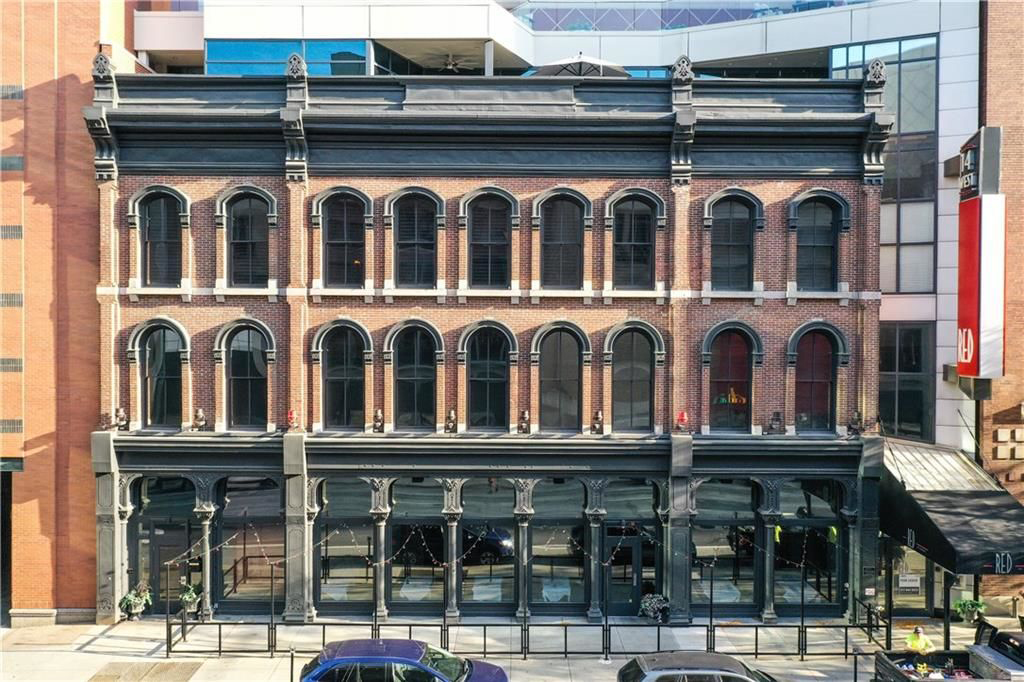 A 145-year-old building by Circle Centre mall in downtown Indianapolis is up for sale again, this time with an asking price of $4.95 million for the vacant restaurant space on its first two levels and a massive condominium up top with a rooftop deck.
The former Red the Steakhouse building at 14 W. Maryland St. hit the market last month, after repeated unsuccessful efforts by building and condo owner Jeff Laskowski to lease the 10,600-square-foot restaurant to a new user and a past failed attempt to offload the living space.
"He loves to work on projects, and he's done with this project and he wants to move on to something else," said Robert Lather, a residential broker with the Robert John Realty Group at Century 21 Scheetz. He is one of two primary brokers on the property.
Lather is representing the condominium space, while C21 Commercial Scheetz managing broker Tommy Kiritsis is in charge of the commercial side.
Kiritsis said the space "is perfectly suited for another high-end restaurant" like Red, which closed in late 2018 amid its parent company's bankruptcy.
In fact, Eddie Merlot's, an upscale steakhouse chain based in Fort Wayne, signed a lease to move into the space in 2019, but those plans were ultimately derailed by the coronavirus pandemic.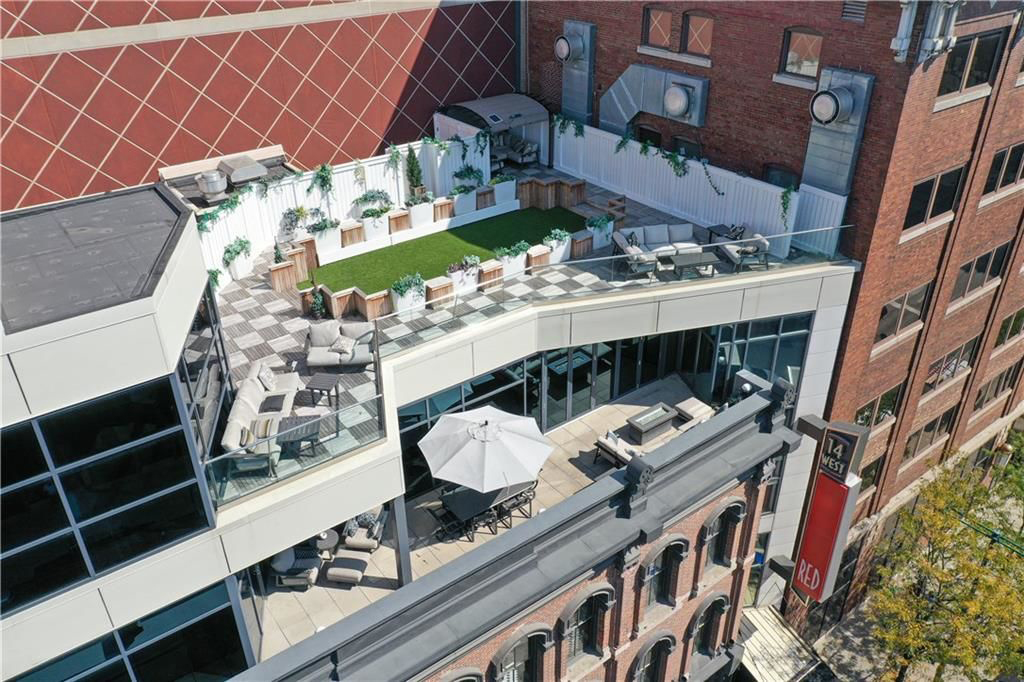 The building was constructed in 1876 and was known as Elliott's Block for many years. It was a warehouse annex for L.S. Ayres Co. before being used by the Indiana News Co. It was converted from office use to retail and residential space during a 1999 renovation that converted it to an upscale restaurant known as Malibu on Maryland, featuring upstairs hotel suites on the third level. A fourth level was added as a penthouse with a rooftop deck.
Local investor Richard Coombes, who led the revamp, sold it to Carter M. Fortune. The local businessman and philanthropist died at age 70 in August 2012. Fortune was chairman of locally based Fortune Industries, a publicly traded company before undergoing a restructuring.
Laskowski, the former CEO of west-side portable saw-mill manufacturer Wood-Mizer Products Inc., bought the four-story structure from a Fortune family trust for about $3 million in early 2014. He renovated the top floor and part of the third floor into a residence for himself, but later decided he didn't need so much space.
The condo features four bedrooms, four full bathrooms and three half-baths, along with a theater, a library and a rooftop deck. Laskowski also struck a deal with Simon Property Group for direct access to Circle Centre and a cordoned-off three-car garage inside the existing mall parking garage.
While two of the four suites on the third floor of the building were removed to make way for Laskowski's condo expansion, the remaining two feature their own kitchens, sitting areas and washers and dryers. They also boast exposed brick and wood beams to give the spaces a more industrial feel.
The owner told IBJ in 2017 he spent about $2 million on all the renovations to the property.
Lather said Laskowski "isn't really in a hurry" to sell the building. He doesn't occupy the condominium himself, but is instead looking for someone who can make adequate use of the property.
"We're just looking to see if there's the right buyer out there," Lather said. "We've definitely had a lot of interest in the property. It's just trying to take somebody with a unique vision to come in and see the potential within it."
Kiritsis said he thinks the building will "demand a high price," but didn't explicitly say whether he expects any offers to hit the asking price. He noted the building's proximity to various downtown amenities and the fact it includes a restaurant, a condo and smaller apartment-style units makes it an attractive building for a variety of users.
The current asking price is actually more than $1 million lower than what Laskowski had been looking for when he first listed it, asking $5.99 million in 2017 for only the condo space.
Kiritsis said several prospective buyers, ranging from developers to entrepreneurs, have expressed interest in the property, with a few offers already submitted. There's no set date for when the brokers will stop accepting offers for the property.
Some of the proposed uses have included turning the condo and apartment units into Airbnbs or converting the building into some kind of small boutique hotel or other hospitality use.
Bill French, a retail broker with the Indianapolis office of Chicago-based Cushman & Wakefield, said he's optimistic the building will be sold sooner rather than later. He also said any restaurant that locates there will likely need to be higher-end.
"It's really a unique location and requires a special restaurant," he said. "It's probably going to need to be a 'white tablecloth' or higher-end operation."
He said he's unsure who would most be interested in buying the property, whether an individual who would own and operate a restaurant and live above it, or an owner who lives above and leases the space to another user.
Either way, he said, a buyer would need to be well-capitalized to have long-term success with a building that includes a restaurant component.
George Tikijian, a multi-family broker with Cushman & Wakefield, said he believes how well Circle Centre does in the coming years will have a big impact on how well the West Maryland Street building performs in the years ahead.
There has been some positive movement for the mall of late. The cigar bar Burn by Rocky Patel opened at the southwest corner of Maryland and Meridian Streets last year. And Sugar Factory, another dining concept, will open in late 2021 in the former Palomino space. at Maryland and Illinois streets. In addition, CoHatch, a co-working collective based in Columbus, Ohio, is set to open an outpost at Circle Centre this summer.
But the mall also recently handed management duties off to JLL, after more than 20 years of being overseen directly by Simon Property Group. It's not clear yet what that will mean for the future of the mall. Simon is still overseeing retail leasing for the property, although CBRE has the leasing contract to market vacant second and third floor space in the old Carson's building for office users.
"I think what happens with the mall probably has the biggest impact on the viability of that building," Tikijian said. "And who knows how long it's going to be before we know what's gonna happen there, over time?"
Please enable JavaScript to view this content.