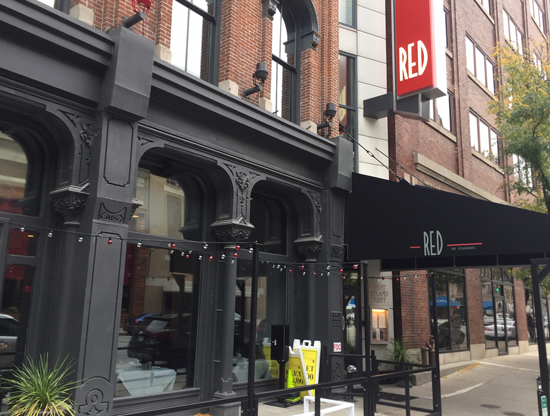 Downtown's crowded steakhouse scene will get another player next summer when Eddie Merlot's, an upscale steakhouse chain based in Fort Wayne, intends to open a location at 14 W. Maryland St., one of downtown's oldest buildings.
Eddie Merlot's plans to take over the space vacated last year by Red the Steakhouse, which folded after its Cleveland-based parent, Red Restaurant Group, slid into Chapter 11 bankruptcy.
It will be the third Indiana location for Eddie Merlot's, which also has steakhouses on the north side of Indianapolis just east of the intersection of 96th Street and Keystone Avenue, and in Fort Wayne. Altogether, the company has 13 locations in nine states. It is owned by Platinum Restaurant Group LLC.
The restaurant will offer a similar menu to other Eddie Merlot's locations, President Geoff Stiles told IBJ on Thursday. However, the décor will be more modern, with a design that includes gray, black, metal and granite instead of the chain's traditional earth-tone décor.
Based on the ground floor, the two-level restaurant will have seating for about 200, pending approval by the city health and fire departments. Once it opens, the restaurant will have about 75 full-time and part-time employees. Wages will be competitive with other restaurants, Stiles said.
The notoriously crowded downtown steakhouse scene features more than a dozen players, including St. Elmo Steak House, Ruth's Chris Steak House and Morton's the Steakhouse. Yet the sector has been going through a shakeout in recent years, with some big names closing locations.
In addition to Red the Steakhouse, others that have closed include CharBlue Steak & Seafood on East Washington Street and Shula's Steak House in the Westin Indianapolis hotel. Other significant restaurants that have recently closed their doors downtown include Palomino and Hard Rock Café.
Platinum Restaurant Group is privately owned. Revenue last year was between $50 million and $100 million, Stiles said.
Eddie Merlot's bills itself as high-end steakhouse, where all steaks are hand-cut in-house, and the meat is free of hormones, antibiotics and steroids,  according to the company's website.
"We feel we are very competitive in the quality of our food,"  Stiles said. "Our hospitality is superior to most of our competitors. We offer a very comfortable environment for our guests."
The chain's dinner menu features a wide variety of steaks, from 7-ounce filet mignons for $37.95 to 20-ounce chateaubriand for two (with one side) for $99.95. The menus also offer seafood, soups, salads, sides, appetizers and an extensive wine list.
The red-brick, Italianate building at 14 W. Maryland St. was constructed in 1876. It was known as Elliott's Block and was home to Indiana News Co. after serving as a warehouse annex for L.S. Ayres Co.
An extensive renovation in 1999 transformed the space into an upscale restaurant known as Malibu on Maryland with upstairs hotel suites. Local investor Richard Coombes, who led the revamp, sold it to Carter M. Fortune.
The business had been a passion project for the local businessman and philanthropist, who died at age 70 in August 2012. Fortune was chairman of locally based Fortune Industries, a publicly traded company before undergoing a restructuring.
Jeff Laskowski, a former CEO of Wood-Mizer Products Inc., a west-side portable saw-mill manufacturer, bought the 20,000-square-foot building in 2014.
Please enable JavaScript to view this content.