Former Indianapolis stockbroker Thomas Buck, 66, who currently is serving time in federal prison for securities fraud, has been denied his request for compassionate release over COVID-19 concerns.
Buck, who had been a top producer at Merrill Lynch, pleaded guilty to one count of securities fraud and in February 2019 was sentenced to 40 months in prison. He is serving his time at the Terre Haute Federal Correctional Institution.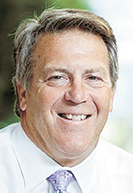 In May, Buck filed a federal court request to either have his sentence shortened to time served or to be placed on home detention for the remainder of his sentence because his age and health issues, including asthma and an immune system disorder, put him at higher risk of complications from COVID-19.
On Tuesday, federal judge James R. Sweeney II denied Buck's request, in part because Buck's health conditions were not serious enough to place him at risk.
Sweeney wrote in his ruling, "Mr. Buck's asthma is well-controlled to the extent that he does not even require the use of an inhaler," noting that medical records show Buck has not been prescribed an inhaler since August 2017.
Buck also argued that he had been diagnosed with an immune system disorder— immunoglobulin M deficiency—which made him more prone to respiratory tract infections. But, Sweeney wrote, Buck has not been treated for this deficiency in recent years, and "Mr. Buck has not established that he still suffers from this deficiency such that it would compromise his immune system if he were to contract COVID-19."
The judge also noted that an April 2019 blood test showed Buck's globulin count to be within the normal range.
Regarding Buck's age, Sweeney said that it was "a legitimate risk factor" but not enough on its own since Buck has otherwise been in good health during his incarceration.
The judge also noted that Buck has had a good conduct record while in prison, and that he is not a danger to the public and is unlikely to reoffend.
Buck's attorney, Pat Shoulders of Evansville, told IBJ that his client still hopes he will be granted compassionate release.
Shoulders cited a March 26 memo in which U.S. Attorney General William Barr directed federal prisons to transfer inmates to home confinement "where appropriate," considering the inmate's age, health vulnerabilities, criminal offenses and other factors.
A subsequent memo issued by the Federal Bureau of Prisons on April 22 said eligible prisoners who had served at least 50% of their sentences or who had 18 months or less left to serve would be prioritized for release to home confinement.
As of July 20, Buck will be within 18 months of his release date.
"Keeping him any longer in a place where COVID has struck and where social distancing is impossible is simply absurd," Shoulders told IBJ via e-mail Wednesday.
According to the Federal Bureau of Prisons, the Terre Haute Federal Correction Institution has had three inmates test positive for COVID-19 to date. The prison has tested a total of 154 inmates, including 13 inmates whose results are pending.
Buck is not the only local example of a white-collar prisoner seeking compassionate release for reasons at least partly related to COVID-19.
In April, the former CEO of Pharmakon Pharmaceuticals, Paul Elmer, 69, asked a federal judge to grant him compassionate release from federal prison in Terre Haute due to his age and medical conditions—including Type II diabetes, sleep apnea, vertigo and osteoarthritis.
Elmer's request is pending in U.S. District Court in Indianapolis.
In January, the founder of defunct debt-collection agency Deca Financial Services Inc., Todd Wolfe, filed a motion seeking compassionate release from the Big Sandy U.S. Penitentiary in Inez, Kentucky.
Wolfe argued that the Bureau of Prisons had failed to properly credit him for good conduct and for pursuing productive activities during his incarceration. If he had received that credit, Wolfe argued, he would have been eligible for release in June 2019 to a residential re-entry center in Indianapolis.
After the COVID-19 pandemic hit, Wolfe's attorney argued that his client's request had become more urgent.
On May 22, federal judge Tanya Walton Pratt denied Wolfe's request.
Please enable JavaScript to view this content.