Former U.S. Surgeon General Dr. Jerome Adams has agreed to provide health-related reporting for WISH-TV Channel 8 as its resident "medical expert."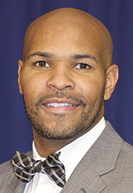 "I look forward to providing non-partisan news, information, and knowledge regarding health and medicine to viewers, their families, and all communities in the state of Indiana," Adams said in a media release.
Adams served as surgeon general in the Trump administration from January 2017 to January 2021. Prior to that position, he was Indiana state health commissioner from 2014 to 2017. He was first appointed to the position by former Gov. Mike Pence, who went on to become vice president in the Trump administration.
Adams has strong connections to Indianapolis. He attended Indiana University School of Medicine as an Eli Lilly and Company Scholar. He completed his internship in internal medicine at St. Vincent Hospital in Indianapolis and his residency in anesthesiology at Indiana University.
After his tenure as surgeon general, Adams returned to Indiana and currently practices medicine in the Indianapolis area.
WISH is the city's only locally owned television station, as a subsidiary of Indianapolis-based Circle City Broadcasting.
"We are always focused on providing the highest-quality content in our newscasts, original programming, and the addition of Dr. Jerome Adams will further enhance our local and statewide medical news content," said DuJuan McCoy, owner and CEO of Circle City Broadcasting.
It wasn't immediately clear how often Adams would appear on WISH newscasts.
Adams also received a masters of Public Health degree from the University of California, Berkeley, with a focus on chronic disease prevention.
Please enable JavaScript to view this content.