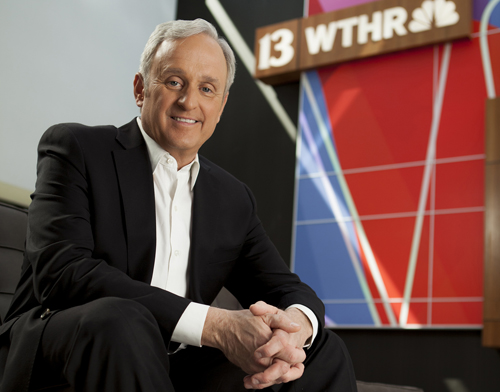 John Stehr, a news anchor at WTHR-TV Channel 13 for nearly 23 years before retiring in 2018, plans to run for mayor of Zionsville, he said Tuesday.
Stehr, a 28-year Zionsville resident, currently serves as president of the town's Board of Parks and Recreation. He told IBJ he began thinking about running for mayor about a year ago.
"I have had a lot of interaction with the town council and with town departments, and I just see an incredible lack of communication is going on, and I think it's holding Zionsville back from achieving the goals that I would like to see Zionsville achieve," Stehr said.
Stehr, 64, said his priorities if elected would include focusing on Zionsville's finances, the town's growth, public safety and mental health.
"We should be providing city services as efficiently as we can," Stehr said. "We need to be supporting our local businesses. And we need to have a plan for what the town is going to be in 25 or 30 years."
Stehr's career in TV journalism spanned more than four decades. He came to WTHR in 1995 from CBS News in New York, where he was a network correspondent and anchor for CBS Morning News. Stehr also was a founding anchor of CNBC.
Prior to that, Stehr worked as an anchor and reporter at KUTV-TV in Salt Lake City, Utah; WISH-TV in Indianapolis; WOTV-TV (now WOOD-TV) in Grand Rapids, Michigan; and WJET-TV and WSEE-TV in Erie, Pennsylvania.
Stehr is the second Republican mayoral candidate to file to run in the May 2, 2023, primary election. Jane Burgess, who served on the Zionsville School Board from 2008 to 2020, previously announced her campaign for mayor.
Mayor Emily Styron has not publicly announced if she will seek re-election next year. Styron, a Democrat, defeated former Mayor Tim Haak by 88 votes in 2019.
Zionsville, which reorganized its system of government in 2014, is one of two towns in Indiana to have an elected mayor. The reorganization merged Zionsville's government with Perry Township in southeastern Boone County and created the position of mayor to serve as the town's chief executive.
Stehr lives in Zionsville with his wife, Amy. The couple have three sons and three daughters.
Please enable JavaScript to view this content.