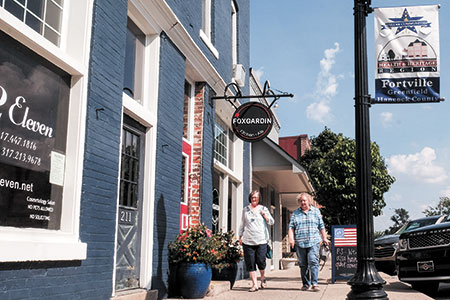 The next few years will be big for Fortville as it launches several projects near downtown that aim to make the area more pedestrian-friendly and draw in more businesses.
The town of 4,000 plans to use state and federal grants to speed up projects that will enhance quality of life for existing residents as well as prepare the community for a surge of new residents expected as Fishers' population and housing boom moves east.
Late last year, town leaders learned Fortville (and its partners, the city of Greenfield and Hancock County) was one of two regions chosen for the Indiana Office of Community and Rural Affairs coveted Stellar Communities Award. The recognition comes with about $15 million in funding to help facilitate a wide range of capital improvement projects.
In Fortville, those projects include:
◗ reconstructing two busy thoroughfares to make them more pedestrian-friendly, which should encourage private investment;
◗ building a mixed-use development on the site of a former car wash and vacant land;
◗ and constructing a trail connecting downtown to the nearby school campus.
"A lot of these different pieces have been in the planning stages for a very long time in one fashion or another, and now, and in the coming years, we'll start to see that come to fruition," Planning Administrator Adam Zaklikowski said.
Over the past few years, Fortville has seen its historic downtown blossom with new shops and restaurants that draw in customers from surrounding communities.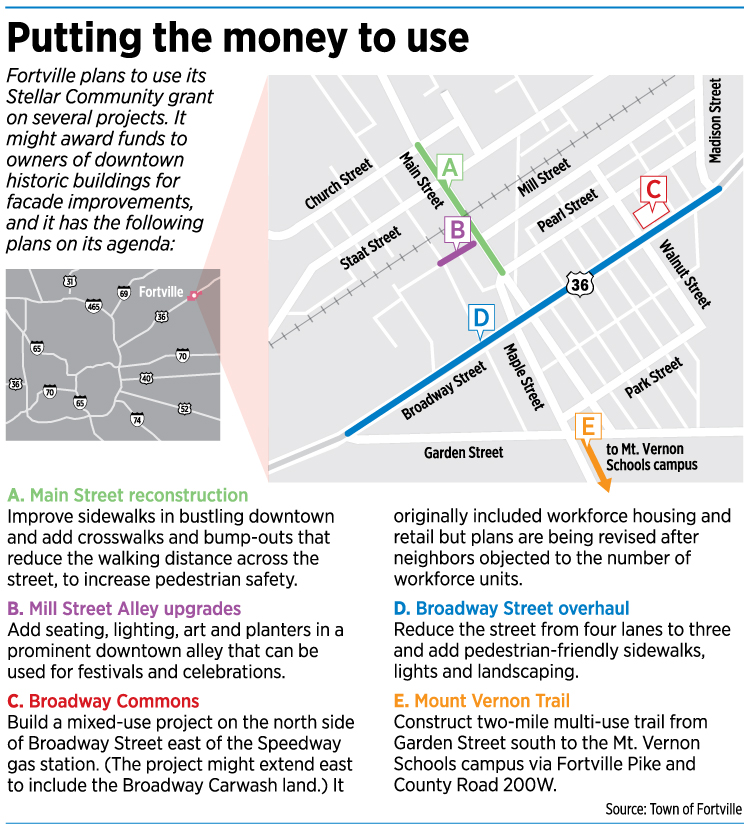 There's FoxGardin Kitchen & Ale, Taxman Brewing Co. and Cortona's Italian Cuisine and Wine Bar. They join such existing businesses as 305 Wine Garage and Boardworks Studio.
While Fortville has not seen its population grow as quickly as neighboring McCordsville, it has seen steady growth over the past 10 years, and more is coming.
The town has approved plans for more than 500 new homes within town limits. Some of that construction already has begun, with 50 single-family building permits filed in the first six months of this year. For a community Fortville's size, that's significant, Town Manager Joe Renner said.
The various projects Fortville is embarking on aim to create a community where people can live and play, town officials say.
"First and foremost, all of these different projects we're hoping will enhance quality of life in the area for existing residents and new residents and visitors as well," Zaklikowski said.
The projects will also help Fortville shape its future as growth and developers move in, Renner said.
"A big part of what we're trying to do is preserve what we've got—the heritage and the feel for the small-town community," he said. "By us taking a lead role in that and shaping what we see it becoming, then we have a little more control of our destiny."
Main Street upgrades
First on Fortville's to-do list is a long-anticipated face-lift for Main Street that will make the corridor more pedestrian-friendly.
Main Street is the town's small-business corridor and serves as its downtown. As such, it sees heavy pedestrian traffic. In 2014, the town adopted a downtown plan that included upgrades to Main Street, which are expected to begin next spring.
Sidewalks will be resurfaced and widened to become compliant with the Americans with Disabilities Act. In addition, workers will add crosswalks and bump-outs (which reduce the distance a person needs to travel to cross the street), improving pedestrian safety.
"Overall walkability of the community is what we're trying to enhance," Renner said.
Additionally, the town will add a four-way stop at Staat and Main streets, plans show.
The project, estimated to cost $2.5 million, also will tweak parking, making it easier for cars to get in and out of spaces, and beautify the corridor with new lighting and trees.
Town officials hope the pedestrian-friendly changes will also leverage more private investment.
"What this project does is basically freshens up and enhances the infrastructure on Main Street," Zaklikowski said. "You'll still have that quintessential Midwest feel."
Fortville announced the project long before becoming a Stellar Community finalist and already had lined up funding to pay for it. Still, the community includes it on its list of priority Stellar projects.
Grant funding could go toward other infrastructure improvements, as well as toward further enhancing Main Street facades, where many building owners already have started upgrades, Zaklikowski said.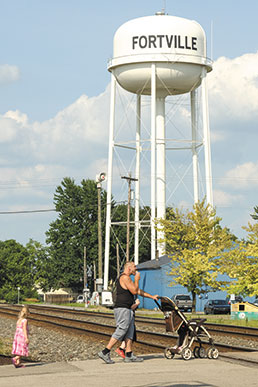 Broadway changes
Another big road project coming is a so-called "road diet" for U.S. 36, known locally as Broadway Street.
The project, funded with $2 million from the Indiana Department of Transportation, will shrink the roadway from Garden to Madison streets from four lanes to three for pedestrian focus and safety. The town will pay to add sidewalks and landscaping.
INDOT is working with a consultant to design the plans, and construction is expected to start in 2022.
When Fortville adopted its downtown master plan in 2014, it called for extending Main Street's small-town feel to Broadway Street. But the road's current layout makes that difficult to achieve.
Cars travel about 40 mph on Broadway, with two lanes of traffic in both directions, making it dangerous for pedestrians to cross the street or even walk along it, Renner said.
The road redesign, coupled with new standards that call for buildings along Broadway to be constructed along the right of way rather than set back, should help foster an urban ambiance. Once the redesign is complete, town officials will market the largely dilapidated corridor for new development that matches what's already on Main Street.
At least one redevelopment project is already in the works.
Zionsville-based Forza Commercial Real Estate plans to build a mixed-use project on the north side of Broadway between Walnut and Madison streets. Specific plans, however, haven't been finalized.
Forza would develop the project on two parcels of vacant land east of the existing Speedway convenience store. The project also potentially could involve redeveloping the Broadway Carwash site at 509 E. Broadway St. Forza already owns adjacent land at 407 and 421 E. Broadway.
As initially described in Stellar documentation, the project called for constructing two buildings with commercial and residential uses. One would have contained 40 workforce apartments and about 2,500 square feet of commercial space. (Workforce housing is for households with earned income that is too low to afford housing in reasonable proximity to the workplace.)
The second would have been about 13,000 square feet, with first-floor commercial space and five market-rate apartments upstairs.
But when the project went before town and county officials for zoning approval, many residents balked, saying they didn't believe residential uses were a good fit for the area.
Now, Forza—whose leaders did not return calls seeking comment for this story—has removed the workforce housing and is reworking the project before coming back to town officials for approval, Zaklikowski said.
Other projects
Several other downtown projects are included in the Stellar plans, including a roughly $5.5 million, two-mile trail connecting the Mt. Vernon Schools campus to downtown, the town's two most-traveled areas.
The project, which is partially funded by Fortville's metropolitan planning organization, is in the process of being designed. The design team will give a presentation and take questions at a public meeting later this month.
The trail would be phase 1 of a larger proposed trail that would eventually connect Fortville to neighboring Greenfield.
Other projects in the plan include sprucing up a downtown alley for festivals and other events, extending Madison Street to connect Broadway Street and Fortville Pike, which would reduce semitrailer traffic on Broadway. Those will likely be funded locally or with metropolitan planning organization grant funding.•
Please enable JavaScript to view this content.