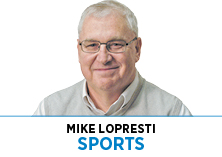 How long can the shadow from a shattered dream last? Years? Decades? A lifetime? Here are four men to tell you.
They are in their 50s now. The former CEO, the broadcaster, the judge, the coach. Once upon a time, they were teenagers playing high school basketball in Indiana, for what could well have been the craziest afternoon session in the history of the state finals. Two semifinal games, both decided with no time on the clock, by plot twists that nobody there could forget. Especially those who lost.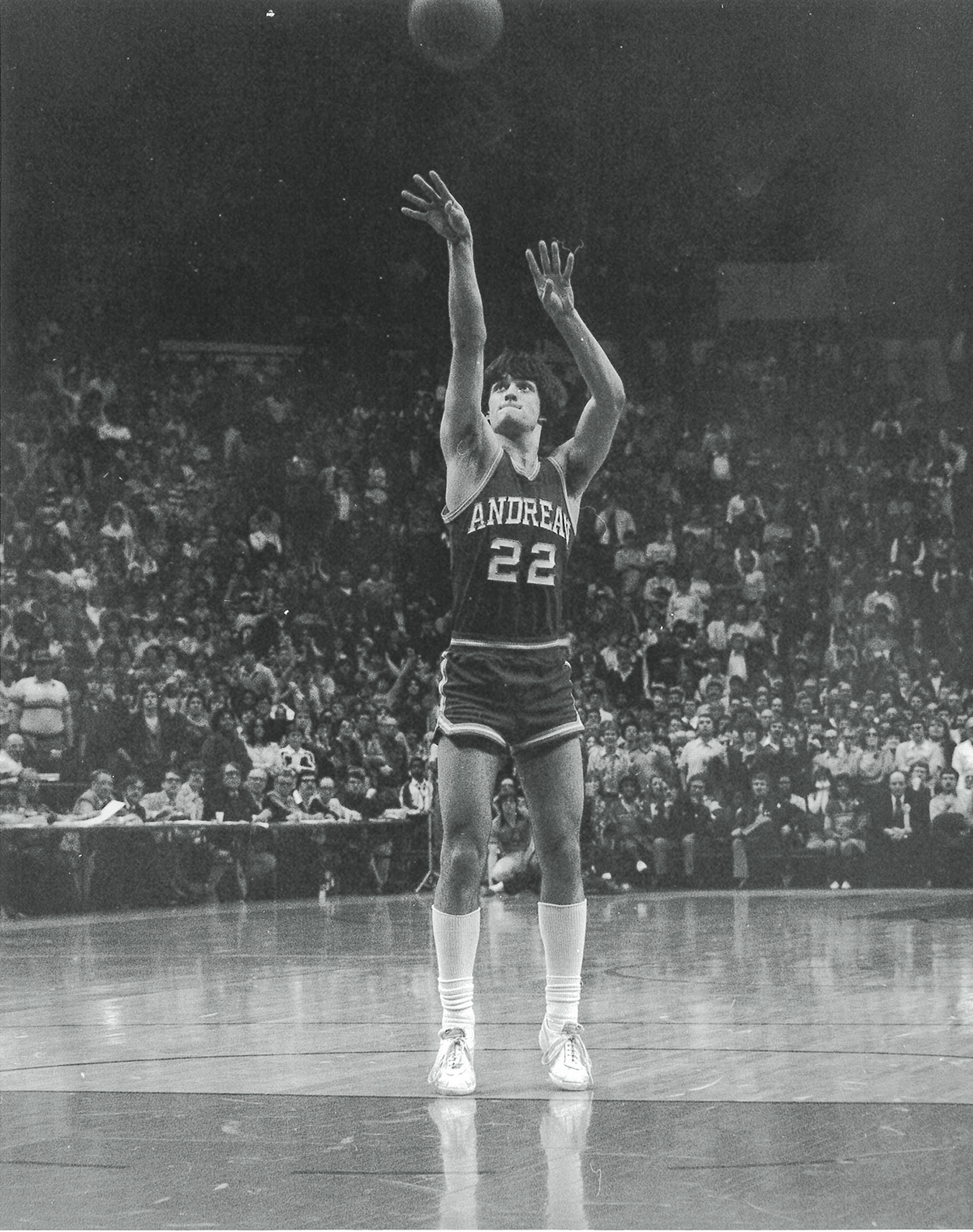 On March 29, 1980, four teams with a combined record of 103-5 gathered in Market Square Arena. In the first game, unbeaten New Albany led the Andrean Fighting 59ers—newcomers to glory with only two sectional titles in their history—by 16 points in the second half. But then the Andrean junior star got hot and the lead melted to 69-68, and a senior 59ers guard was fouled as time expired. Two free throws. The scoreboard showed 0:00. He could make one to force overtime, two to win it right then and there.
He missed both. Game over. The entire state looked on with sympathy at the poor kid. Even—as they would later find out—the governor of Indiana. Forty years later …
Mike Paulsin, the CEO who missed the free throws: "There are days when you never get over it. I will have occasion when I think about it, I'm sure, until my life on Earth ends."
Dan Dakich, former Indiana University Hoosier now known for his radio and TV work, and the Andrean star who scored 32 points that day: "Every day for 40 years at some point in the day, I've thought of it."
In the second game, Marion and Indianapolis Broad Ripple changed leads a dozen times. A Marion player slipped inside for a basket to tie the game 69-69 with one second left. But in the frenzy, his teammate thought the Giants were behind, and called a timeout. The Broad Ripple Rockets used that one second to create a miracle. The inbounds pass went to Stacey Toran, who turned, fired and banked in a 57-footer. Game over. Forty years later …
Jeff Todd, the Grant County Superior Court judge who scored the Marion basket for the tie: "I've never gotten over it. That's the honest truth. I watched it once on YouTube. I'll never watch it again."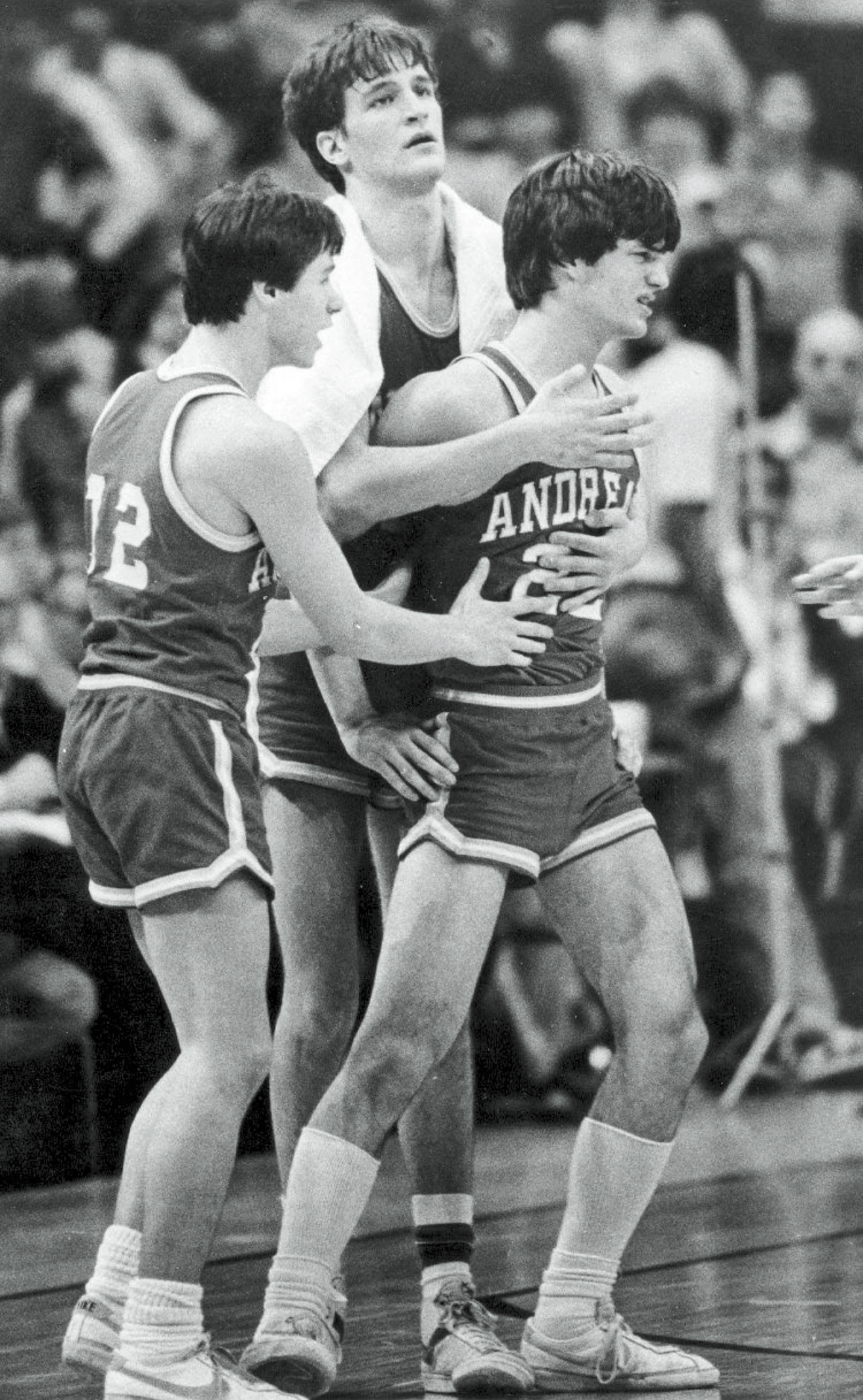 Joseph Price, now head coach at Central State University in Ohio, was the player who called the timeout: "Every day I think about it, even when I'm coaching here. We just lost at Kentucky State on a last-second shot and I immediately had a flashback to Broad Ripple."
The crazed session had just ended that afternoon when the TV broadcaster asked a spectator at courtside to describe what had just happened. "I don't think, in as many years as I've been watching state championship play around the country, that I've seen two better semifinal games," the man said.
Bob Knight.
Broad Ripple beat New Albany that night by seven points, but to those left behind in the afternoon, that's fine print. They took home the anguish, like an unwanted souvenir. It's still there, 40 years later.
Dakich: "I think to this day [that], if that game goes to overtime, we're going to win. I remember telling Mike when I walked by, 'Just make one. I'll win it for us in overtime; just get us to overtime.'"
Paulsin: "Everybody says, 'Were you nervous?' I don't know. Coach said, 'Get them over the front of the rim.' They were both long. I guess I was a little jacked up."
Todd, who was in the tunnel, waiting to play the second game: "I was thinking, 'I'm hoping that doesn't happen to me. I don't ever want to be in that position.' I felt awful for the kid. Hopefully, he's gotten over it. But I think he's probably like me. He hasn't gotten over it, but he's learned to live with it."
Dakich: "I remember hugging Mike after he missed them and being like, 'Man, we've got to get Mike off the court.'"
The New Albany coach, Jack Ford, whispered a few supportive words to Paulsin. Andrean Coach Dan Rogovich made it a personal mission to soothe his senior, which means something to Paulsin to this day. The Paulsin family dog is named Rogy.
By the following Wednesday, stacks of mail started arriving at Paulsin's home and at Andrean High School.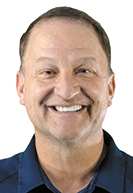 Dakich: "I remember letters from priests and nuns who were going to say prayers for him."
Paulsin: "I got hundreds of letters. There wasn't an insulting or negative one in the batch. I got one from the governor [Otis Bowen], which was, like, six pages of handwritten notes. And I got a really nice one from Bobby Knight. I've got that framed and in my office."
By then, Paulsin and Dakich had shifted to baseball—Paulsin's first love and best sport.
Dakich: "We had a rule as a pitching staff, anybody [on the other team] who says anything about Mike's free throws, you've got to hit the guy in the head."
Paulsin: "I think that was an unwritten rule that was not sanctioned by the baseball coach."
Dakich: "The next weekend, I think, we're playing Hammond Gavit and I'm pitching and Mike gets up to bat in the first inning and tries to bunt. No. 12—I'll never forget that—said, 'You bunt like you shoot free throws.' Everybody looked at me and I said, 'I got him.' I threw three straight at him."
There's more. In mid-April, Paulsin took an awkward slide into second base. Dislocated left ankle, broken leg, out for his senior season. How could he not think the world had turned against him?
Paulsin: "That's tough to take. You're 17; I'm not sure you know what you're thinking. It's only after the years have gone by that you think, 'Well, if you don't like today, wait until tomorrow.' You get to decide whether it changes your life or not."
Dakich: "The good part is, Mike became the CEO of a big company in California and made more money than God."
Paulsin is now a business consultant and owns a farm in Utah. But 1980 is still there. Take the time he spoke to hundreds of salespeople at a business seminar. A recession was imminent, and there was talk of hard times. Paulsin put up a film clip of a teenager missing the two biggest free throws of his life.
"I know about hard times," he told the audience.
He has learned to use them. "I have regrets about a lot of things in my life, but I don't have any regrets about that, because I tried my hardest. I think the older I get, the more valuable I think in retrospect it has been. Certainly, it's part of your psyche. It's part of me. I've been involved with youth sports for probably 30 years. I can't explain how much it creates a little bit of empathy, especially for kids who miss a couple of shots or strike out and think it's the end of the world. I can say, 'Hey, it's going to be OK.'
"There wasn't a person—other than maybe a couple of guys who our pitchers threw at—that weren't anything but really nice and polite and understanding. That's how I'll always remember it.
"Life's been good to Mike."
Paulsin has a 21-year-old son, Michael, who loves trampolining. Not long ago, Michael took a spill. Dislocated ankle and broken leg, only the right instead of the left. Father Mike: "I said that, between us, we have two good ankles."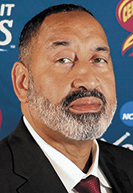 His was only half the tale of heartbreak that 1980 day.
Price: "It's hard every time I think about it—things I coulda, woulda, shoulda done to change the outcome. Had I made that open 15-footer or had gotten that steal. I try not to think about the timeout. I think we were maybe a little bit discombobulated. But who would have thought they would make a shot like that?"
Todd: "Watching [Toran's shot] sail over my head, it was really strange because, in my mind, the whole arena was silent. I could actually hear the ball hit the backboard because he banked it in. It went in and I remember there was this period of silence that continued for maybe a second because people were in disbelief. And then a complete eruption."
The Giants had to return that night to watch the championship game. It was an awful feeling, even when the IHSAA announced the Trester Award would go to … Jeff Todd.
"There's no way I savored it that night. That was just impossible. I'm very proud and fond of the award, and it's served me so well over time. But when I received it, it felt like a consolation prize.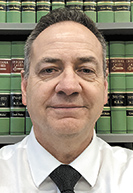 "I'm looking at it right now. It's in my office."
Marion lost in the final seconds in the semifinals in 1968 and 1969, and a key Giant was Jovon Price. In the stands those days was his little brother. "Dreaming," Joseph said, "that one day I'm going to be back here."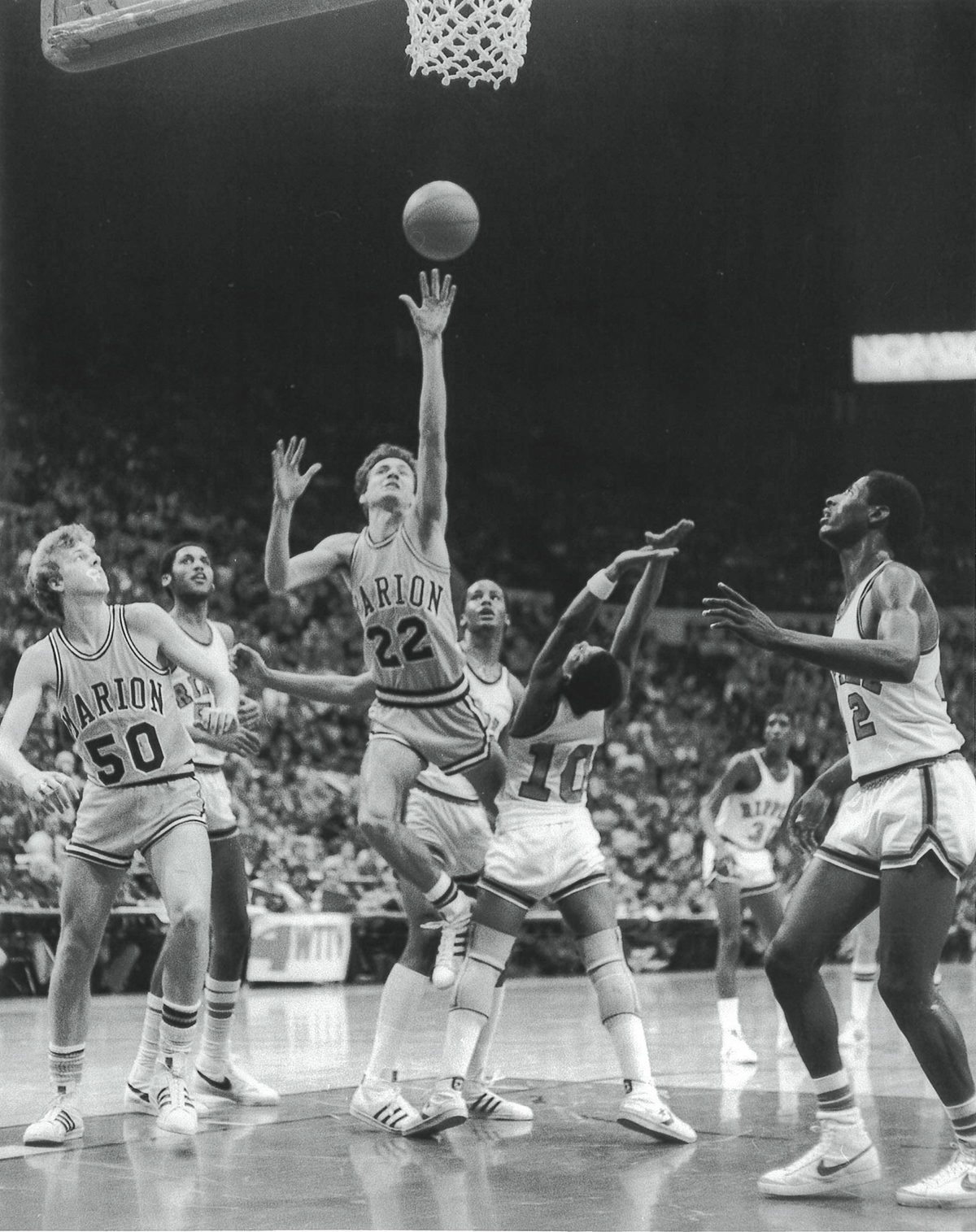 Joseph was a sophomore in 1980, and figured he'd return. He never did. His last chance vanished on that Toran shot.
"My number is probably not retired at Marion High School because we didn't win the state championship. It's always going to haunt me the rest of my life."
Price went on to play at the University of Notre Dame and met someone on the Irish football team—a kid from Broad Ripple with a state championship ring.
"I hated Stacey Toran. But once I arrived at Notre Dame, we actually became good friends."
Todd had the same experience the night he was honored as a member of the Hall of Fame Silver Anniversary team in 2005, along with the 1980 Broad Ripple team. Toran was gone by then, his NFL career cut tragically short when he was killed in an auto accident in 1989, just nine years after he banked in that Hail Mary. His teammates left an empty chair at the banquet dinner table in his honor.
Todd: "They were great guys. In your heart, you're think they're bad guys, they're the enemy, but it didn't turn out that way."
In Price's office at Central State is a mirror, with the numbers 61-60 on it. That's the score of the game Marion and Jovon lost against Indianapolis Washington in the 1969 semifinals. Jovon died in 2007. That mirror reminds Joseph of his brother, and how hard it is to win a championship.
The memories of 1980 do that, too. For all four of them, who see that day yet.•
__________
Lopresti is a lifelong resident of Richmond and a graduate of Ball State University. He was a columnist for USA Today and Gannett newspapers for 31 years; he covered 34 Final Fours, 30 Super Bowls, 32 World Series and 16 Olympics. His column appears weekly. He can be reached at mjl5853@aol.com.
Please enable JavaScript to view this content.