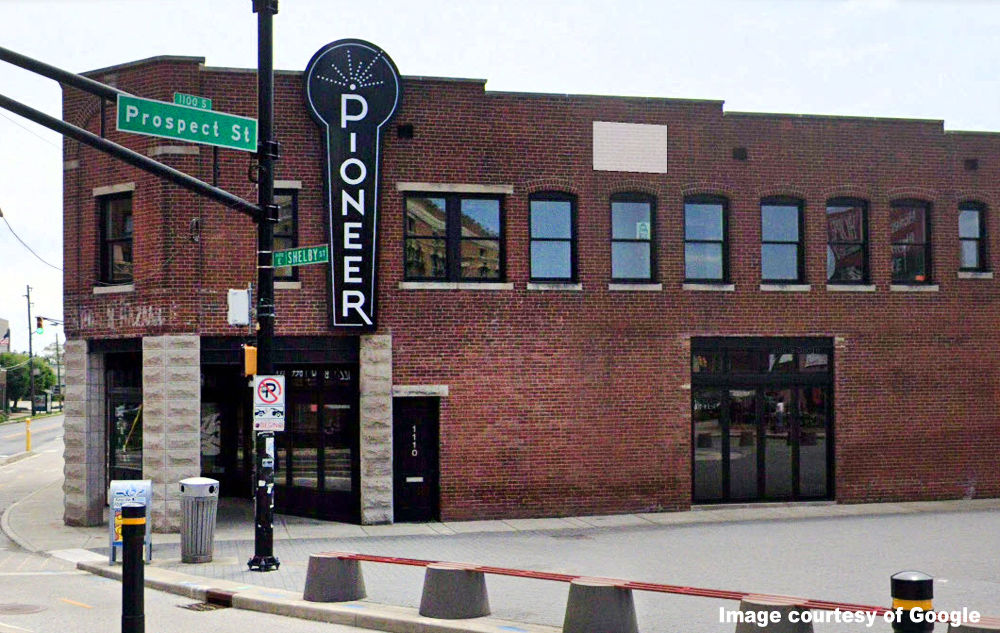 Pioneer, a dance club and music venue at 1110 E. Shelby St. in the heart of Fountain Square, has closed and the establishment's owner is already looking for the next occupant for the space.
The 4,000-square-foot venue's final event, a dance party, was on Saturday.
Pioneer owner Bryce Caldwell, 39, also owns the building at 1110 E. Shelby St., where Shelby and Prospect streets and Virginia Avenue converge. He purchased the building in 2010 for $620,000.
Caldwell said he's looking for someone interested in either leasing the space or buying the two-story, 8,000-square-foot building outright. The brick building was constructed in 1900. He said he'd like to line up a tenant who can benefit from the liquor license.
"I, of course, would like to see some sort of cultural entity here. I'm open to just about anything at this point."
He said a variety of factors, both financial and personal, led him to the decision to close.
"I would be lying if I said money wasn't a factor. But we could have maintained what we were doing and grown from there," he said.
Caldwell, who has a background in warehousing and logistics, also said he grew weary of running a performance and entertainment venue, and is ready to do something different—although he's not yet sure what that will be.
"It's just a really tough business, especially in this market," he said.
The space has gone through numerous iterations since Caldwell opened Pioneer in August 2015 as an Italian restaurant and music venue.
"Over the four years, we probably changed the concept three or four times," Caldwell said.
Pioneer's full-service restaurant ceased operations in August 2018, but the establishment continued to serve bar food until March.
It transitioned into more of a performance venue and event space, with a focus on experimental and fringe acts. For the past several months, Pioneer focused on weekend dance parties, along with occasional weeknight shows.
Before Pioneer, the building was the home of Deano's Vino restaurant and wine shop. That establishment closed in mid-2010.
The south portion of the Shelby Street building was also the original home of Santorini Greek Kitchen, which operated there from 2001 to 2003 until moving to 1417 Prospect St. a few blocks away. That restaurant closed in 2018, though owners Jeanette and Taki Sawi still operate a catering operation, Santorini Greek Kitchen Catering, at the Biltwell Event Center on South White River Parkway West Drive.
Please enable JavaScript to view this content.