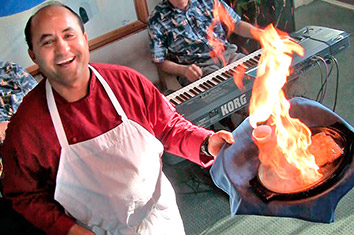 Santorini Greek Kitchen, a dining fixture in Fountain Square since 2001, is closing at the end of the week, the owners announced Tuesday.
Owners Taki and Jeanette Sawi said the restaurant's last day of operations will be Saturday.
"We would love to continue forever. We would love to have the energy we had in our 30s," the husband-and-wife team said in a Facebook post. "But due to circumstances beyond our control, we are choosing to close Santorini Greek Kitchen on March 31, 2018. We want to end the way we started, with good intentions and high quality. It is truly difficult for us to foresee a future without Santorini Greek kitchen in our lives. However, due to health changes, we must."
The Sawis, both 52, opened the original version of Santorini Greek Kitchen in 2001 at 1112 Shelby St.
They moved to their current, larger space at 1417 Prospect St. in 2003.
Jeanette said undisclosed health problem would no longer allow her to be fully involved in the business.
"Taki and I both feel that we started the restaurant together and we should end it together," she wrote. "I am unable to continue in the capacity that I was. And Taki can't do everything on his own. This is the best solution we could come up with. Thank you for your support and presents over the past 18 years. It's truly been an honor and a privilege to feed you, body and soul."
Taki plans to open Santorini Greek Kitchen Catering at the Biltwell Event Center, a facility the Sawis opened in 2015 at 950 S. White River Parkway.
They created the Biltwell in a 102,000-square-foot downtown warehouse that was built in 1922. They bought the structure in November 2014 and renovated it as a large banquet facility.
Santorini Greek Kitchen Catering plans to fill orders for pick-up or delivery, for a minimum of 10 people and $100, the owners said.
The Sawis tried to turn over management of Santorini Greek Kitchen to outside operators in September so they could devote all of their time to running the Biltwell. That experiment failed after two months and the owners returned to daily operations.
"As some of you are very aware, in October, we attempted to make some changes,"  they said on Facebook. "We soon came to the conclusion, we were wrong. We came back home to the restaurant. We were happy to do that. However, it is time for this part of our story to end."
Santorini survived a 2010 fire that caused an estimated $800,000 to $900,000 in damages. It reopened two months later.
Please enable JavaScript to view this content.