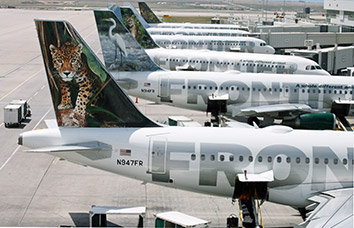 Frontier Airlines plans to add seasonal twice-weekly flights between Indianapolis and Cancun, Mexico, starting in December, the airline announced Tuesday.
Service begins Dec. 20, with nonstop flights departing Indianapolis International Airport for Cancun International Airport on Mondays and Fridays.
"We're excited to introduce our first international destination from Indianapolis to Cancun," Frontier Senior Vice President of Commercial Daniel Shurz said in a written statement.
The statement did not indicate how long the seasonal flight will operate, but Frontier's online booking portal, which is accepting bookings through March 11, shows Indianapolis/Cancun flights operating through March 6.
Frontier already operates nonstop flights from Indianapolis to four other destinations: Denver, Las Vegas and the Florida cities of Orlando and Fort Myers.
With the addition of Frontier's new Cancun service, Indianapolis travelers will have three options for nonstop flights to that city. Both Southwest Airlines and Delta Air Lines offer seasonal nonstop flights to Cancun once a week, on Saturdays.
Please enable JavaScript to view this content.