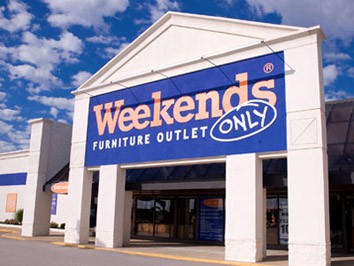 The owner of St. Louis-based furniture retailer Weekends Only Furniture & Mattress is retiring and closing all of the chain's stores, including the two in Castleton and Greenwood.
Weekends Only entered the Indy-area market in 2014 by leasing the 92,000-square-foot former Burlington Coat Factory space at 8315 Center Run Drive in Castleton. Specializing in mid-priced items and closeouts, the chain hung its hat on its unusual schedule of opening only on Fridays, Saturdays and Sundays.
The firm announced in 2017 that it would open a store at 8850 S. Emerson Ave. in Greenwood. The 65,000-square-foot building was a former Kroger supermarket.
The move into the Indy market was the chain's first foray out of the St. Louis area. Owner and CEO Tom Phillips Jr. said at the time that Indianapolis would be the first stop in a multi-market expansion strategy.
But Phillips, 70, announced late last year that he planned to retire and liquidate the chain, which consisted of five St. Louis stores, one in Springfield, Missouri, and the two in the Indianapolis area. The company is now advertising its "going out of business" sales for those latter locations.
Weekends Only has approximately 400 employees, according to the Furniture Today trade publication. When it opened its Indianapolis locations, it said each would have about 40 employees.
According to the Weekends Only website, the Phillips family had been selling furniture in the St. Louis market since 1937. The first Weekends Only opened in 1997.
Please enable JavaScript to view this content.