The Indiana Gaming Commission is poised to move ahead with awarding the Vigo County casino license on Friday after a months-long delay related to allegations that a former Indianapolis gambling company and one of its officers were involved in a federal campaign finance scheme.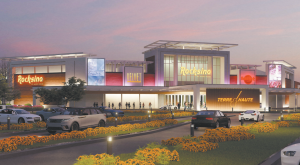 The commission initially planned to meet Feb. 7 to consider awarding a casino license to a subsidiary of Spectacle Entertainment, which is owned in part by former executives of Centaur Gaming.
Centaur, which was based in Indianapolis, sold its horse-track racing casinos in Anderson and Shelbyville to Caesars Entertainment in 2018 for $1.7 billion.
A federal plea deal that became public Jan. 23 alleged that Centaur was involved in funneling thousands of dollars in campaign contributions to an Indiana congressional candidate in 2015.
Court documents didn't name Centaur, but the Gaming Commission confirmed that it is the company involved. The plea deal also implicated the then-vice president and general counsel for the company, John Keeler.
Keeler and former Centaur Chairman and CEO Rod Ratcliff now operate Spectacle Entertainment, which is operating the Majestic Star I and Majestic Star II casinos on Lake Michigan in Gary and constructing a $300 million land-based casino that will replace those riverboats.
Spectacle Jack, whose parent company is Spectacle Entertainment, is the only applicant for the Terre Haute casino license and has proposed a $125 million casino near Interstate 70 and State Road 46.
Florida-based Hard Rock is partnering with Spectacle on the 100,000-square-foot casino, which would have 1,200 slot machines and table games, a 300-seat theater and four restaurants, including a Hard Rock Cafe. The project also has the potential for an on-site hotel.
Jenny Reske, deputy director of the Gaming Commission, said the regulatory agency is ready to move forward with making a decision on the Terre Haute license because Keeler and Ratcliff are no longer involved with Spectacle Jack.
"They've divested of all their interests in it," Reske said.
The revised application for the license lists Terre Haute entrepreneur Greg Gibson and Spectacle Entertainment Executive Vice President Jim Brown as the only board members.
"This was offered (by the company) as a voluntary remedy to allow the project to move forward," Reske said.
If Ratcliff and Keeler had remained investors of the casino, it's likely the delay would have continued.
"There's so much uncertainty surrounding what potential outcomes are, relative to the references made in the court documents… that we weren't comfortable moving forward," Reske said.
Ratcliff and Keeler are still involved with the Gary casino, though, and remain with Spectacle Entertainment.
The Maryland political strategist who pleaded guilty to working with Centaur to shuffle money to candidates agreed to work with federal investigators as part of his deal, so more indictments are always possible. But neither Ratcliff nor Keeler have been charged to date.
The Gaming Commission is scheduled to meet virtually at 11 a.m. Friday.
Please enable JavaScript to view this content.