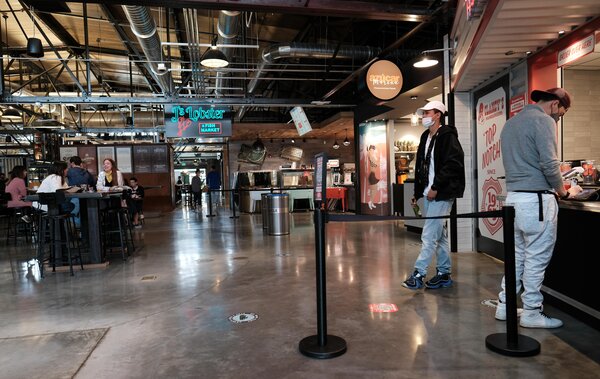 The Garage Food Hall at the city's new Bottleworks District has pulled off a tricky feat—opening its doors amid COVID-19—and it's already looking ahead to what comes next.
"The hall has been incredibly busy," said General Manager Nicole Ulrich. "Many people thought we were crazy, opening up in the middle of a pandemic."
The Garage, a 36,000-square-foot restaurant and retail space, opened in January as part of Phase 1 of the $300 million Bottleworks mixed-use  real estate development at 850 Massachusetts Ave. The development also includes a hotel, residential and office space, an eight-screen movie theater called Living Room Theaters, and a bowling-and-pinball focused entertainment spot, Pins Mechanical.
The Garage currently has 17 restaurant and retail tenants, with another two scheduled to open in June, and still others to come. Tenant spaces range from 500 square feet to 1,000 square feet.
Ulrich said the development is in negotiations with tenants to fill another four spaces. Once those are filled, The Garage will add three or four additional spaces in areas now devoted to customer seating.
Right now, Ulrich said, customer seating areas take up extra space because of COVID-19-related social distancing requirements. But when those restrictions expire, The Garage can shrink its seating area and add additional tenant booths on the south end of the facility.
Ulrich said The Garage is intentionally targeting local and regional tenants offering a variety of cuisines and avoiding chain restaurants.
"That's what separates us from a food court," she said.
The Garage's current vendor lineup includes three retail shops and 14 food and beverage vendors selling everything from seafood to ice cream to beer, Brazilian food and more.
With an eye toward maintaining an eclectic balance of tenants, Ulrich said The Garage is specifically targeting certain types of vendors.
"I'd love to see a tattoo parlor in here," she said.
The Garage is also talking with vendors who offer salad-, sandwich- and barbecue-focused eateries because those are three concepts not yet represented at the food hall, Ulrich said.
The property also is looking to amp up its event and entertainment offerings once pandemic restrictions ease.
Musical entertainment is scheduled each Thursday from 5 p.m. to 8 p.m. and Saturday from 11 a.m. to 2 p.m. in May. Ulrich said the development is mulling other possible activities such as a farmer's market, additional live music and a beer festival.
"There are a lot of different things that we are planning; we just need to see restrictions lifted, and we will certainly move forward with that," she said.
Here's a quick overview of which tenants are open at The Garage, and what's on the way:
Open now
– Abbiocco Pizzeria
– Axle's Garage Tap (beer vendor)
– Azucar Morena (Venezuelan cuisine)
– Becker Supply Co. (clothing and personal care items)
– Blupoint Oyster House and Bar
– Brick and Mortar Barber Shop
– Certain Feelings Coffee Co.
– La Chinita Poblana (Mexican/Asian fusion)
– Clancy's Hamburgers
– Gaucho's Fire (Brazilian cuisine)
– The Harbour (fish and chips)
– Hard Truth Distilling (cocktail bar)
– Herculean Meal Prep (grab-and-go packaged meals)
– J's Lobster and Fish Market
– Lick Ice Cream
– Poke Guru (sushi ingredients served in bowls)
– Pumkinfish (gift shop).
Opening in June
– Chapati Beta (Pakistani/Indian cuisine)
– Mama Fofo's (Greek/Turkish eatery and grocery).
Please enable JavaScript to view this content.