Q: Everything under one of my large potted plants on the patio is turning black. What isn't black is sticky. What is wrong with this plant?
A: From the pictures you sent me, we know that the black stuff is sooty mold, but it isn't the real problem. The real problem is that the plant has scale insects.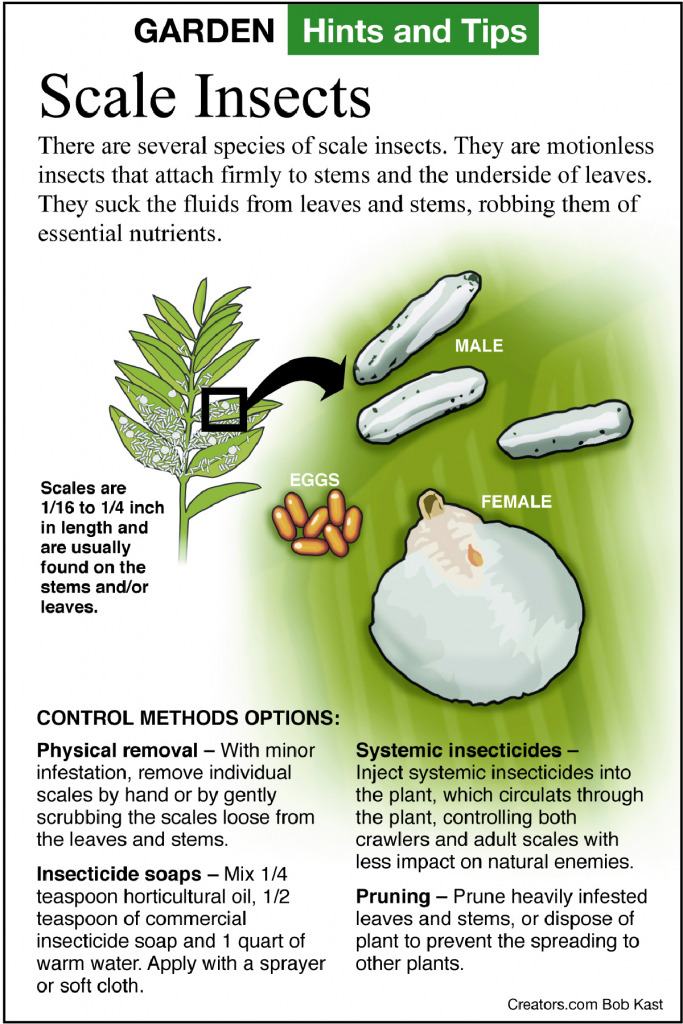 There are many species of scale insects, and they are found on many kinds of plants. Vines, cacti, ferns, fungi, pine trees, landscape trees, shrubs and houseplants can all have scale insects. They vary in color, shape and size. They can look like a scab, a seashell, a ball of cotton or a tiny turtle. The scales range in size from about one-twentieth of an inch to half an inch, and their color can be different on different plants but is usually white, pink, gray or brown. They often look like a part of the bark, but if scraped with a fingernail, they come off and may have white powder underneath.
The adult stage is not mobile and may be divided into two groups: the armored scales and the soft scales. The soft scales may be covered in waxy coatings. The soft scales overwinter as fertilized females, while the armored scales typically overwinter as eggs protected by the females' old shells.
When the eggs hatch, the larvae are called the crawlers. They can be very small, and you may need a magnifying glass to see them. They often move from the stem, where they are born, to the leaves. When they mature, they mate, and the males die. The females crawl back to the stems, where they lay eggs and die.
There may be a stage where the males and females can fly, so the insects can spread to new plants. Some species of scale are spread by ants that feed on honeydew. The crawlers are usually on stems or leaves, but some feed on roots and are rarely seen.
They drink the plant sap, and if there are enough on a plant, they can kill whole branches. The sap that makes it through the scale rains down from the plant and is called honeydew. It is sticky, and it may attract ants, bees, flies and wasps. A fungus called sooty mold grows on the honeydew, turning everything under the scale-infested plant black. Finding sooty mold under a plant is often the first indication that there are scale insects, but it may also indicate aphids and other sucking insects.
Scale insects have a few parasites, and some birds and insects eat them, but natural controls are often not effective, especially for scale growing on houseplants. The adults are hard to control with chemical treatments because of the waxy coating or armored shell. The crawler stage is the most vulnerable stage.
Different species of scale insects have different life cycles, so controlling them when they are most vulnerable depends on determining which scale insect you are looking at and when the crawlers will be active. The timing of pesticide application is very important, but it varies with the species. A winter application of a dormant oil spray can be effective on scale eggs, and some summer oils can also help control adult scale insects. Systemic insecticides may work at any time but may need to be reapplied because the insecticide may not move through the plant evenly. On houseplants, use systemic insecticides, insecticidal soap or isopropyl alcohol to control scale insects.
Even though many species of scale insects are pests on crops and ornamental plants, a few have been beneficial. The original scarlet and crimson dyes were created from a variety of scale insects. Shellac that is used in foods and as a wood finish also comes from scale insects. Some scale insect species are used to kill invasive prickly pear cacti in countries where the cacti are not native.
If your plants have scale insects, first figure out what kind they are and when the crawlers are going to be out; then treat them as soon as you can.
Email questions to Jeff Rugg at info@greenerview.com.
Please enable JavaScript to view this content.