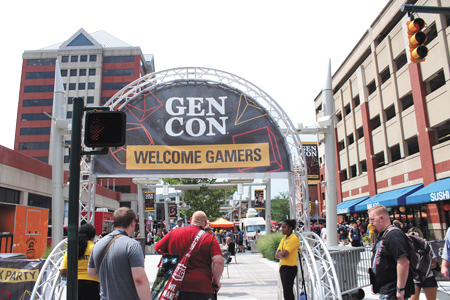 Organizers of the Gen Con gaming convention held Thursday through Sunday downtown say the event broke several attendance records in its 17th year in Indianapolis and 52nd overall.
The event broke its records for exhibitors, total ticketed events and for sales of four-day and Sunday badges.
Overall, nearly 70,000 unique attendees attended the event at the Indiana Convention Center, organizers said, without providing a more specific figure. More than 60,000 people attended the event a year ago.
Gen Con said 538 exhibiting companies took part in the convention, up from 520 a year ago.
A turnstile count, which counts total number of people who enter the doors of the convention center over the four-day period, including repeat visitors, was not immediately available. Last year's event set a turnstile record of 223,326.
Gen Con, consistently one of the biggest convention events of the year for downtown Indianapolis, takes place in the Indianapolis Convention Center and Lucas Oil Stadium.
Through its philanthropy efforts, Gen Con raised more than $35,000 for the convention's charity partners—Game To Grow and Special Olympics Indiana. Gen Con has raised more than $335,000 for local charities since 2003.
Gen Con will return July 30-Aug. 2, 2020. It has an agreement with Visit Indy to host the event in Indianapolis through at least 2023, in part due to the efforts to build at least one new hotel convention center at Pan Am Plaza.
Please enable JavaScript to view this content.