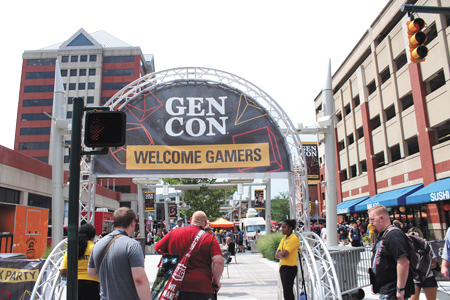 The organizers of the massive gaming convention Gen Con have announced they will extend their contract to host the annual fest in Indianapolis an additional year, through 2023, as a result of the news that an expansion of the Indiana Convention Center and two new convention hotels are in the works.
The Capital Improvement Board of Indianapolis on Friday announced its plans to transform Pan Am Plaza with a $120 million, publicly funded building that will house a 50,000-square foot ballroom and new meeting space connected by skywalk to the Indiana Convention Center. The expansion would also connect to two Hilton-brand hotels, which would be developed privately by Kite Realty on the same block.
The board was expected to vote Friday to endorse the public-private plan.
Gen Con had previously committed to keep the massive gathering—which had 223,326 turnstile visits in 2018 and generated $75 million in direct spending—in Indianapolis through 2022.
David Hoppe, Gen Con president, said "new hotel developments, along with Indy's desire for technological upgrades, have made our decision to extend with Indianapolis an easy choice."
"This new hotel development is a game-changer for Gen Con and will allow us to continue our record-breaking expansion," Hoppe told IBJ in a statement. "We'd like to thank the Indy CIB, Mayor [Joe] Hogsett and his team, the hard-working folks at Visit Indy, and the business leaders of Indianapolis for their continued foresight and commitment to making Indy the top destination for conventions in North America."
IBJ reported in August that Hoppe had been in communication with city tourism officials regarding "recent concerns about Gen Con in Indy for the long term."
He said he needed "Indy and the [Indiana Convention Center] to evolve with us" as it became a more technology-enhanced company.
It was not immediately clear what technological upgrades were promised to Gen Con. But the city told IBJ that the $120 million addition to the convention center would include additional meeting space, including what would be the largest ballroom in Indianapolis.
Please enable JavaScript to view this content.