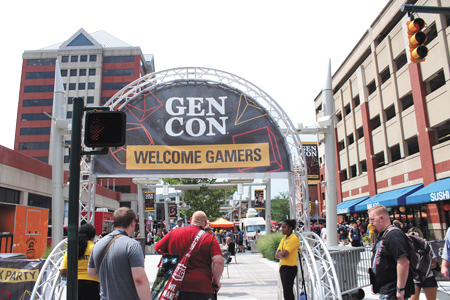 Fresh off the most-attended gathering in its history, Indianapolis convention staple Gen Con has no plans to leave the city anytime soon.
The Seattle-based tabletop gaming convention announced Monday that it has signed a four-year extension to its contract with tourism agency Visit Indy, keeping it firmly planted in Indianapolis through 2030.
The agreement coincides with the conclusion of Gen Con's 20th event in the city over the weekend, during which more than 70,000 visitors flocked to the Indiana Convention Center and Lucas Oil Stadium—an all-time attendance record for the group.
A more exact attendance figure was not available early Monday morning. The previous record was about 70,000 in 2019.
"We're super excited to be making this commitment to Indianapolis," Gen Con President David Hoppe told IBJ. "This has been our home for 20 years, and I'm looking forward to 20 more years—but we're going to start with seven."
In many ways, Hoppe said, Indianapolis and Gen Con have "grown up together," with the organization now more than three times larger than when it was first held here as a 20,000-person event in 2003.
This year's event featured an exhibit hall with 570 game publishers and vendors and more than 20,000 ticketed events—such as board games, card games, roleplaying games, music performances and comedy shows—throughout Indianapolis.
Indianapolis, too, has seen its skyline and convention scene expand significantly since Gen Con's arrival. City tourism officials have credited much of that growth to the role it and other conventions play in the local economy.
Last week, Indianapolis leaders formally broke ground on the sixth expansion of the convention center, which is expected to bring a new grand ballroom, extensive meeting room space and an 800-room convention center hotel to Pan Am Plaza by mid-2026. The move is a bid to retain major events like Gen Con while allowing Indianapolis to pursue other conventions that it currently cannot accommodate due to space limitations.
Gen Con officials say this year's event injected nearly $75 million into the Indianapolis economy, directly and indirectly, through restaurants, hotels, flights and dozens of other economic factors.
"We've seen such great growth in this town's ability to support what we do and we're thrilled to be extending our partnership," Hoppe said.
Gen Con's executive leadership opted to remain in Indianapolis rather than take the event to Chicago—the other city it was heavily considering. Visit Indy negotiated its deal with Gen Con over a period of two years, before the extension was finalized last week.
The agreement comes one year after Hoppe indicated the group could explore other options for host cities after the Indiana General Assembly introduced—and later passed—a bill placing extensive limits on abortion.
At the time, Hoppe said the legislation, known as Senate Bill 1, could have long-term ramifications on the relationship between Gen Con and Indianapolis.
"Passage of Senate Bill 1 will have an impact on our stakeholders and attendees and will make it more difficult for us to remain committed to Indiana as our long-term annual home," he said then.
Speaking with IBJ on Sunday night, Hoppe struck a different tone—with a focus on moving forward.
"We made a decision following the lead of some other large-scale conventions, to make a commitment to stay and stand up for our values," he said. "We'll do that by staying here and continuing to serve the many thousands of Hoosiers who choose to come to Gen Con. We think it's important to be here. Indianapolis has been our home. We don't want to walk out even if there are some things that we don't agree with."
Hoppe declined to say whether any stipulations were put into the group's contract with Visit Indy that would allow it to withdraw from its contract early.
"I really don't want to comment on the specifics of it," he said. "The reality is that it's a multi-part agreement that covers … a lot of different stakeholders, including all the different hotels involved."
Monday's announcement also follows news over the weekend that a vendor on Wednesday had more than $300,000 in trading card merchandise stolen from the trade show floor. Two suspects in the case have not been apprehended.
"We've never had anything of this size happen before, and we're working closely with IMPD, building security and our own security, so hopefully we can bring the perpetrators to justice," Hoppe said. "We're hoping for the best here."
Chris Gahl, executive vice president for Visit Indy, said keeping the organization in place for an additional four years is a "massive win" for the city.
"There's a sense of pride, and also a sense of relief, that we're able to keep such a high-profile, sought-after group safe and sound through 2030," he said. "We have never taken Gen Con or any of our time-tested annual conventions or events for granted, and we know that we have to work with a sense of urgency to retain them and keep them happy and growing within our city."
Gen Con event will next be held in Indianapolis from Aug. 1-4, 2024.
Please enable JavaScript to view this content.