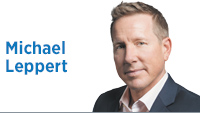 I vividly recall the feeling I had when I finished my undergraduate degree. It was comparable to how I feel today when I'm done cleaning out my garage. It feels good, but it never lasts long.
Being done with the burden, the awful burden, of going to school was a relief more than anything else. I had lost the thrill of learning new things. No one knows absolutely everything like the average 22-year-old, right?
The original plan was to go to law school. I had no money to do that at the time, and worse yet, I had even less desire. So, I went to work for the state of Indiana and the rest was history. At least my academic life was.
Then a funny thing happened about five years ago. I started writing. First it was a blog, then columns and books. All that writing was done for the strangest of reasons: for enjoyment. That's right, I write for the fun of it.
When I tell people the reason I write, they often ask, "What's fun about that?" The simple answer is the learning it takes to do it.
Oh, sure, I also enjoy posting the pithy or sarcastic remark on social media as much as the next guy. But to write a column of any significance on a topic of any importance at all requires the writer to do some learning in the process. Otherwise, the writer is no better than some anonymous imposter from a Russian troll farm, with no meaningful value.
Instead, I learn my topic by reading and listening more than I write and talk, then I put out my work and prepare for the inevitable blowback. People love to disagree with my hot takes, but most don't do their homework before sharing their retorts. If they did, they might find they enjoy it.
I have learned a whole lot about a whole lot of things in the process of writing. It's what I enjoy about it the most.
I spend so much time on Dictionary.com, Thesaurus.com and the Pew Research Center's website, someone should have already sent me an honorary degree in curiosity. The Wizard of Oz did it for the Scarecrow—going that route would certainly be easy.
Next month, I start a graduate program in communications at Northwestern University. Sounds a little snooty to me, but I'm doing it anyway. I did my research on several programs that interested me and this one fit my curiosity the best. I now have those two things I didn't have 30 years ago—money and a desire to learn.
While I was going through the application process, another school opportunity fell into my lap. Not only do I get to go back to school as a student this year, I also get to go back to my alma mater as an adjunct professor.
I am teaching a class at Indiana University's O'Neill School of Public and Environmental Affairs called "Public Law and Government Relations."
I should be able to teach that in my sleep, right?
Of course not. As I prep to teach for the first time, I'm already learning again. I'm even learning about things I already know, or knew, and have forgotten. More important to me, though, is that I am excited about all of it.
I won't get rich doing any of this stuff, and that feeling of a clean garage is not what I seek. I'm going back to school for the joy of it.
Honestly, I can't think of a better reason.•
__________
Leppert is an author and governmental affairs consultant in Indianapolis. He writes at MichaelLeppert.com. Send comments to ibjedit@ibj.com.

Click here for more Forefront columns.
Please enable JavaScript to view this content.