Sara Gonso Tait is stepping down as the executive director of the Indiana Gaming Commission after six eventful years in the post, Gov. Eric Holcomb announced Friday.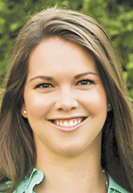 Gonso Tait's tenure has been marked by several major rulings involving casinos and fines imposed against their operators. For example, the commission in March reached a settlement agreement with Rod Ratcliff, the former chief executive for Centaur Gaming and Spectacle Entertainment, that permanently banned him from the state's gambling industry.
The commission sought to permanently revoke Ratcliff's gaming license after discovering alleged wrongdoing by the longtime casino executive, including the possibility that he took money from his previous company for a personal betting account. The commission already had connected him to a federal campaign finance scheme.
Ratcliff has denied wrongdoing and hasn't been charged by federal authorities in the campaign financing case.
Holcomb noted that Gonso Tait's tenure included launching a nationally recognized regulatory approach for sports betting, leading negotiations for the first-ever tribal-state compact and managing the construction and debuts of three land-based casino projects.
"I leave the Indiana Gaming Commission having accomplished significant goals and confident that my tenure served the agency, industry and state well," Gonso Tait said in a media release. "This role has been more than I hoped for and being the executive director has been a privilege and honor."
Greg Small, who has served as general counsel for the commission since August 2015, has been chosen to replace Gonso Tait, effective Sept. 11.
Prior to working for the state, Small was the assistant city attorney for the city of Bloomington and worked in private practice as a litigator for Kreig DeVault LLP.
The executive director oversees an industry responsible for bringing in more than $500 million in tax revenues each year and employing more than 12,000 people.
Also in March, the commission fined Spectacle Entertainment more than a half-million dollars for not initially complying with an order to remove Ratcliff from any ownership or oversight of the company.
Among other recent milestones, the commission gave final approval in 2019 for the state's two racinos to host live-dealer table games.
In 2018, the commission ordered Las Vegas-based Caesar's Entertainment Corp. to pay a $1 million fine for threatening to drop a planned casino investment in southern Indiana as a way to possibly persuade commission staff members to waive an unrelated fee.
It was the second-largest fine the commission had ever imposed.
Please enable JavaScript to view this content.