Longtime Indiana casino executive Rod Ratcliff has been permanently banned from the state's gambling industry.
Ratcliff, who previously served as chairman and CEO of Centaur Gaming and as CEO and chairman of Spectacle Entertainment, has been entangled in a battle with the Indiana Gaming Commission for months, as the state agency has been investigating Ratcliff and his companies.
On Tuesday, Ratcliff and the commission reached a settlement agreement that prevents him from having any involvement in Indiana's gambling industry and requires him to sell his remaining casino ownership shares.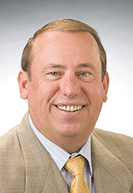 Centaur owned and operated the state's two horse-track racing casinos until selling the Anderson and Shelbyville properties to Caesars Entertainment in 2018. Spectacle Entertainment now operates the Majestic Star I and Majestic Star II casinos on Lake Michigan and is partnering with Hard Rock to construct a $300 million land-based casino in Gary that will replace those riverboats.
The commission temporarily suspended Ratcliff's gaming license in December after connecting him to a federal campaign finance scheme, and Ratcliff filed a lawsuit in Lake County Superior Court in January to challenge that decision.
Last month, the commission moved to permanently revoke his gaming license after discovering additional alleged wrongdoing by Ratcliff, including that he funneled money from Centaur into a personal gambling account and repeatedly concealed financial information from the commission that should have been disclosed.
According to the agreement reached Tuesday, Ratcliff has agreed to sell his ownership in the Majestic Star casinos, which means he no longer has an interest in Spectacle Gary or Spectacle Entertainment.
Spectacle Entertainment is a majority owner of Spectacle Gary, which is the parent company the Majestic Star casinos.
Ratcliff agreed to sell his shares to Hard Rock and One Eyed Jack Ventures, which is controlled by Terre Haute entrepreneur Greg Gibson.
Gibson is the chairman of Lucy Luck Gaming (formerly Spectacle Jack), which is pursuing the new Terre Haute casino in partnership with Hard Rock.
The commission has been trying to force Ratcliff to relinquish his ownership in Spectacle since December, and Ratcliff argued in his lawsuit that he believed the commission was trying to force him to sell to Hard Rock, specifically.
According to the lawsuit, Hard Rock had made two offers to buy Ratcliff's shares, but Ratcliff considered both offers to be too low.
Ratcliff resigned from his position as CEO of Spectacle Entertainment in June but maintained an ownership stake in the company and was responsible for investor relations.
"With little progress from the parties in resolving their regulatory problems at the end of January, the commission required Hard Rock and Spectacle to participate in mediation, one of our last remaining available tools," Gaming Commission Executive Director Sara Gonso Tait said in a written statement. "We're pleased the mediation was successful and the parties were able to reach an agreement that satisfies the commission's initial concerns."
The agreement also prevents Ratcliff from challenging or appealing the order, and Ratcliff has agreed to drop the lawsuit against the Indiana Gaming Commission.
In a statement, Ratcliff spokesman Robert Vane said they are happy the state has stopped its "unfair persecution" of Ratcliff.
"With this settlement agreement, Rod achieves what he wanted from the very beginning of this ordeal—to retire from Indiana gaming on his own terms," Vane said. "Mr. Ratcliff's career in Indiana has resulted in the creation of thousands of jobs for Hoosiers, millions of dollars of economic activity, and significant charitable investment in local communities. Rod's standing as a true pioneer in the gaming industry remains unmatched."
The agreement allows work on the new Gary casino to move forward again. In December, Tait ordered Spectacle to stop moving equipment from the riverboat casinos in Gary to the new land-based facility "until further notice."
The land-based casino had been expected to open this spring, but the Gaming Commission had previously told Spectacle that it should plan to continue operating the riverboats in Gary until at least June.
The Gaming Commission will vote later this month to ratify the agreement, which was signed by Tait.
Meanwhile, the Gaming Commission continues to investigate Spectacle, and the company is required to notify the commission if Ratcliff tries to acquire, purchase, own, possess, directly or indirectly benefit from the company or its related entities.
Last month, the commission revealed in its petition to permanently revoke Ratcliff's license that Spectacle, through Ratcliff, had allegedly been involved in concealing information from the state agency on multiple occasions.
Please enable JavaScript to view this content.