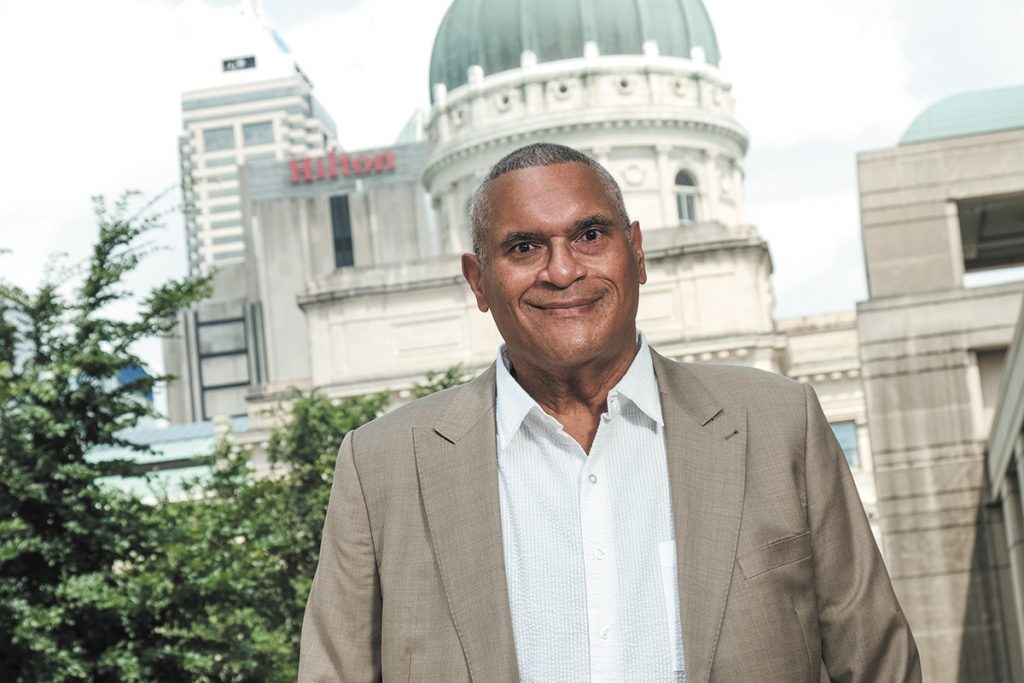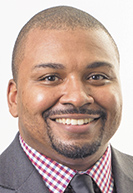 Democrat Woody Myers is the state's first Black gubernatorial nominee from either major political party—which is a significant milestone, especially in an election year in which race has become a top issue.
Myers is also a doctor and former state health commissioner, who has experience responding to a public health crisis—which is also significant as the state is fighting the pandemic that has hit African Americans harder than others.
But Black community leaders say Myers' campaign is getting lost in the barrage of news about COVID-19 and coverage of protests over police brutality and racial inequity, even though he is in many ways uniquely qualified to talk about and campaign on the issues raised by both crises.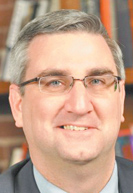 "He's perfect for the situation," said Marshawn Wolley, director of community engagement and strategic initiatives at IUPUI's School of Public and Environmental Affairs. "But his message isn't getting through."
It doesn't help that Myers, who is challenging incumbent Republican Eric Holcomb, still lacks strong name recognition, even among Democrats and Black voters.
"I'm not sure he's connecting with the African American community very well," said David Greene, pastor at Purpose of Life Ministries and president of the Concerned Clergy of Indianapolis. "Unfortunately, there are a lot of people who don't know who Woody Myers is."
In other states, being actively involved with the protests has helped elevate the profile of other underdog candidates, but Myers has not seized on that. He attended a protest at the Indiana Statehouse one day, but he did not speak at it.
"I'm sure he can get on the agenda," Greene said.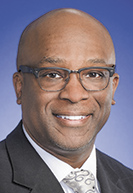 And it's not the first time Myers has struggled to form strong relationships within the Black community. In 2008, while running in the crowded Democratic primary for the 7th Congressional District seat, longtime activist Amos Brown, who died in 2015, criticized Myers for being out of touch with Black residents. Myers lost the primary to now-U.S. Rep. Andre Carson.
State Sen. Eddie Melton, D-Gary, said Myers may be fairly well-known and supported in central Indiana, where he lives, but not so in other parts of the state.
"When COVID-19 hit, folks couldn't traditionally campaign and visit communities," said Melton, who had launched his own bid for governor before dropping out of the race in January. "There's only so much outreach you can do via social media. … There's still time, but there's a lot of other issues that I think have been dominating the airwaves."
Myers, meanwhile, said he has been trying to make connections with Black voters. But he said building relationships with all types of voters has been made difficult by the pandemic and social distancing.
"Do I have the desired level of recognition in any community? The answer is 'no,'" Myers said. "Am I pushing hard? The answer is 'yes.'"
Political experts say Myers will need to establish strong support among Black voters if he wants to have any chance at winning in November. Holcomb is considered the front-runner in the race.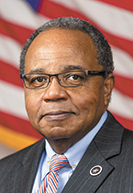 Democratic political consultant Robin Winston, who was the first African American to serve as chairman of a major political party in Indiana in 1999, described the Black vote as "crucial" to any candidate's success.
"In some races, it's been the lynchpin," Winston said. "I think right now, in this tone and tenor, to ignore it is detrimental to your campaign."
Myers said he recognizes the importance of the Black vote, especially as a Black voter himself.
"African American voters are high among our list," he said. "You cannot win as a Democrat in Indiana without attracting a high level of African American support."
Making the case
Black leaders say Myers will have to become vocal in the community about his policies and how they are different—and better—than what Holcomb has done or proposed so far.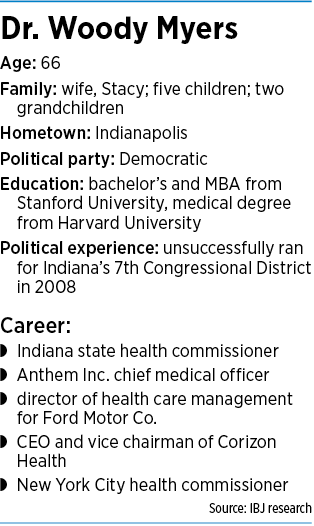 "He's gotta make that case, and that could be a hard case, because Holcomb has done some good things," Wolley said.
Holcomb has previously pointed to his focus on reducing infant mortality and passage of the hate crimes legislation in 2019 as evidence of his efforts to help the Black community.
Greene said Myers, meanwhile, has been "a little bit silent" on what he'd do as governor to address racial inequality.
"It's a great opportunity, and I'm not sure we're hearing or seeing what that looks like," Greene said.
Myers did recently release a criminal justice reform plan, which he says he had been working on for months but that became timelier after recent high-profile police shootings that resulted in the deaths of Black individuals, including George Floyd in Minneapolis, Sean Reed in Indianapolis and Breonna Taylor in Louisville.
His plan includes six key components:
◗ expanding intervention programs to keep people out of prison;
◗ mandating new training for police officers to eliminate the use of excessive force and banning the use of chokeholds;
◗ reprioritizing public safety funding to focus on "holistic, intersectional approaches";
◗ establishing no-tolerance accountability policies and a statewide public database of citizen complaints and disciplinary records;
◗ investing in sustainable community development;
◗ decriminalizing marijuana.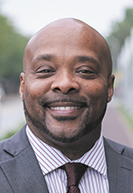 Tony Mason, president and CEO of the Indianapolis Urban League, said Myers has been addressing some of the disparities in the Black community—but there's more work to do.
Still, he said, that's "not different than any other candidate. He's a known quantity at certain levels of the community but maybe not as much at the grass-roots level."
Greene said Myers needs to be out at more community events, which have seemed to resume in recent weeks, and trying to meet more people, so he can build name recognition and explain his platform to potential supporters.
"You do have to be at events," Greene said. "Show up. Be there."
Winston said that, even with the economy reopening, Myers won't be able to campaign at some typical target events, like the Indiana State Fair or the Indiana Black Expo, because neither is happening.
"You're very restricted," he said.
Aside from the challenges presented by the pandemic, Winston said, the tricky thing for minority candidates is, they still have to cater to the entire population. For example, he said, during the 2008 presidential race when then-Democratic candidate Barack Obama visited Indianapolis for the first time, the trip was actually to Plainfield. Winston said he heard plenty of complaints about that within the Black community.
But Obama ended up winning the state that year, which marked the first time a Democratic presidential candidate had done so since 1964. Winston said Obama's ability to resonate with more than just minority voters helped push him over the edge.
"You have to be ambidextrous," Winston said. "If you lean too far into one way, then people criticize you. … That is a very, very unique situation that minority candidates find themselves in."

Black agenda
In addition to being present at more events, several Black leaders said Myers and Holcomb should each have a Black agenda, which is something activists pushed for during the 2019 mayoral race in Indianapolis.
In the Indianapolis race, Republican candidate Jim Merritt didn't hesitate to say he would assemble a Black agenda, while Democratic incumbent Joe Hogsett rebuffed the idea at first, saying his overall agenda benefited Black residents.
But shortly after Merritt released his Black agenda, Hogsett also presented one. Hogsett won reelection with 70% of the vote.
Wolley said the gubernatorial candidates should "absolutely" have a Black agenda, and Greene said "without a doubt" he expects the candidates to present a plan specifically to benefit the Black community.
Some of the issues Black leaders say the agenda needs to address include criminal justice reform, education, health disparities and access to food.
Wolley said politicians should realize that policies that benefit Black residents or those in urban areas would also benefit low-income residents in white and rural communities.
"There's an opportunity to think about the mutual benefit," he said.
Mason said the protests and the new focus on the Black Lives Matter movement has helped shine a spotlight on some of the disparities facing Black communities, especially in economic-related areas like education, health and jobs, so that could help encourage the candidates to talk about it.
"I think people were paying attention to it before, but I think people are really focused on it now," Mason said.
But Myers has no plans to create a separate Black agenda, even as he acknowledges that some community leaders would like him to have one.
Instead, Myers said, he's going to point to areas in his education, health care and criminal justice agendas that would benefit Black citizens.
"I'm going to make it very clear that our agenda is going to benefit African Americans in Indiana," he said. "Our agenda is going to benefit Hoosiers who are not at the top of the economic food chain."
Holcomb's campaign pointed to several initiatives he's already supported that would benefit the Black community, such as reducing recidivism and providing job training for inmates.
His campaign manager, Kyle Hupfer, who is also chairman of the Indiana Republican Party, said the governor's administration is also already working on an action list to immediately address disparities. That should be announced in the coming weeks.
Will it be a Black agenda?
"I don't know what they will call it," Hupfer said.
Will things change?
Despite a lack of attention on the governor's race so far, some community organizers say awareness could still grow—and candidates could still make an impact—as Election Day nears.
"I have no doubt there is going to be more interest," Mason said.
One thing that is expected to help build interest is the heated presidential race between Republican President Donald Trump and former Democratic Vice President Joe Biden.
But Greene said it's possible that people will vote in the presidential race but skip the governor's race if they don't know the candidates well enough.
"You need people to know who you are," he said. "You can't wait until October and throw a few commercials in."
Melton said Black Hoosiers realize there is a lot at stake and are ready to make sure their voices are heard, meaning Myers' campaign should be able to gain traction.
"I'm hopeful that they'll be able to get their message out in a stronger way in the coming months," he said.
Winston said the level of attention paid to the race will depend on whether a projected second wave of COVID-19 cases occurs. A second spike could steal the spotlight.
"When you are talking about matters of life and death, it's hard for a political campaign to burn through that firewall," he said.
Wolley said he hopes Myers can find a way to communicate with Black voters and others to give Holcomb a competitive race.
"Just for the political aspirations for leaders coming up, I hope he breaks through," Myers said. "You don't really see Black males involved in Democratic party politics."
Myers said he thinks there is a hunger for diverse candidates, so that should help his campaign as he starts to meet more voters.
"We're going to be getting around the state a lot more aggressively hopefully around the Fourth of July," Myers said. "In 135 days, you can only do so much, but in four years, you can do a lot more."•
Please enable JavaScript to view this content.