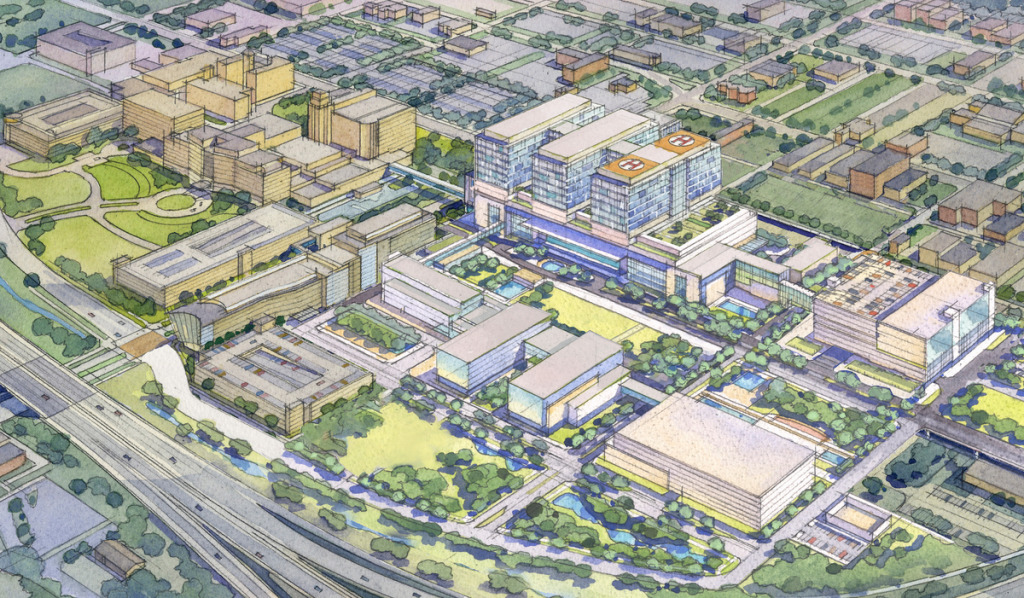 Indiana University Health plans to turn its massive, expanded campus near Methodist Hospital into a destination site and service area for the neighborhood.
It hopes to do that by offering retail stores, likely including a grocery store, on the ground floor of one of the medical buildings on the site, located on the east side of Capitol Avenue, just south of 16th Street.
"As you know, a lot of times hospitals can be very insular and try to keep people out," Jim Mladucky, IU Health's vice president of design and construction, told IBJ. "And what we're working hard to do is have the first floor be pretty porous, open and inviting."
He said the hospital system is in conversations with several grocery chains that are "very interested" in opening a store on the campus. He declined to name them or say which one was likely to be chosen.
The hospital system has hired a retail consultant to evaluate the market and recommend what kind of stores and shops to bring in, he added.
"We're talking with grocers about urban grocery concepts," Mladucky said. "So it's not necessarily a boutique, but it's not necessarily a huge supermarket either. It's something in between."
The hospital campus sits several miles from the nearest grocery store. Kroger has locations about 1.5 miles to the south, 1 mile to the east and one 3 miles to the west. There are also several food marts and bodegas within a mile or so.
The neighborhood surrounding the Methodist Hospital campus could use more healthy food options, Mladucky said. The people in the area just north have an average age expectancy of 68 years, compared to 92 years in Carmel.
"We want to be the destination for health in the hospital," he said. "But then the things that also come from it, like a grocery store that the neighborhood really needs, means we're truly trying to affect the health of our community in a very positive way. And we're partnering to do that."
The grocery store—if and when one is chosen—would be located on the first floor of Capitol View, a five-story office building with a view of Capitol Avenue that will have clinics and medical offices. Construction of that building is set to begin this fall.
The $1.6 billion hospital, with about 2 million square feet under roof, will soar 12 stories and will feature three patient towers.
The new hospital will consolidate much of the existing Methodist Hospital and University Hospital, which is located about 1.5 miles southwest on the IUPUI campus.
Two of the oldest buildings at Methodist Hospital, known as Buildings B and C, located along Capitol Avenue near 16th Street, will likely be demolished, Mladucky said.
University Hospital will be given to Indiana University, which has yet to announce what it will do with it.
A newer building, known as Building A-East, a patient tower that opened in 1995, will stay in place. Officials are still determining the fate of Building A-West to see if it can continue.
IU Health has begun to demolish several buildings on the 44-acre expanded campus that will house the new hospital and supporting buildings
"The goal here is to have a positive patient experience and to make sure that the guests and visitors have a similar experience," he said, "invite the neighbors in and use it as a recruiting tool."
Please enable JavaScript to view this content.