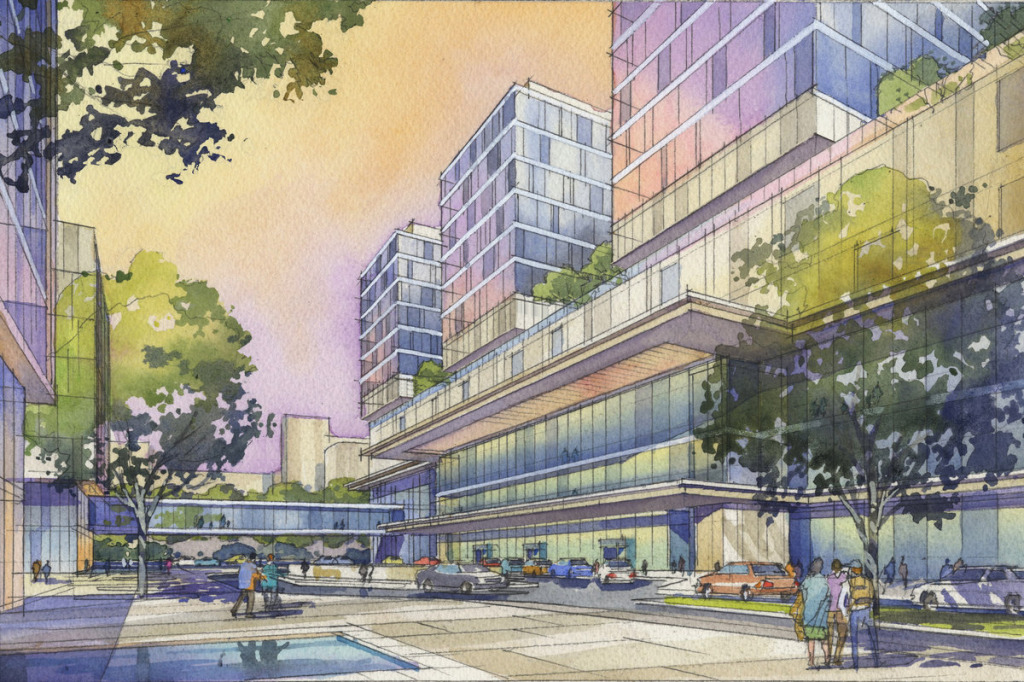 In a major transformation of its downtown medical campus, Indiana University Health plans to expand its footprint by eight blocks and build a new $1.6 billion hospital just south of its century-old Methodist Hospital.
IU Health announced the expansion on Wednesday, five years after originally announcing its intention to overhaul the campus.
"This is truly a 50-year vision, and this will pay dividends for generations to come," said Dr. Ryan Nagy, president of Methodist Hospital.
The campus also will house the IU School of Medicine, which will move from its current location on the IUPUI campus.
The eight-block expansion will add 44 acres to the campus, extending it from 16th Street south to 12th Street and from Capitol Avenue west to Interstate 65. IU Health owns some of the property and has been buying adjoining land in recent months. Some of the land is occupied by an assortment of office and industrial buildings.
Operations at Methodist Hospital and IU Health University Hospital, which is 1.5 miles southwest on the IUPUI campus, will be consolidated into the new hospital when it opens in 2026. The future use of the two current hospitals is still under evaluation, Nagy said.
IU Health said that combining operations of the two hospitals will eliminate "costly duplication" of medical services and help provide more accessible, cost-efficient care.
The oldest portion of Methodist Hospital dates to 1908, while University Hospital opened in 1970.
"The time has come to move ahead on this transformative project to revitalize our downtown facilities," said Dennis Murphy, president and CEO of IU Health, in a statement. "It has taken us several years to imagine, analyze, and decide how best to proceed. Together with city officials, neighbors and other partners, we are designing a campus with a destination hospital to provide state-of-the-art care for future generations of Hoosiers."
Much of the Methodist Hospital complex will undergo a "significant renovation," he said, without offering details.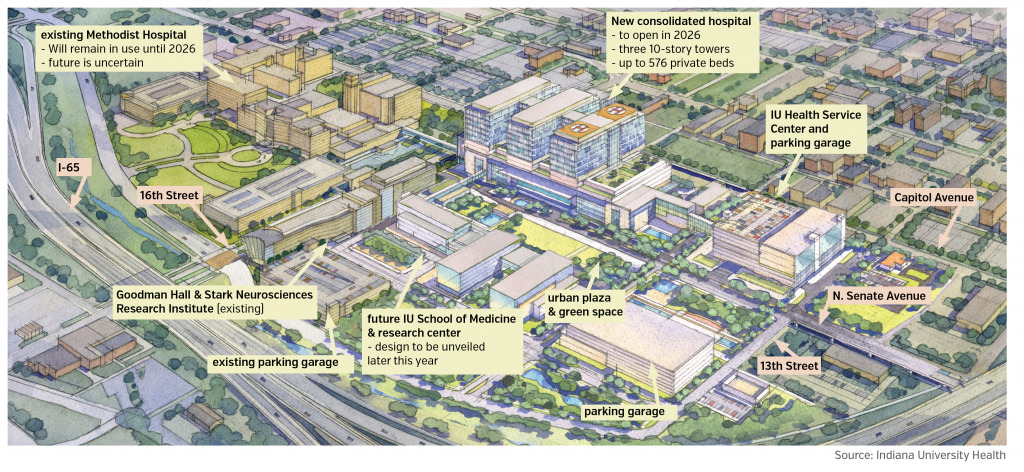 The current Methodist campus is a hodgepodge of buildings that have been stitched together over decades, with mismatched floor plates, uneven ceilings, and a conglomeration of electrical, mechanical and plumbing systems.
Some of the newest buildings—those that went up in the 1990s, including a 10-story patient tower known as A Building—now house an expanded intensive care unit and likely will stay, Nagy said.
But plans for the oldest parts of Methodist—several buildings along Capitol Avenue that went up a century ago, known as B Building and C Building—have yet to be determined, he said.
The new hospital and campus will take a new name, which will be announced in the future. The Methodist and University names will be "memorialized" in the new campus, Nagy said.
As part of the transformation, IU Health on Wednesday filed plans with the city of Indianapolis, requesting a Central Business District special development classification that would provide zoning flexibility to develop the various uses for the 44-acre expansion.
The land is currently zoned for five uses, including residential and industrial. IU Health said it will work with city and state officials, neighborhood groups and other stakeholders on the design, specifications, uses and development standards for the site.
IU Health provided several renderings of the hospital and campus, but called the designs "preliminary blueprints" that could be adjusted in coming months.
The design calls for the hospital to have three glass-fronted towers of about 10 stories with a rooftop helipad and enclosed walkways to nearby buildings.
The multitower design can hold up to 576 private patient beds and "expansive" outpatient care areas, IU Health said.
Parts of the existing Methodist complex will be connected to the new hospital via a walkway and could hold additional beds, exam rooms and other clinical space.
The hospital will be between 16th and 14th streets on the eastern part of the expanded campus. The medical school will be to the west, along I-65. That design is still being  planned, although IU Health released a preliminary design in its rendering.
The $1.6 billion price tag covers only the construction cost of the new hospital. It doesn't include other planned buildings, whose costs are yet to be determined, IU Health said.
The hospital system said it is not seeking tax breaks on its investments. It said it will maintain its not-for-profit status and thus not pay property taxes.
IU Health said the new campus will amount to "one of the most notable construction projects" in the history of Indianapolis and the largest investment yet by IU Health toward its mission to make Indiana one of the healthiest states. IU Health also is replacing hospitals in Bloomington and Frankfort while expanding IU Health West Hospital in Avon, and recently opened a cancer center at IU Health North Hospital in Carmel, at a combined cost of over $500 million.
The transformation also is likely to change how IU Health delivers health care in time of rapid change, when insurers are demanding lower prices, less overhead and more care delivered outside of hospitals.
The initial hospital that opened in April 1908 featured 65 beds—barely 10% of its current number—as well as four large wards, three smaller wards and some private rooms. The plumbing was equipped with pedal action, and dumbwaiters were operated by push buttons. The entire project cost $225,000.
Those buildings have been updated over the decades. But the low ceilings, narrow halls and aging building systems do not convey the impression of 21st century medicine. IU Health said the new hospital is a dramatic upgrade in design and efficiency.
IU Health already occupies some of the land south of 16th Street, including its $100 million Neuroscience Center, which opened in 2012, along with its Goodman Hall clinic and Stark Research Center. All of those will remain. A family medicine clinic will move elsewhere.
But other businesses also occupy part of the 44 acres. Those include the Gregory & Appel insurance benefits office, which will stay; and Johnson Controls, a maker of building mechanical systems, which will stay "for a period of time," said Jim Mladucky, IU Health's vice president for design and construction.
He said the effects of IU Health's investment will ripple beyond the borders of the expanded campus.
'This is not just a consolidation of two hospitals to one location," Mladucky said. "We're working hard with local leaders and looking to create what we at least coined a Health District. So beyond the boundaries of our hospital, this campus, where we understand this is a neighborhood. We're working with them to improve the health of that community, and to make sure that we integrate as a good neighbor."
As part of the transformation, Methodist, one of the largest maternity hospitals in the state, will shift all its maternity and newborn services to Riley Hospital for Children, also part of IU Health. Riley is completing a $142 million project to renovate four floors of its hospital on the IUPUI campus into a maternity and newborn health unit, with a Level 3 neonatal intensive care unit and a postpartum unit. The project is set to be completed next year.
The transformation also throws the future of the Simon Cancer Center, which opened in 2008 on the IUPUI campus, up in the air. Cancer care will be shifted to the Methodist campus. Nagy said plans have not been determined for the Simon building.
Construction of the 405,000-square-foot Simon Cancer Center was funded in part by a $25 million gift from the late Melvin Simon and his wife, Bren.
Please enable JavaScript to view this content.