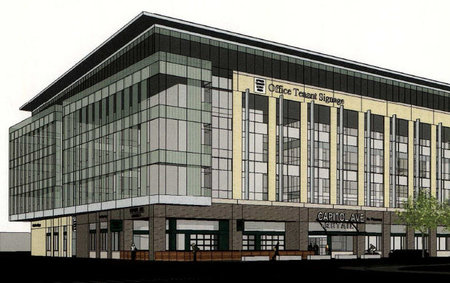 A local group that owns the vacant parcel at the southeast corner of 16th Street and Capitol Avenue is proposing to build a big office project on the property anchored by a 40,000-square-foot grocery store.
Fire H2O LLC, comprised of executives of Shiel Sexton Co. Inc. and Gregory & Appel Insurance, filed plans with the city this month, roughly seven years after its initial proposal for the 4.5-acre site fell through.
Indiana University Health in 2011 canceled its plans for a $73 million administrative office building there and instead purchased the Gateway Plaza tower at 10th and Illinois streets.
At the time, the ownership group had spent more than four years amassing the land, with IU Health long expressing interest in being an anchor tenant.
"We had a project that got canceled because of the financial downturn," said Richard Hennessey, Shiel's executive vice president. "This is similar but downsized."
Updated plans presented to the city call for a five-story, 250,000-square-foot office building with the ground floor occupied by the grocery store, facing Capitol Avenue. Hennessey declined to name the grocery, saying the deal has not been finalized.
Hennessey also declined to provide a cost for the new project, saying the design is 50 percent complete and is in the process of being priced.  
A seven-level, 950-space parking garage would be built to the south, along Capitol between 14th and 15th streets, fronted by a five-story, 71,000-square-foot office building.
"There's a Red Line stop at 14th and Capitol; this is in anticipation of that," Hennessey said.
The Red Line bus rapid-transit project is intended to be a 13.1-mile route that runs between Broad Ripple on the north side of the city and the University of Indianapolis on the south side.
Construction is expected to begin soon, with the route open for service in the summer of 2019.
And later this year, IU Health is expected to unveil the preliminary design of its downtown campus, a $1 billion project that will consolidate Methodist and University hospitals and could result in the construction of several buildings and the demolition of others more than a century old.
Hennessey wouldn't discuss potential tenants for the office space.
The site where the office buildings would be constructed originally housed a factory for the HCS Motor Car Co. and for the Stutz Fire Engine Co. A fire station at the corner of 16th and Capitol was demolished in 2009, in anticipation of construction of the IU Health office building.
The property already is zoned for mixed-use development, but the design needs approval from the Regional Center Hearing Examiner. The project is expected to be presented to the hearing examiner on March 15 and to the Metropolitan Development Commission on April 4, Hennessey said.
Construction would start soon after, with completion in August 2019.
Please enable JavaScript to view this content.