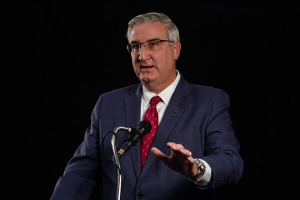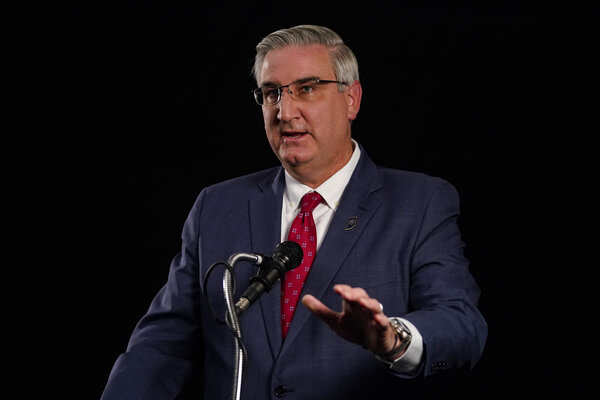 During the first of two gubernatorial debates leading up to Election Day on Nov. 3, the three candidates answered questions Tuesday night about education, economic development and the role of government, but largely avoided discussing the ongoing COVID-19 pandemic.
The hour-long discussion between Republican Gov. Eric Holcomb, Democratic candidate Woody Myers and Libertarian candidate Donald Rainwater was hosted by the Indiana Debate Commission and moderated by Andy Downs, director of the Mike Downs Center for Indiana Politics at Purdue University Fort Wayne. The candidates were all in the WFYI studio, but in separate areas from each other and from Downs as a COVID-19 safety precaution.
Myers tried to emphasize that he feels Holcomb has not done enough on issues such as teacher pay, supporting businesses and preventing the spread of the coronavirus, while Rainwater focused on his belief that the government is too involved in Hoosiers' lives and what he would do to change that.
Holcomb spent his time touting his administration's accomplishments, such as continuing to make the state's tax structure attractive to businesses and securing new job commitments, but he acknowledged more work could still be done, especially on K-12 funding and teacher pay.
The biggest announcement in the discussion came during opening statements when Myers said he would appoint Republican Jennifer McCormick to be the state's first secretary of education.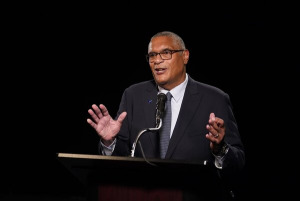 McCormick is the state's elected superintendent of public instruction, but that role will become an appointed position next year. She endorsed Myers earlier this year and has endorsed several other Democratic candidates this year.
"She has been and will continue to be an outstanding leader for our state," Myers said.
Myers also said the state is not prioritizing funding for public education and teacher pay as much as it should.
"We can do so, so much better for the teachers of our state," Myers said.
Holcomb defended the state's spending on K-12 education, pointing out that it accounts for about half of the budget every year, and the current two-year budget included an increase of 2.5% each year for school funding.
"Now, that doesn't mean we're there yet," Holcomb said.
Rainwater said the education system needs to be decentralized and that he believes the funding should follow the child, regardless of which school the child attends.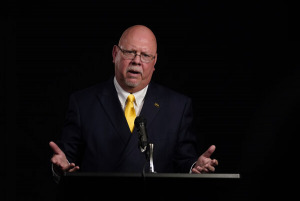 "This isn't about who's funding what where," Rainwater said. "It's about getting a child educated."
The candidates also talked about the state's tax structure, which Rainwater says he would significantly change by eliminating the income tax.
Holcomb said if tax revenue streams are eliminated, that would mean a cut in services.
"It's easy to talk about doing away with something, but you need to have a plan to replace it; otherwise citizens will suffer," Holcomb said.
Rainwater said he thinks there are billions of dollars in waste, fraud and abuse that could be cut from the state budget.
"Everybody knows it, but nobody wants to talk about it," Rainwater said.
Holcomb said he thinks his administration has identified cost-saving measures.
"We have cut to the bone," Holcomb said.
Myers also suggested that there are ways to make the budget more efficient and criticized state leaders for continuing to drop the corporate tax.
"We'll make sure that we are efficient in how we manage the government," Myers said.
But Holcomb said having a low corporate tax rate has made Indiana an attractive place to do business.
"A low cost of doing business and a low cost of living, plus pro-growth policies on the business side, equal getting ahead," Holcomb said.
Also on the topic of economic development, Rainwater said he doesn't believe it's the governor's responsibility to create more jobs.
One of the only questions that related to the pandemic was about whether individual rights and freedoms were more important than public safety.
Rainwater said individuals are best suited to make decisions regarding their safety.
"The reality is that there is no one-size-fits-all solution to anything," Rainwater said.
But Holcomb said because we don't all live alone and separate from one another, the decisions individuals make about their own safety could affect the safety of others.
"When that liberty or those actions start to infringe on someone else, that's where we have to take a look at the public safety," Holcomb said.
Myers said public safety would be one of his top priorities and argued that the state needs a "real" mask mandate, meaning one with penalties for violations. The mask mandate that Holcomb has issued does not include any penalties.
"A mask mandate will be issued on Day One, and it will count," Myers said.
The only other COVID-19-related question was on whether Holcomb should have called lawmakers back for a special legislative session instead of continuing to make executive decisions on what policies to implement during the pandemic.
Holcomb said he has the power to issue executive orders as he has over the past seven months, but he looks forward to talking to lawmakers about what changes should be made as it relates to the powers of the governor in a public health emergency.
Myers said a special session should have been called months ago, and Rainwater said he doesn't think the governor should have as much power as he does right now, and he'll ask lawmakers to change that.
The candidates will meet again for a second debate on Oct. 27.
Please enable JavaScript to view this content.