Hamilton County is conducting a study to help officials better understand the water needs of one of the state's fastest-growing counties.
Intera Inc., an Austin, Texas-based water resources planning company, is leading the study that is investigating how water moves to wells and streams in Hamilton County and what it means for future water availability in the area.
County officials plan to use the study's findings to make strategic water decisions in the years ahead.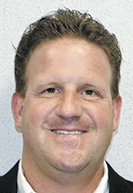 "A couple of years ago, we learned that Hamilton County could have a shortage of water supply from our aquifers into 2050, and so we were immediately proactive," Hamilton County Commissioner Mark Heirbrandt told IBJ.
Hamilton County's population grew from about 185,000 in 2000 to more than 356,000 in 2021, according to the U.S. Census Bureau.
Intera's study, which was funded with money from the American Rescue Plan Act, began in 2021. It is expected to continue through December 2024.
Heirbrandt said people across the county are contributing to the study. Intera's hydrologists and geologists are collecting data by distributing monitoring sensors that have been placed on wells throughout the county. About 60 sensors have been installed to help determine where water is found and where it is lacking.
"It's really been an incredible collaboration between all the utilities here in Hamilton County, Carmel, Westfield, Fishers, Noblesville, as well as Indiana American Water and Citizens Energy Group," Heirbrandt said.
The study is also looking to identify the county's largest water users and determine conservation methods that can be used to replenish aquifers.
Heirbrandt said county officials will take the information gathered from the study and look for opportunities to conserve and replenish aquifers and ensure the county will have plenty of water in the future.
Intera is gathering preliminary data, and it is too early to determine results from the study.
"We're all working together to try to determine find a solution on how we can tackle this so we've got plenty of water in the future," Heirbrandt said.
The water study in Hamilton County is just one example of officials in Indiana looking at how to increase access to water as population and employment patterns shift.
In Boone County, state officials are looking into the idea of tapping into the aquifer along the Wabash River downstream from Lafayette in Tippecanoe County to provide water for the massive LEAP Lebanon Innovation and Research District.
That plan would involve transporting as much as 100 million gallons of water a day through a 35-mile pipeline to support the manufacturing hub and increase water access across central Indiana.
Please enable JavaScript to view this content.