Noblesville City Council member Wil Hampton is giving up his District 4 seat to move to Florida and start a new job as associate director of athletics at Ave Maria University.
Hampton, a Republican, has represented the city's central-most district since he was first elected in 2015. A former TV sportscaster and communications professional, Hampton, 59, started doing part-time work for southern Florida's Ave Maria University in March. He recently accepted a full-time job offer from the university and is now planning to move 25 miles east of Naples within the month.
After Hampton's last council meeting on Aug. 24, the Hamilton County Republican Party will hold a caucus in September to identify a replacement to serve the remainder of his four-year term.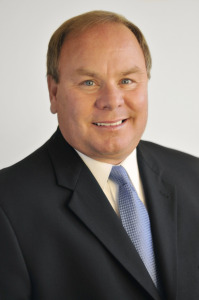 "I'm a Hoosier, and I will always be a Hoosier. It's very, very difficult to leave," Hampton said. "I wasn't looking for this job. This thing sort of came out of the blue."
Hampton grew up in Muncie, where his father and grandfather both served as mayor. After attending Ole Miss in Mississippi and living in North Carolina for roughly a decade, Hampton returned to Indiana to temporarily live in Carmel before moving to Noblesville in 1996.
While living in Noblesville, Hampton and his family have attended Our Lady of Grace Catholic Church. Hampton also served as the president and a member of the Noblesville School Educational Foundation's board for 14 years.
Prior to his time on council, Hampton worked as a sports director for WISH-TV and as the Indianapolis Colts' director of production. It was his next job as executive director of athletic events, sponsorship and marketing for Indianapolis-based Marian University that set him up for the new role. He held the position from 2013 to 2017.
Hampton said, lately, he'd been missing the mentorship opportunities and the connections he'd formed with student athletes in that position. So, he searched for preeminent Catholic universities and kept an eye on sunny Ave Maria.
"My faith is very important to me. It's central in my life," Hampton said.
For Ave Maria, he's responsible for recruiting, retention, fundraising and budgets related to the administration of the university's athletics department. He'll handle football, men's basketball, baseball, men's soccer, golf, tennis and swimming.
Though Hampton said he'd hoped to serve another term on the Noblesville council, he said he feels this new job is his next calling. As for his work on the council, Hampton said he was proud of the way the city handled the development of the Levinson project.
"The Levinson project and parking garage off the square, that was a big move. That was the first major build like that in the downtown for probably 100 years. It's probably one of the biggest things we've done in the community, and we've done it right," Hampton said.
Please enable JavaScript to view this content.