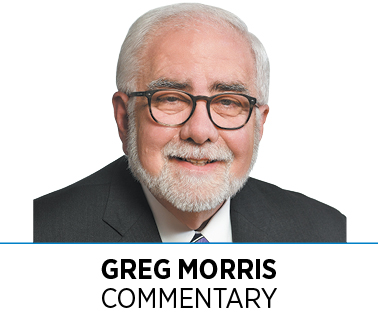 On Oct. 25, IBJ and Gleaners Food Bank of Indiana continued our four-year partnership of convening the brightest minds and dedicated community leaders to discuss the urgency of hunger and related health issues in the Indy region and entire state.
Before you read further, please, please go to IBJ.com and watch the event video. It's one hour and 15 minutes long, but I guarantee it's worth your time.
Jeff Simmons, president and CEO of Elanco Animal Health, was our keynote speaker.
And IBJ Managing Editor Lesley Weidenbener moderated a discussion with Dr. Cynthia Meneghini, medical director of the Jane Pauley Community Health Center and primary care physician at Community Health Network; Dr. Thomas Whittaker, retired physician at IU Health and Gleaners volunteer; and Richard Gordon, SNAP outreach manager at Gleaners. John Elliott, Gleaners' president and CEO, wrapped up the event.
This is my eighth column in four years addressing these critically important issues. Why so much focus on food insecurity? Because we want to help Gleaners with its mission of addressing the unrelenting urgency of feeding our hungry neighbors—24/7, 365 days a year. You see, hunger does not take a holiday.
The need is always critical, but especially this year, considering the devastating effects of the pandemic.
I've said this in the past and I'll keep saying it. In this age of toxic disagreement over almost everything, surely we can all agree that everyone has the right to receive at least basic nutrition on a daily basis.
Regarding our keynote speaker, Simmons' 30 years at Elanco have impressed upon him the importance of healthy animals. Healthy animals are the key to solving some of the world's most pressing issues: food security and nutrition, human health and well-being, and environmental sustainability.
Simmons, a longtime Gleaners volunteer, board member and key adviser, gave a very inspirational and information-packed speech. He really got things rolling with the following question: "When was the last time you saw a face of hunger—really somebody hungry?" For Jeff, it was recently in an interview with a man in a long line, in his car, at Gleaners. The man said, "I am shocked that I'm here. Sixty days ago, I was fine. Now, I need food." Simmons described the encounter: "There was fear, there was shame, and there was a restlessness in his voice."
This is not an unusual story at Gleaners, where people who aren't accustomed to being out of food have been forced to join the line at Gleaners alongside our hungry neighbors who face systemic poverty issues every day. As we've stated, it's just plain wrong that anyone has to worry about going to bed hungry.
Simmons challenged all of us to look at the other side of hunger—our need for hungry leaders. He makes a strong case that hungry leaders don't take no for an answer. With purpose, conviction and collaboration from and among the public, private and not-for-profit sectors, we will solve this problem for Indianapolis and eventually the rest of the state.
I want to again thank Elliott and the entire Gleaners organization for their ongoing partnership with IBJ. It's an honor to remain in this fight beside the hard-working, dedicated Gleaners team.
As with all critical endeavors like this one, it takes money to make things happen—a lot of money—along with a lot of volunteers.
So today, I ask each of you to join us—Gleaners and IBJ—in this critically important effort. Thanks to everyone for your compassion, your commitment and for all you do to help our hungry neighbors.•
__________
Morris is publisher of IBJ. To comment, email gmorris@ibj.com.
Please enable JavaScript to view this content.