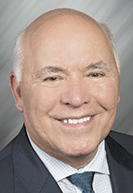 The attorney discipline case accusing high-profile Barnes & Thornburg partner Larry Mackey of an improper relationship with the ex-wife of a former Fishers client who was convicted of securities fraud should be dismissed, the hearing officer in his case has recommended.
Hearing officer Robert C. Reiling Jr.'s report issued Thursday says the Indiana Supreme Court Disciplinary Commission failed to make its case that Mackey violated Rules of Professional Conduct for which he should face the prospect of ethical sanctions.
The commission charged that Mackey—who previously had been involved in such high-profile federal prosecutions as that of Oklahoma City bomber Timothy McVeigh—had a conflict of interest and made a false statement to the commission related to his relationship with the wife of former money manager Keenan Hauke. The wife, Sarah, later divorced Hauke and married Mackey.
Hauke and Sarah were married at the time Hauke was charged, but Reiling's order portrays the couple drifting apart during Mackey's representation.
Mackey began representing Hauke in April 2011. Hauke was ultimately charged with masking losses in his Samex Capital Partners hedge fund, in which 67 investors lost more than $7 million. He pleaded guilty to securities fraud in December 2011 and was sentenced to 10 years in federal prison.
The commission had accused Mackey of conflict of interest, a violation of Indiana Rule of Professional Conduct 1.7(a)(2); and knowingly making a false statement to the commission by failing to acknowledge a "romantic" relationship with Sarah during his representation of Hauke, a violation of Rule 8.1(a).
"This matter should be dismissed and no action should be taken" against Mackey, concluded Reiling, a name partner of the Lafayette firm Reiling Teder & Schrier.
The report is not binding on the Indiana Supreme Court, which ultimately will decide what discipline, if any, to impose. However, the report carries substantial weight with the court because justices appointed Reiling to hear evidence presented by the commission and by Mackey's defense team from Hoover Hull Turner LLP in Mackey's disciplinary hearing in July.
"Mr. Mackey is grateful for the careful and deliberate review of the evidence by the Hearing Officer which confirmed Mr. Mackey's belief that he acted properly in his representation of Mr. Hauke nine years ago, provided truthful information in response to his grievance, and has not violated any of the ethical rules," Hoover Hull Turner name partner Wayne Turner said in an email. "Out of respect for the Supreme Court's process which has not yet concluded, Mr. Mackey will make no further comment at this time."
Keenan Hauke had asked the commission for an investigation of alleged misconduct by Mackey. Hauke went public with his accusations against Mackey in 2017 after filing a petition with the court alleging he had received ineffective assistance of counsel during his securities fraud case. At that time, Mackey and Sarah insisted their relationship did not commence until after Mackey no longer represented Hauke.
But the disciplinary commission said that wasn't so, stating that in its initial investigation of Hauke's claims against Mackey, he "downplayed the romantic nature of his interactions with Sarah and stated he and Sarah became friends" during his representation of Hauke. Hauke accused Mackey of having an affair with his ex-wife, a charge Mackey denied.
Mackey insisted he and Sarah did not have a sexual relationship during his representation of Hauke. Reiling said the commission had not proven its case that Mackey failed to be candid with the commission by failing to call the relationship "romantic," or that Mackey had a conflict of interest.
"There is no Indiana case imposing discipline for a personal, non-sexual relationship with a client's spouse in a context where the client and his estranged spouse's interests are aligned rather than adverse. Making new law where no precedent exists is inappropriate—especially with an inherently subjective rule like Rule 1.7(a)(2)" regarding conflict of interest, Reiling wrote in his report.
Further, "At the time (Sarah) and (Mackey) recognized their mutual interest in each other, (Hauke's) legal representation was relatively inactive and close to conclusion. On the federal criminal side, (Hauke) had already given the July 6 proffer to federal authorities, and (Mackey) already had made clear the need to transition to new counsel based on (Hauke's) inability to pay fees."
Reiling noted that Hauke filed two prior disciplinary complaints against Mackey in November 2013 and September 2018 that were dismissed before the commission reopened its case last December after receiving a referral letter from Southern Indiana District Court Chief Judge Jane Magnus-Stinson based on evidence Hauke raised in court.
Hauke testified at Mackey's disciplinary hearing, but Reiling noted Hauke "was not a credible witness due to his felony conviction and inconsistent testimony" and "… made several accusations against (Mackey) that were untrue and/or unsubstantiated."
Among the character witnesses who appeared on Mackey's behalf were former Indiana Chief Justice Randall Shepherd, former Marion County Prosecutor Scott Newman, Hauke's father and Joseph Hartzler, lead prosecutor in the Oklahoma City bombing trial.
"Each of these witnesses provided unimpeachable evidence regarding the character and reputation" of Mackey, Reiling wrote.
Likewise, Reiling found the commission had not proven Mackey violated Rule 8.1(a)—knowingly making a false statement of material fact.
"(T)he evidence is compelling that (Mackey) cooperated with the Commission's investigation and responded to (Hauke's) grievances and to the Commission's investigation of those grievances in good faith," Reiling found.
"In its discovery responses, the Commission contends Respondent misled it because his response failed to characterize the relationship as 'romantic.' That claimed omission could not support its charge under Rule 8.1(a). As noted, the Commission did not charge a violation of Rule 8.1(b) or support such a charge with any evidence."
Rule 8.1(b) says in part that an attorney in a discipline case shall not "fail to disclose a fact necessary to correct a misapprehension known by the person to have arisen in the matter, or knowingly fail to respond to a lawful demand for information from an admissions or disciplinary authority."
"The Commission did not allege or prove that it was acting under any misapprehension because of something Respondent did say in his grievance response," Reiling wrote. "And in any event Respondent could not be disciplined for failing to use the Commission's selected adjective or characterization of the facts."
Please enable JavaScript to view this content.