Sharing milestone moments on social media has become a cultural norm. But when a graduate is being handed a diploma and parents are seated far from the stage in a huge gym or giant arena, it can be difficult to capture the precise moment in a close-up and shareable way.
Indianapolis-based Herff Jones believes it has found the answer in 30- to 45-second digital graduation videos created by StageClip, a company that uses livestreaming to capture each graduate who crosses the stage at participating high schools and colleges.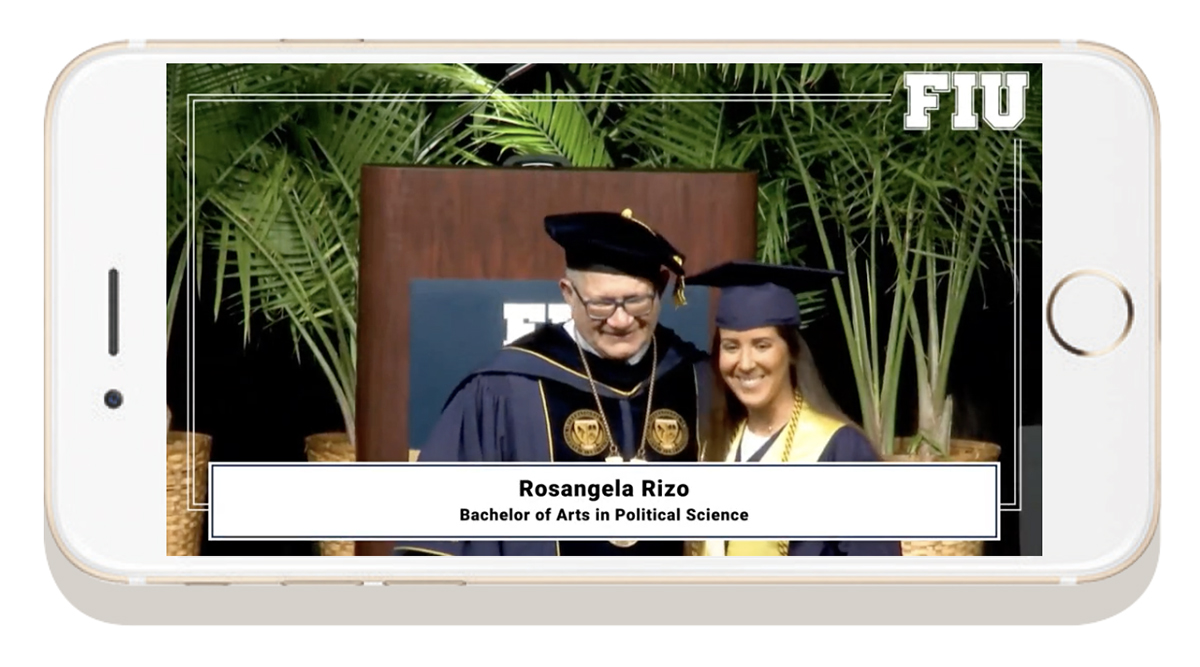 Last month, 102-year-old Herff Jones became a minority investor in England-based StageClip, helping the Indiana company known for its yearbooks, caps and gowns, and class rings move further into the digital age and play to the desire of students and parents to share the big moment on Facebook, Twitter and elsewhere. The move extends a collaboration started in 2020.
The investment comes with an exclusive multiyear commercial agreement allowing all customers of Herff Jones and Varsity Brands, its parent company, to use StageClip's technology, said Ron Stoupa, chief marketing and product officer for Herff Jones. He declined to specify the investment amount.
Purdue University and the University of Notre Dame already are among 1,000 colleges worldwide to offer StageClip services. Indiana University will start offering graduation clips for this May's commencement, company officials said.
"It's good for students, good for parents and good for the schools," Stoupa said. "That's why we love this product."
Mark Andrew, co-founder of StageClip with Rupert Forsythe, said the idea was a huge success when they tested it for Kingston University in London in 2017. The university asked for a non-physical product to replace DVDs used to record graduation ceremonies. They rolled out the graduation clips in the United States in 2018.
"Everybody wants to see themselves walk across the stage," Andrew said. "It puts a smile on your face. It's a very happy day. It's one of the big moments in people's lives. It's a real celebration that's captured in a digital moment. They can share it shortly after the ceremony is finished, within 24 hours. And it's a product they can keep forever."
Stoupa said the service test-marketed well with students and parents when Herff Jones piloted it last fall. The product also plays to the cultural motto: "If it's not posted on social media, it never happened."
The StageClip video for each student shows about five seconds of the graduate walking across the stage, receiving the diploma and often shaking hands with a school official. The graduate's name and degree title also are displayed.
For graduates to receive or purchase clips, universities must agree to provide a list of graduates' names and submit full livestreamed videos of their commencement ceremonies Many universities gift the clips to all graduates or apply the cost to graduation fees. If not, graduates can purchase them retail for $19.99 to $24.99 from StageClip or their universities.
Universities submit their logos, colors and branding videos of the sights and sounds of their campuses, and those are combined with each student's graduation clip.
"It's great branding for the institution," said Brian Vander Schee, clinical associate professor of marketing at Indiana University Kelley School of Business at IUPUI. "The schools benefit from the branding. The two companies have increased revenue stream. Everyone who buys one is going to get in a bit of the video."
The advent of personalized digital graduation videos reflects the growing "experience economy" as an additional way to do business, said Vander Schee, who specializes in digital marketing, social media, branding and social engagement.
Research shows people still value tangible products, such as graduation rings, but they also enjoy shared virtual experiences, he said. Examples of the growing trend include personalized e-greeting cards, Amazon Prime Video watch parties, and Amazon Prime Explore virtual tours with guides.

Herff Jones competitors also are stepping up their digital offerings. Minneapolis-based Jostens has added personalized video messages to graduation announcements using a QR code, and an interactive yearbook allowing students to tell their own stories through digital photos.
At Herff Jones, officials have been spending a lot of time thinking about what graduation ceremonies and events would look like in the next 100 years–especially as the pandemic made so many commencements virtual-only.
During the social-gathering shutdown, the company also was able to partner with StageClip to help its school partners offer virtual graduation ceremonies.
StageClip provided total virtual ceremonies, including officials' recorded commencement speeches and a procession of graduates' photos, messages and short videos. Now, some universities and schools do a combination of the live in-person clips of graduates walking across the stage, and graduates who don't show up are invited to submit content to be included.
StageClip's patented technology also can be used to create personalized video clips for other types of ceremonies, celebrations, conferences and athletic award ceremonies, whether it's on stage, virtual or a hybrid format. Andrew said his company is continuing to develop digital products, among them video clips of sports feats universities can use for recruiting and fundraising purposes.
Stoupa said he looks forward to future collaborations with StageClip.
"We meet every week about ideas and continue to grow," he said. "This is beyond just the clip."•
Please enable JavaScript to view this content.