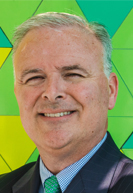 Indianapolis Department of Public Works Director Dan Parker has been named chief of staff for Mayor Joe Hogsett, the city announced Thursday. 
Parker will succeed Taylor Schaffer, who earlier on Thursday was named to become CEO of Downtown Indy Inc.
Parker will begin the position Monday, Aug. 29. Schaffer will continue to serve as Hogsett's senior adviser through the transition, until Sept. 16.
"Dan Parker is a devoted public servant with decades of experience working to improve the lives of Hoosiers and Indianapolis residents," Hogsett said in written comments. "I look forward to working with him in this new capacity, enhancing our efforts to make Indianapolis a safe, welcoming, equitable and prosperous community."
A longtime political consultant, Parker's career with Indiana Democrats dates to 1992. He served as chairman of the Indiana Democratic Party from 2004 to 2013.
Thomas Cook, a partner with Bose McKinney & Evans LLC and former Hogsett chief of staff, was hired by Parker out of college as communications director for the Indiana Democratic Party. Cook hired Parker to lead DPW in 2017.
Cook said Parker has a wealth of experience and information that will serve him well in the new role.
"Dan did serve as a political party chairman, but people often forget that the Republican state chairman at the time was a guy named Eric Holcomb," Cook told IBJ.
Parker has worked with Indiana leaders like former Gov. Evan Bayh and former Indianapolis Mayor Bart Peterson.
In his five years with DPW,  the department invested tens of millions of dollars in downtown roadwork. Recently, he's led the current rebuild of Market Street and introduced a five-year, $1.2 billion infrastructure plan to the City-County Council for the 2023 budget process.
This rejuvenated the department and allowed the city to send their own personnel for road work rather than hiring contractors, Cook said.
"I hope Dan does not slow down in the refrain he had in all of our staff meetings and cabinet meetings, which is 'our job is to serve the public and get things done,'" Cook said.
Parker also served as president of the Indianapolis Metropolitan Development Commission from February 2016 to May 2017.
Schaffer, who spent almost seven years in the Hogsett administration, first served as the communications director for the mayor's campaign. She became chief of staff in December 2020.
The new head of DPW has yet to be named.
Please enable JavaScript to view this content.