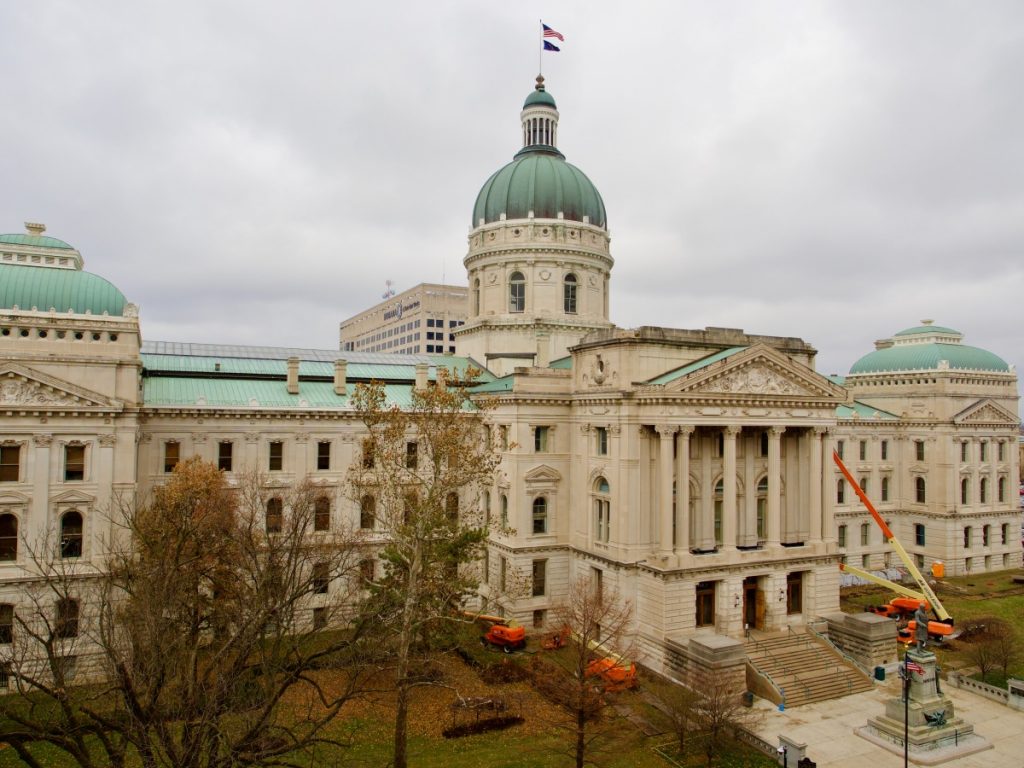 With legislators preparing to meet at the Indiana Statehouse for 2023 legislative session starting this month, Indianapolis Mayor Joe Hogsett is asking lawmakers to consider the city's infrastructure, housing, public safety and public health priorities.
Among the specific requests on a list released Tuesday by Hogsett are shifting the state road-funding formula, creating more tenant protections, taking action on 3D-printed gun alterations, and providing more public health funding.
Many of the city's requests are likely to face tough opposition from the Republican supermajority at the Indiana Statehouse.
In a November interview with IBJ, Hogsett said a large number of the city's legislative efforts can be characterized as playing defense, rather than engaging in offense. He used bills that proposed state control of the Indianapolis Metropolitan Police Department and IndyGo as examples.
But, in a written statement Tuesday, Hogsett said there will be dialogue with lawmakers.
"I look forward to continued conversations with our partners at the other end of Market Street on these critical issues," the statement said.
Road funding
Hogsett has joined other central Indiana mayors in declaring road funding for the metro area inadequate. 
To improve Indianapolis' infrastructure, the legislative priorities propose adjusting the road-funding formula definition of Indianapolis from the fire service territory boundaries to the full borders of the post-UniGov city; re-structuring the Community Crossings grant program to scale the infrastructure needs of more populous counties; and refinancing old bonds to allow for debt service to be invested back into local road funding.
State Sen. Aaron Freeman (R-Indianapolis) suggested the redefinition of Indianapolis' borders as a fix to the area's infrastructure funding woes in a late November interview with IBJ.
Housing trends, tenant protections
Two state task forces, one on housing and another on a low-barrier homeless shelter, have been holding meetings and have or will release findings from the research. Those findings should be reviewed and given supportive funding, the mayor said.
From the statewide Low-Barrier Shelter Task Force, the city seeks resources for the master leasing of apartments, which would allow a not-for-profit or government entity to lease a number of units from a property owner that it could then sublease to low-income or homeless individuals. The request also includes resources for shelter supportive services and operations.
As housing demand increases, the city is asking for state efforts to prevent displacement associated with increasing property values, which lead to increased property taxes, as well as additional funding for city-led efforts to combat displacement.
Indianapolis city leaders also want to restore tenant protections, specifically those outlined in a 2020 ordinance creating a Tenant's Bill of Rights that was quickly removed by the legislature. 
In the fall, residents at four apartment complexes were threatened with utility shutoffs due to landlord nonpayment, which was resolved through a city and state Attorney General lawsuit. Because of this instance, the city asks for legislation allowing rent withholding and utility escrows.
The city's rent-assistance program, IndyRent, has run out of federal funding and halted applications Nov. 30. The legislative priorities request funding for the program from state coffers as city officials attempt to make the program "more permanent."
Gun accessibility, re-entry funding
Indianapolis had 209 homicides in 2022 as of Dec. 25. In an effort to decrease the number in 2023, the city is asking for state action on firearms.
The priorities include efforts to reduce 3D-printed gun converters and measures to reduce access to firearms for young people, those with mental health challenges and convicted felons. The city also requests funding for re-entry programs.
Provide public health funding
Public health is already teed up to be a big topic in the 2023 session, with the Governor's Public Health Commission requesting a $240 million annual increase in statewide public health funding. 
In its 2023 priorities, the city seeks support for individuals suffering from addiction and mental health challenges, as well as additional funding for Indianapolis food efforts.
Lawmakers meet at the Statehouse for the first time in 2023 on Monday, Jan. 9, but legislation can be introduced starting this week.
Please enable JavaScript to view this content.