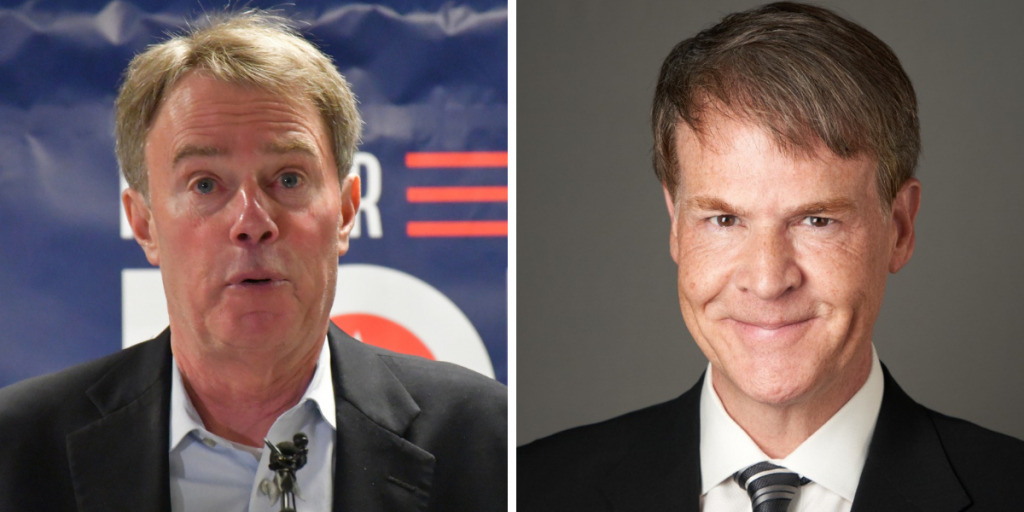 Indianapolis Mayor Joe Hogsett soundly defeated Democratic challenger Robin Shackleford in Tuesday's primary election, setting up a November showdown with Jefferson Shreve, a largely self-funded millionaire candidate who handily won the GOP nomination.
During his primary campaign, Shreve relentlessly attacked Hogsett's record on crime while declining to address many other issues. But now that he has received the Republican nomination, Shreve said, he plans to "put some policy meat" before voters.
Shreve and Mark Lubbers, a campaign adviser and longtime ally of former Gov. Mitch Daniels, said the short timeline between Shreve's candidacy filing on Feb. 3 and the May 2 primary required him to hammer on the crime messaging.
"There's no doubt that crime is the No. 1 issue for all voters. But it was especially true among Republican voters," Lubbers said. "And so with eight weeks to win a primary, we had to do what we had to do."
Lubbers said Shreve will now push to "reinvigorate" the mayor's role in education policy. 
While Hogsett led a more traditional primary campaign with mailers, text messages and phone banks, Shreve went on the offensive early with a blitz of TV, radio and digital ads attacking Hogsett's record on crime and characterizing the city as crumbling under his leadership.
That messaging helped him easily defeat political commentator Abdul-Hakim Shabazz, his closest competitor in Tuesday's GOP primary.
Hogsett also faced criticism from Shackleford, a state representative and his Democratic primary foe, for not doing enough to fight crime or fix the city's streets. He responded by pointing to historic funding levels for the Indianapolis Metropolitan Police Department, a recent decrease in homicides and a five-year, $1.1 billion infrastructure plan with provisions to improve street safety.
Shreve, a former city-county councilor, said he has given at least $2.5 million of his own money to his campaign. Shreve's wealth comes in part from the sale last year of his self-storage company for $590 million.
The Hogsett campaign, meanwhile, appeared to be hoarding cash, amassing  $4.1 million in campaign contributions as of mid-April and spending little during the primary, apparently in anticipation of a pricey November contest.
Shreve said he intends to continue to invest in his own campaign but told IBJ "it's crucial that other people buy into this candidacy." 
University of Indianapolis political science professor Laura Wilson said Shreve's dominant primary win over Shabazz and the increased voter turnout it brought to the primary election might lead to wider range of funders for the fall and a wider voter base.
Tuesday's turnout rose to 12.5% of registered voters, up from 9% in 2019.
There's little question that Shreve will be the best-funded GOP candidate Hogsett has faced in a mayoral election.
His previous Republican opponents—Chuck Brewer in 2015 and Jim Merritt in 2019—both complained that they were underfunded and couldn't get the financial support they needed from the GOP to make their races more competitive. Both were outfunded by a margin of at least 4 to 1.
Still, denying Hogsett a third term will be a heavy lift in heavily Democratic Marion County.
The last time a Republican upset a Democratic Indianapolis mayor came in 2007. That's when the GOP's Greg Ballard defeated two-term incumbent Bart Peterson by 51% to 47% amid voter anger over rising property tax bills.
To better inoculate himself against such a fate, Hogsett needs to court Shackleford and her allies, Wilson said.
Hogsett started laying the groundwork for Democratic unity during his victory speech Tuesday night.
"Moments ago, I received a phone call from state representative Robin Shackleford," Hogsett told supporters. "She was exceptionally gracious, and it just goes to show what kind of leader she is. We agreed that, while today we may have been competitors, tomorrow we will stand united."
He also began drawing distinctions between himself and Shreve, slamming the Republican for denigrating Indianapolis in campaign ads.
"When we all wake up tomorrow and look toward November, there will be a crystal-clear difference between the two competing visions for Indianapolis that are on the ballot this year," Hogsett told his supporters. "One vision wants you to believe that the best way to go forward in Indianapolis is to go back to the good old days. I disagree. That's why I'm proud of a diverse, vibrant, inclusive community, and that's why you have my commitment that I'll be damned if I'm gonna let someone drag us back into the past."
"One vision apparently believes the best way to build a better future is by spending millions of dollars on negative ads that tear Indianapolis down," Hogsett added. "I disagree. I'm proud of Indianapolis."
Shreve, however, is betting that some Democrats are unhappy with Hogsett's record on crime and street repair. And he acknowledged that he needs the support of disgruntled Democrats if he's going to win.
"We'll need Democratic voters to join us," Shreve said, wryly adding that "there is no Democrat or Republican way to fill a pothole."
Please enable JavaScript to view this content.