Indiana Gov. Eric Holcomb expanded the state's response to the coronavirus pandemic on a number of fronts Thursday, as he banned residential evictions, pulled back on plans to spend nearly $300 million from the state's reserves, and promised the state would broadly interpret unemployment rules to help as many out-of-work Hoosiers as possible.
Holcomb said he's still not prepared to issue further travel or work restrictions or take the drastic step of ordering people to shelter-in-place, as some communities like San Francisco have done.
But he ordered all K-12 schools—public and private—closed through May 1, and he said they may have to close for the semester. "We'll make that call down the road," he said. Holcomb also canceled all student testing for the year.
The order closing schools was the first statewide mandate for districts. The governor had previously left the decision up to local officials, but made it an easier call for them by creating waivers for missed days. All schools had closed, but some had at least tentative plans to return in April.
With the extended closures, schools will not have to administer the federally-required ILEARN exam to grades 3-8 this year. The testing window was originally scheduled to open April 20. Other tests, including IREAD-3 for third graders and ISTEP 10 for high schoolers, are also canceled.
Holcomb's decision not to move forward with plans to use nearly $300 million in surplus dollars to fund six capital projects at universities across the state is the first public move his administration has made to pull back on spending. The decision frees up money at a time when tax receipts—particularly from sales and income taxes—are expected to drop significantly.
The projects are at different stages and will continue, Holcomb said, but it's possible that bonds will need to be issued to pay for them.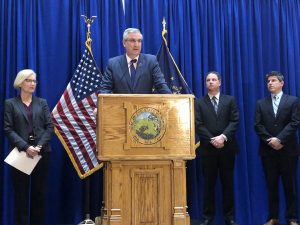 Holcomb's directives included the following:
The current state of public health emergency order will be extended an additional 30 days when it expires on April 5.
Utilities—including those that provide gas, water and electric service—are prohibited from discontinuing service during the public health emergency.
State officials will use a broad interpretation of the unemployment laws in an effort to cover more individuals whose jobs are impacted by the pandemic. Holcomb said that a year ago this week, 3,100 Hoosiers applied for unemployment. In three days this week, more than 22,500 Hoosiers applied for unemployment benefits. He encouraged anyone who is laid off to apply.
No residential eviction proceedings or foreclosure actions can move forward during the public health emergency.
The state will align with the federal government to delay state income tax payments from April 15 to July 15. The U.S. Treasury extended the deadline to pay federal income tax by 90 days. Holcomb is also delaying the sate filing deadline to July 15.
Late penalties for property tax payments made up to 60 days after the due date of May 11 will be waived. The state said it will work with counties that may experience cash flow problems because of the delay.
Individuals covered by the Healthy Indiana Plan and the Children's Health Insurance Program will not bee required to make premium payments.
Job search requirements will be waived for individuals applying for Temporary Assistance to Needy Families benefits.
Mental health professionals will be allowed to see patients via telemedicine.
As for supporting the business community, Holcomb said more help is coming from the state and federal government, but he did not elaborate on what that state help might be.
"There will be more that we will announce shortly," Holcomb said.
Office of Management and Budget Director Cris Johnston said the state has considered requests to temporarily stop collection of certain taxes to help businesses, like sales tax and food and beverage tax. But for now, he said, that is not possible because the state has to "provide essential services."
"Sales tax is the largest revenue stream for state government to provide those services," Johnston said.
Chalkbeat Indiana provided information for this story.
Please enable JavaScript to view this content.