All Indiana businesses are expected to display signage alerting employees and customers that masks are required to be worn, according to Gov. Eric Holcomb's new pandemic-related executive order that goes into effect Sunday.
The latest order, which Holcomb signed Friday, requires all businesses to place "clearly visible signage at their public and employee entrances notifying that face coverings are required for all individuals entering the business."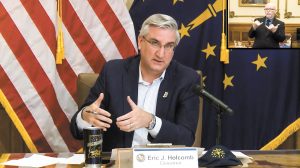 Businesses are also required to re-evaluate any existing COVID-19 response plan and "update it to reflect current business practices and safeguards," the order says.
In May, Holcomb initially ordered businesses to create COVID-19 action plans, which were expected to include an employee screening process, cleaning and disinfecting procedures, and the availability of hand sanitizer or hand-washing supplies.
Businesses are also encouraged to suspend any sick leave policy that requires a doctor's note.
The new restrictions and recommendations from Holcomb replace the five-stage reopening plan his administration unveiled in May and are in place through Dec. 12.
Most of the restrictions are based on the level of infection in each county. The state has developed a color-coded system that assesses the rate of infection and assigns one of four colors to each county.
The colors are based on the number of weekly positive cases per 100,000 residents and the seven-day all-tests positivity rate.
As pf Friday, most of the state, including Marion County, is in the orange category, which is the second highest level of infection. Nine counties are currently in red—the highest rate of infection.
Only five counties are in yellow, which is the third highest, and zero counties are in blue, which is the lowest level of infection.
In red counties, social gatherings and events are limited to 25 people without prior approval from the local health department. In orange counties, the capacity limit is 50 people; in yellow counties, it is 100; and in blue counties it is 250.
The capacity limitations do not apply to churches.
Counties can be moved into a more restrictive category "whenever the county's metric/score rises to a higher category." But to move to a less restrictive category—for example, moving from red to orange—a county's metrics must remain at the lower level for two consecutive weeks.
In red counties, local officials "should consider" limiting hours at bars, taverns, nightclubs and restaurants, the order says. And restaurants and retailers are "strongly encouraged" to have customers utilize online ordering and curbside pickup. But the executive order does not mandate those restrictions.
The Indiana State Department of Health, Indiana Department of Homeland Security, Indiana Alcohol & Tobacco Commission, local boards of health, law enforcement officials, and other state and local officials are allowed to enforce the executive order.
Businesses not complying with the order will receive a verbal warning, followed by a cease-and-desist order if the unsafe practice continues.
If a business does not comply with the cease-and-desist order, it will receive an order to shut down operations. If that occurs, the business will be reported to the Indiana Secretary of State "and to any relevant licensing, permitting, or certifying board, commission or other entity for consideration of revocation proceedings."
At that point, the matter will also be referred to the local prosecuting attorney.
Please enable JavaScript to view this content.