The 41,762-square-foot, seven-bedroom home of the late philanthropist and businesswoman Christel DeHaan hit the market Monday for $14 million.
The Indianapolis home sits behind stucco walls topped with terracotta tiles at 4501 N. Michigan Rd. on a 150-acre estate that was formerly the grounds of the Benedictine Monastery of St. Maur, according to the listing posted by Michael Johnson, an agent for Encore Sotheby's International.
"Nowhere else in the city will you find an estate with such a commitment to design and aesthetics," the listing reads. "Each section of the home, surrounding terraces, formal gardens, and lush landscape are stunning and functional based on their intended use."
Johnson did not immediately return a call seeking comment about the house. According to Indianapolis property records, the estate is owned by CD Realty LLC, which shares an address with the Christel DeHaan Family Foundation and Christel House International.
DeHaan, who co-founded Resort Condominiums International in 1974 and built it into one of the largest timeshare exchange companies in the world, died on June 6, 2020, at age 77. She ran the company after a divorce before selling it in 1996 to New Jersey-based HFS Inc. for $825 million. That made DeHaan one of the wealthiest women in America.
She used her fortune in 1998 to establish the not-for-profit Christel House International, which operates K-12 public charter schools in high-poverty areas throughout the world. She ran the organization until her death. She also founded and served as chairwoman of the Christel DeHaan Family Foundation.
The listing provides a rare chance to see the two-story stucco and stone house that was built in 2007 on a private lake. The estate's high walls and gates blocked the view from Michigan Road.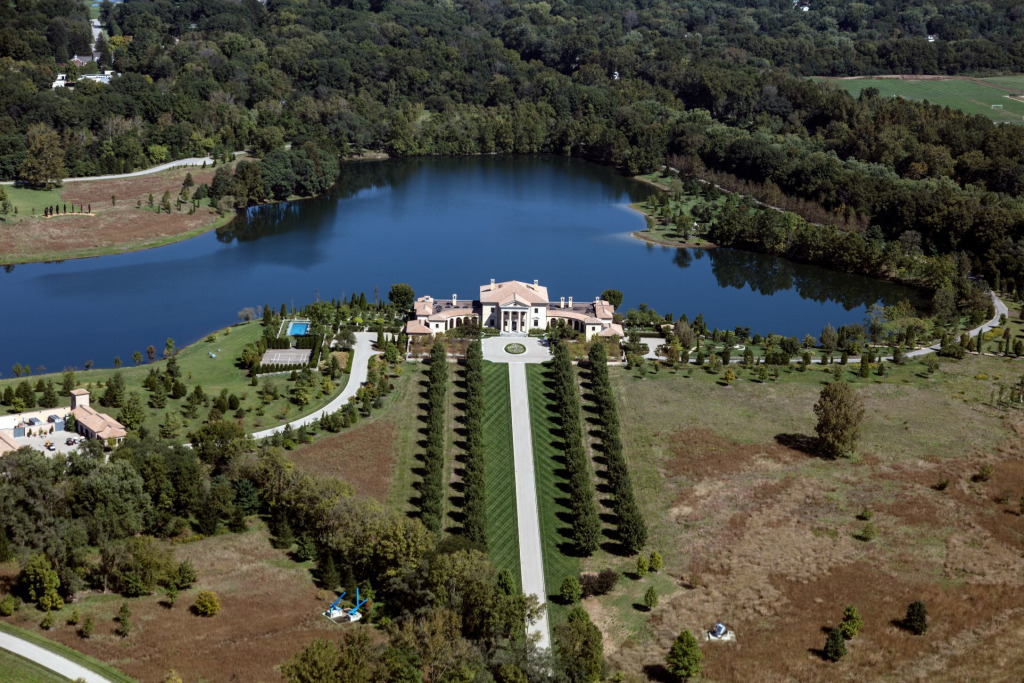 The house includes a tennis court, outdoor pool and pool house, indoor lap pool, sauna, fountains, terraced patios, sculptures and acres of formal and informal gardens. It has 61 rooms, according to the listing, including 10 full-bathrooms and seven half-baths and a full, finished basement.
The elegant home has in-law quarters, multiple kitchens, a spiral staircase and five fireplaces.
DeHaan was a German native who was born in the last days of World War II and raised by her mother after her father was killed during an American air raid. As a teen, she moved to England to work as a nanny, and then to Indiana in 1962 after meeting her first husband, who was a soldier based in the United Kingdom.
In 1974, she and her second husband, Jon DeHaan, started RCI. When they divorced, Jon DeHaan tried to cut her out of the business. When they went to court in one of the highest-profile divorces in Indiana history, however, a judge awarded Christel DeHaan control of the company.
Correction: This story originally said the house was located on Michigan Avenue. It is Michigan Road. You can see our corrections at IBJ.com/corrections.
Please enable JavaScript to view this content.