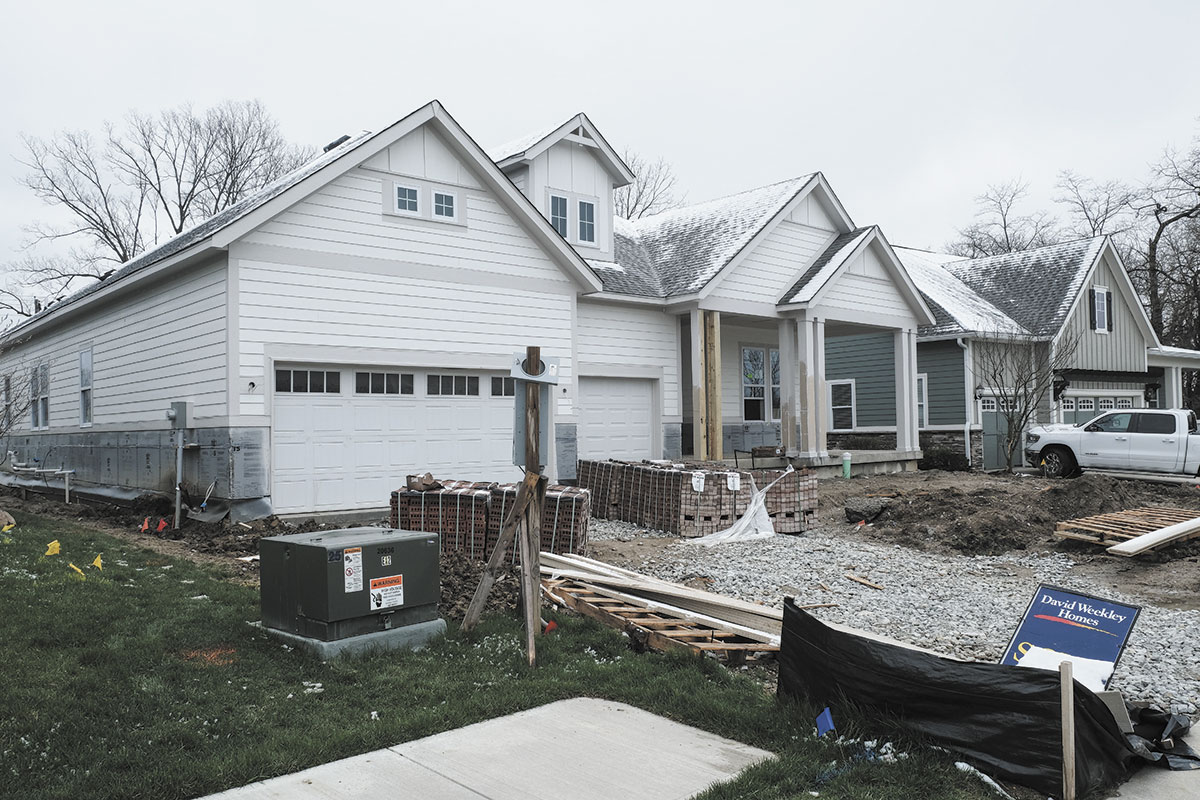 Homebuilding activity in central Indiana continued to slow last month as interest rates rose, according to the Builders Association of Greater Indianapolis.
Builders in the nine-county Indianapolis area filed only 457 single-family building permits in October, down a whopping 46% from 845 in the same month of 2021.
Permit filings have fallen on a year-over-year basis for the past 10 months and in 13 of the past 15 months. But October's year-over-year decrease was by far the largest in any month this year.
Builders have filed 7,250 permits during the first 10 months of 2022, an 18% decrease from the same period a year ago.
Rising mortgage rates, supply-chain issues, increasing costs and limited lot availability are hampering the market, according to industry experts.
For the week ended Nov. 17, 2022, the interest rate for a 30-year fixed-rate mortgage was 6.61%, according to Freddie Mac. For the week ended Nov. 18, 2021, the interest rate for a 30-year fixed-rate mortgage was 3.1%.
Steve Lains, CEO of BAGI, characterized the slowdown as "not surprising or discouraging."
"Mortgage rates have been unusually low these past few years, so a shift back to 6 or 7 percent rates has led to a slowdown, or rather a return to normalcy, in the market," Lains said in a media release.
The organization predicted a decrease in sales in its State of the Industry letter in August. According to the letter, builders are prepared to see construction home sales slow by 25% through 2023. 
County numbers
– After a slight rebound in September, Marion County saw single-family building permit filings drop in October from 127 in 2021 to 83 this year—a year-over year drop of 35%. on a year-over-year basis. Filings in the county are down 1% for the first 10 months of the year, to 1,147.
– Hamilton County, typically the busiest area county for home construction, saw filings sink 32% in October, from 200 to 137. Year-to-date filings are down 24% in the county, to 2,186.
– Hendricks County's numbers fell 53% last month, to 53.
– Hancock County saw October permits decline 67%, to 38.
– Johnson County experienced a 67% decrease in filings last month, to 37.
– Filings fell 43% in Boone County last month, to 45.
– Madison County filings were down 58%, to 32.
– Morgan County filings dropped 40%, to 9.
– Shelby County was the sole county in the Indy metro area to see filings rise, jumping from 7 in October 2021 to 23 last month.
Please enable JavaScript to view this content.