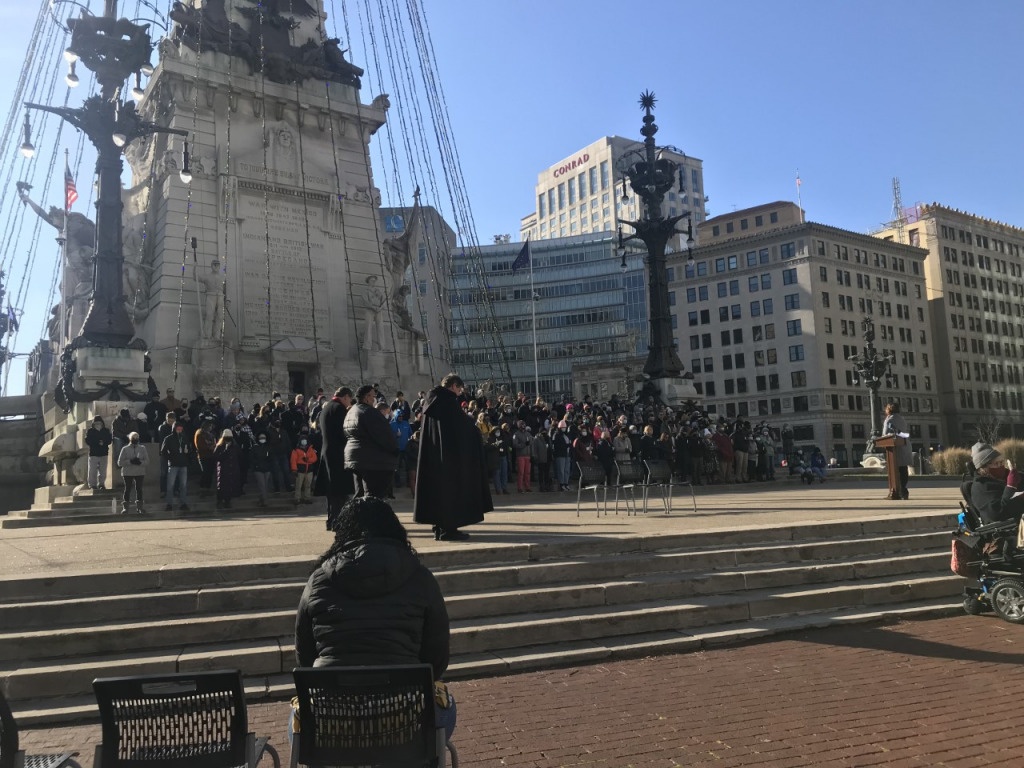 The Indianapolis-based Coalition for Homelessness Intervention and Prevention on Tuesday hosted its annual memorial service for the city's deceased homeless population, which in 2021 was at least 166 people.
"For some, this is the only time they're honored and remembered in this kind of way," Executive Director Chelsea Haring-Cozzi told reporters.
The death count is 91% higher than in last year's Zoom-only ceremony, which recognized the deaths of 87 people. About 1,930 people were identified as experiencing homelessness during Indianapolis' 2021 point-in-time count, conducted on one night in January.
Dozens of people stood or sat on or below the steps of Indianapolis' Soldiers & Sailors Monument, holding candles for each deceased person, while Haring-Cozzi read aloud the 166 names her organization had collected over the year.
Names come in from homeless service providers, a database the community runs, the Indianapolis Metropolitan Police Department, hospitals, families, friends and others, she said.
The Coalition purposefully holds its memorial service on the winter solstice, Haring-Cozzi said, considered the longest night of the year.
"Today, we are here to show one another that we care, that we remember and that we dedicate ourselves to continue to working until homelessness in Indianapolis is brief, rare and survivable," Mayor Joe Hogsett told memorial-goers.
His administration recently set aside $12 million dollars in federal American Rescue Plan dollars to invest in homelessness resources. That could take the form of a new, "low-barrier" shelter and resource hub, on recommendation from an Office of Public Health and Safety report in November.
Please enable JavaScript to view this content.