Seventeen Indiana companies are helping NASA return astronauts to the moon—and to achieve some even grander goals after that.
In November, NASA saw the first successful rocket launch in its Artemis program, which aims to return people to the moon's surface for the first time since the agency's Apollo program ended in 1972. Artemis' bigger mission is to build sustainable moon infrastructure that can serve as a launching pad for human missions to Mars.
It's a huge endeavor, and one that Indiana companies from all over the state are helping to make a reality.
"If Apollo was the golden age of space, this is the platinum," said NASA spokeswoman Marcia Lindstrom. "It is a time of new discovery, new opportunity."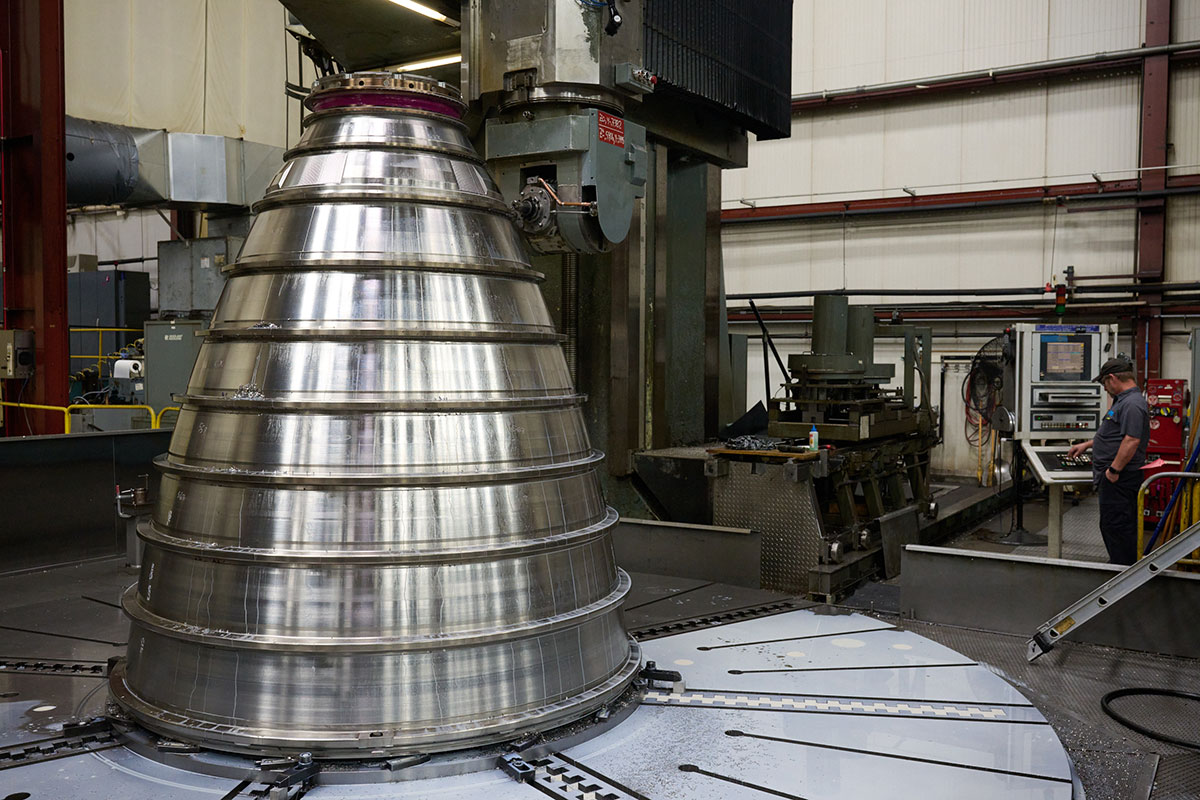 Lindstrom, and other NASA representatives and suppliers, visited Indianapolis last week for a public program at Major Tool & Machine. The manufacturer is one of the suppliers contributing to NASA's Artemis program, and the visit was part of a two-day Indiana visit that also included stops at fellow NASA suppliers Imagineering Finishing Technologies in Indianapolis and Manufacturing Technology Inc. in South Bend.
The 17 Hoosier companies are among more than 3,800 suppliers in the United States and Europe doing work for Artemis' five prime contractors: Lockheed Martin Space Systems Co., which is responsible for the Orion spacecraft that will carry astronauts into space; Aerojet Rocketdyne, Boeing and Northrop Grumman, all working on the space launch system for Orion; and Jacobs Space Exploration Group, working on the launch pad and other infrastructure at Kennedy Space Center in Florida.
Major Tool & Machine, which specializes in metal fabrication and machining, produced numerous components for the rocket known as Artemis 1, which launched last November. Those components include items like connector rings and parts for the rocket's liquid hydrogen and liquid oxygen tanks.
The company's president, Mike Griffith, said NASA work represents about 5% of Major Tool & Machine's business, and the company is a longtime NASA supplier. "We've been supporting space for quite a while."
Last week's visit to Indianapolis was NASA's chance to celebrate the successful mission of Artemis I. The unmanned rocket returned safely to Earth after 26 days.
The next big milestone is expected to happen in November 2024 with Artemis II, which will carry four astronauts on a 10-day mission around the moon. Another manned mission, Artemis III, is planned for late 2025, with the goal of landing on the moon. Other Artemis missions will focus on building infrastructure to include a lunar gateway—a supply point and fueling station for future missions to Mars.
NASA also plans to explore the not-yet visited south pole of the moon, whose canyons are believed to contain ice.
Other countries have also set their sights on the area. This week, India succesfully anded a spacecraft on the moon's south pole, becoming the first country to do so.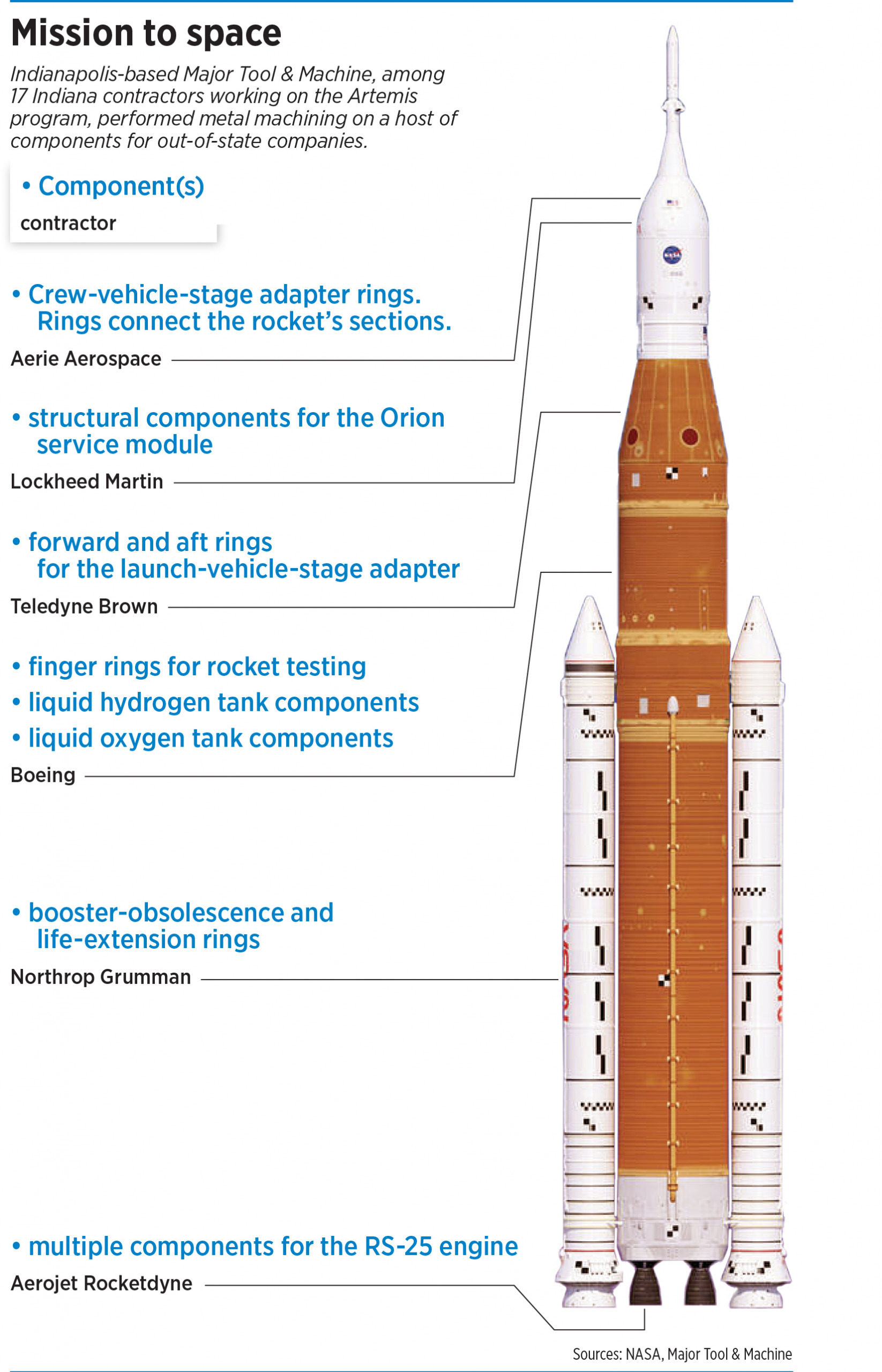 Since water can be split into hydrogen and oxygen to produce hydrogen fuel, NASA is hoping lunar ice will be the key to producing hydrogen fuel with the moon's resources. The ability to produce fuel on the moon would allow humans to generate their own energy while on a lunar mission.
"If we can find [lunar ice] in enough quantities and it's extractable, it's a game-changer," said NASA administrator Amit Kshatriya, who participated in NASA's Indiana road show last week.
As deputy associate administrator of NASA's Moon to Mars program, Kshatriya is responsible for overseeing the agency's manned missions to the moon and Mars. Once the lunar infrastructure is in place, human missions to Mars could happen in the 2030s.
Beyond the research and scientific aspects of the Artemis program, Kshatriya said NASA also hopes the effort will spur opportunities for private industry.
NASA's role is to step in first and take the risks that a private company wouldn't be willing to assume, Kshatriya said. "I have to socialize the risk so the gains can be privatized later."
In the case of the Artemis program, for instance, once a lunar gateway is in place, "anyone can piggyback off that infrastructure," he said.
That goal of initial public investment in space followed by private investment has begun to gain traction in recent years, said Kathleen Howell, the Hsu Lo distinguished professor of aeronautics and astronautics at Purdue University.
"It's not all NASA anymore," Howell said. "There's a huge commercial emergence going on right now. There's a lot of small companies. There's a lot of big companies."
Some of those private companies are high-profile ones like SpaceX, Blue Origin and Virgin Galactic, all of which are focused on space travel.
But another example, Howell said, can be found in the satellites farmers rely on for weather data and other information. That data used to come from NASA satellites, but now, many private companies launch their own satellites to collect this data.
Howell—who is co-chair of Purdue's cislunar space initiative, which traces back to 2019—said private companies began to get involved with space activities about a decade ago, and that momentum has accelerated noticeably in the past five years.
Purdue has deep ties with NASA—27 Purdue alumni have gone on to become astronauts, including Neil Armstrong and Virgil "Gus" Grissom. The university's professors and students have also been involved in NASA-related research, and graduates work at NASA and aerospace companies.
While celebrating the 50th anniversary of the 1969 moon landing, Howell said, Purdue realized the need to start planning for the next 50 years of space exploration—a future in which private companies now play a significant role.
To that end, she said, Purdue is evaluating the research and educational offerings it needs to be engaged with to best serve space exploration in the future. "This is a really interesting time in space development."•
Please enable JavaScript to view this content.