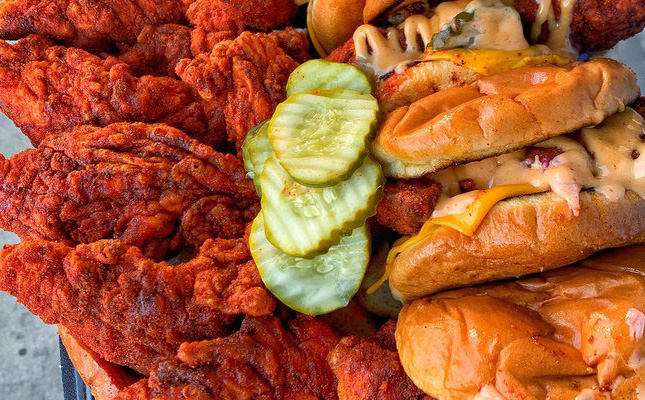 Indianapolis will soon add to its small flock of hot-chicken restaurants with the entrance of another chain, which is planning on nesting on Massachusetts Avenue downtown.
A group of franchisees based in Fort Wayne intends to open a location for the Los Angeles-based chain Dave's Hot Chicken at 530 Massachusetts Ave in the Pennrose on Mass Apartments development, according to construction design information filed on Sept. 21 with the state.
The Mass Ave location is part of a larger plan to open at least 10 Dave's locations in central Indiana. The franchise group Dave Diggity signed a deal with the chain earlier this year to open 15 Dave's Hot Chicken locations in Indiana and another 13 in the Columbus, Ohio, market.
The restaurant in Pennrose on Mass will be about 3,200 square feet, according to the state filing.
The Dave Diggity franchise group is composed of partners Todd Hollman, Tyler Freeland and Matt Fortney. The three are experienced restaurant franchisees. Through the franchise group Pizza Hut of Fort Wayne Inc., they own and operate more than 40 Pizza Hut locations in northeast and central Indiana, including Hamilton and Boone counties.
Freeland's grandfather, the late Dick Freeland, established Pizza Hut of Fort Wayne Inc. in 1972.
Hollman told IBJ in May that the group was considering locations around Indianapolis, including downtown sites, as well as neighboring suburbs in Hamilton and Johnson counties. The group also has franchise rights in Fort Wayne, Lafayette, Bloomington and Muncie.
Hollman said the goal was to have all 28 of the Indiana and Ohio locations open within five years. It's unclear whether the Mass Ave location will be the first to open. The Dave Diggity partners didn't respond to requests for comment from IBJ on Monday morning, and the chain's website doesn't list any Indiana locations as "open" or 'coming soon."
Dave's Hot Chicken offers a limited menu focused on "Nashville hot"-style chicken, with seven levels of heat ranging from "no spice" to "reaper."
The concept was born in 2017, when chef Dave Kopushyan and three friends teamed up to serve chicken and side items in a pop-up location in an East Hollywood parking lot. After six months, they opened their first physical location in January 2018 in East Hollywood.
The company now has 25 locations spread across California, Texas, Nevada, Illinois, Colorado, Oregon and Ontario. Another 11 locations are listed on the chain's website as "coming soon" in California, Texas, Ontario, Michigan, Colorado and Illinois.
According to the restaurant industry publication QSR Magazine, Dave's Hot Chicken expects to open 40 locations this year, and it has inked deals with 26 franchisees who plan to open 359 locations, including sites in the Boston, Oklahoma City and Cleveland areas, among others.
Dave's Hot Chicken's CEO is Bill Phelps, who co-founded Wetzel's Pretzels and was also an original investor in the Blaze Pizza restaurant chain.
The hot-chicken trend already has taken flight in the Indianapolis area. Louisville-based Joella's Hot Chicken entered the Indianapolis market in 2016 and now has three restaurants in Carmel, Broad Ripple and on the East 96th Street corridor.
California-based World Famous Hotboys is planning a restaurant in the former location of Peppy's Grill at 1004 Virginia Ave.
Please enable JavaScript to view this content.