The pipeline of new downtown hotels has stayed mostly intact during the pandemic, despite concerns from lenders and analysts about a slow, drawn-out recovery for the national hospitality industry.
None of the projects in the city's central business district has definitively been canceled since the pandemic began, IBJ research has found. In fact, three new downtown properties have opened since last December, with another three scheduled to debut later this year.
Still, at least a few developments have been put on hold until the Indianapolis market's hotel occupancy figures stabilize, which experts say could still take several years.
Brian Tkac, an analyst with Tennessee-based hotel research firm STR, said most Midwestern downtowns have seen an uptick in hotel occupancy since the start of the year, but midweek figures are still generally low.
"We're starting to see a comeback, but midweek is not nearly as resilient of a return to demand as we've seen with the weekends," he said. "Indianapolis always sees this enormous swell of leisure travel and groups, and we've seen that on the upswing since April."
That upward trajectory is expected to continue through the rest of the year, with major conventions such as the National FFA, FDIC International and Gen Con planning returns later this summer and fall, and the Performance Racing Industry eyeing a crowd of about 60,000 in December.
Olivier Gompel, a hotels expert with the Chicago office of Dallas-based CBRE, said he and other analysts are keeping a close eye on long-lead events like conventions and how they perform through the rest of the year.
"That will be really telling how the markets do in the fall," he said. "It will really help us understand a lot more about where we are, but right now we're seeing, year-over-year, that numbers are looking much stronger."
Tkac said the industry is generally comparing current-year figures to 2019 because of the cratering effects the pandemic had on the hospitality industry in 2020.
Using that measuring stick, this year's numbers in Indianapolis so far have looked rather strong. The city's occupancy rate as about 65% occupancy during a four-week period ending the second week of July—off by just 8% from two years ago.
Business travel lagging
Still, the key metric of business travel that Indianapolis and other major cities use to sustain themselves during the week could be slow to return.
The American Hotel and Lodging Association released a report earlier this month that said most of the country's top hotel markets are in recession or depression due to the extended loss of business travel.
The study, which didn't include Indianapolis, is based on data from May that found cities are generally facing a 50% reduction in revenue per available room down, compared with 2019.
A Federal Reserve report known as the Beige Book, released July 14, reported that hotel "occupancies increased due to robust leisure travel activity; however, hotels reliant on business travel continued to experience weakness."
But Tkac said the average daily rate, a separate metric that looks at how much hotels are charging, is improving and returning to pre-pandemic levels.
In Indianapolis, the four-week moving average revenue per available room for the period ending July 10 was $69.04—down about 20.5% from a comparable period in 2019. The average daily rate was about $107, about $13 lower than two years ago.
But even with the rebound, financial institutions have been slow to relax the reins on their financing for hotel projects—although they've loosened some since the start of the year. Smaller projects more targeted toward leisure travelers are having greater success in securing the funds needed to start construction.
Tkac said he believes that the Indianapolis pipeline is in rather good shape, as are the pipelines for many other cities in the Midwest.
"We're seeing very healthy figures," he said. "Of course, every market is different, depending on their demand variables and their supply variables."
Most all projects that secured financing before the pandemic are moving forward, although some are continuing to work with their lenders to ensure they time construction in the most effective way, Tkac said.
"Some of that supply growth has been derailed and cut back or abandoned completely in some cities, where it just didn't make sense to continue," he said. In most cases of cancellation, "the market or the location was a risk when looking at new development or new construction."
Finding financing
CBRE's Gompel said that most of the hotels that hadn't yet secured financing that are having the best luck with finalizing those efforts now are those with "100 to 120 rooms, because they can come in and they tap into existing demand in the market."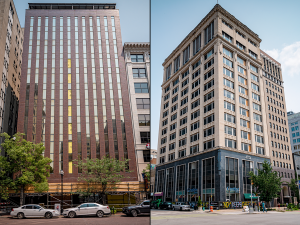 In an email to IBJ, Everwood Hospitality Partners Principal Amit Patel said his Columbus-based firm's Aloft hotel project on East Market Street is expected to open by "late 2021," with construction now underway.
Patel didn't immediately share why the project was delayed before the pandemic—it was first expected to open in fall 2019—but said labor challenges and supply chain issues complicated matters in 2020. The project is expected to feature about 128 rooms.
"The team has responded well dealing with those unforeseen pandemic-related problems, and [is] committed to completing the project," he said.
Patel also didn't share whether financing was in place before the project stalled in 2019.
Rob Hunden is involved with the Motto hotel planned for the former King Cole building, just south of Monument Circle. He said while the project at the northeast corner of Washington and Meridian Street is moving forward, the price has skyrocketed due to supply costs and the general state of the building.
"The costs, like with everything else, have gone way up," he said. "Especially once we got into the building and realized how much work it really needed just to stabilize it. It's over 100 years old."
Initially, the 108-room project was expected to cost $25 million to $30 million, but now the cost is pushing $48 million. It could also include up to 116 keys, Hunden said.
The development team, led by Chicago-based Gettys Group, is also in discussions with the city on "various incentive" options tied to the project, but Hunden declined to offer additional details because those discussions have not concluded. Several city officials have taken tours of model rooms and the rooftop area, which will serve as a restaurant and patio space.
The project is expected to begin full construction by the end of the year.
Mike Wells, president of REI Real Estate, said he and his partner White Lodging are holding off on the development of a dual-branded hotel on South Meridian Street, but the project hasn't been fully scrapped. The AC/Moxy hotel, which has yet to fully secure financing, is expected to be seven stories and feature a combined 245 rooms.
Wells said he expects there will still be some attrition among active Indianapolis projects, with his project dependent on demand once the pipeline is fleshed out a bit more.
"We'll probably just wait for a while," he said. "We love the site, so we'll just wait for a while until we see where the market conditions are and make a decision then."
Wells said that while most markets are doing well in their recovery, "the normal rules don't apply" to Indianapolis because of its emphasis on convention traffic. The city began welcoming back youth sports and convention events—albeit those with smaller capacities—in July, when few other cities were doing the same.
If Visit Indy "does its job—which I have every reason to believe they will—we should come back rather well next year," Wells said. "But it's not like we're over reliant on business travel and leisure travel, because most of it comes down to conventions and events. And that's a good spot for us to be."
New openings
At least three hotel projects—the Bottleworks Hotel, the Tru by Hilton and TownePlace Suites—have opened since December. And three more, including the Hotel Indy, are slated to open later this year.
"While a portion of Indy's slated hotel projects have hit pause, multiple projects have defied national pandemic trends by forging ahead, ultimately benefiting the city's tourism ecosystem," said Chris Gahl, senior vice president with Visit Indy.
He said those projects—specifically the swanky Bottleworks hotel and hyper-local boutique property Hotel Indy—"are keeping meeting planners' attention on Indy, while indicating our city is more resilient than other major cities."
Steve Alexander, an architect and representative for multiple downtown hotel projects, said he's seeing positive indications from lenders now, as some of the developments in which he's involved go after financing again. "I think everybody sees that within a few months, all of the categories of hospitality are going to be coming back. It may be a little light on the business traveler side, but there's other sectors that are growing that I think we'll be able to capture."
Alexander said he expects the city will strengthen its leisure market in the coming years, beyond a focus that's generally on conventions and events.
He said he also expects the pandemic "wiped out a few projects that were planned downtown," most of which were in such early planning stages they hadn't yet been made public. He said he's not aware of any specific developments that had been announced before March 2020 that aren't moving ahead.
In doubt
Perhaps the most nebulous of hotel projects in the downtown pipeline is Bruce Bodner's proposal for the Morrison Opera Place building.
Bodner planned a $60 million hotel and residential development at 47 S. Meridian St, with 18 new stories to be built atop the four-story building there. The tower would accommodate 220 hotel rooms, along with dozens of residential units and a signature restaurant.
But he has since begun looking for a long-term tenant for the first-floor restaurant space—formerly occupied by Hard Rock Cafe—and said he isn't sure what will come of the hotel project, particularly given challenges finding financing and investors before the pandemic even began.
Larger projects, like the massive redevelopment of Pan Am Plaza, are holding off until at least late 2022, with hopes of opening in a fully stabilized market.
The developers of the project signed an agreement with city officials in January to move the project ahead on those terms, promising to build at least one hotel valued at no less than $175 million (it's expected to be closer to $300 million).
A second hotel is also planned for the property, but that would only be built after several years of consistent occupancy figures.
Several developers didn't respond to IBJ's requests for updates on their projects, so it's unclear what the status is of other projects like Drury Development Corp.'s redevelopment of the former IBJ Media building at 41 E. Washington St. or the Kimpton, whose developer Loftus Robinson could finally be nearing a deal to restart work on the Wilshaw in Speedway.
"I think it's more short-term pain that people are trying to avoid," STR's Tkac said. "But long term, I think these [hotels] are really beneficial to economic growth and retail markets. Most will move forward."•
Please enable JavaScript to view this content.