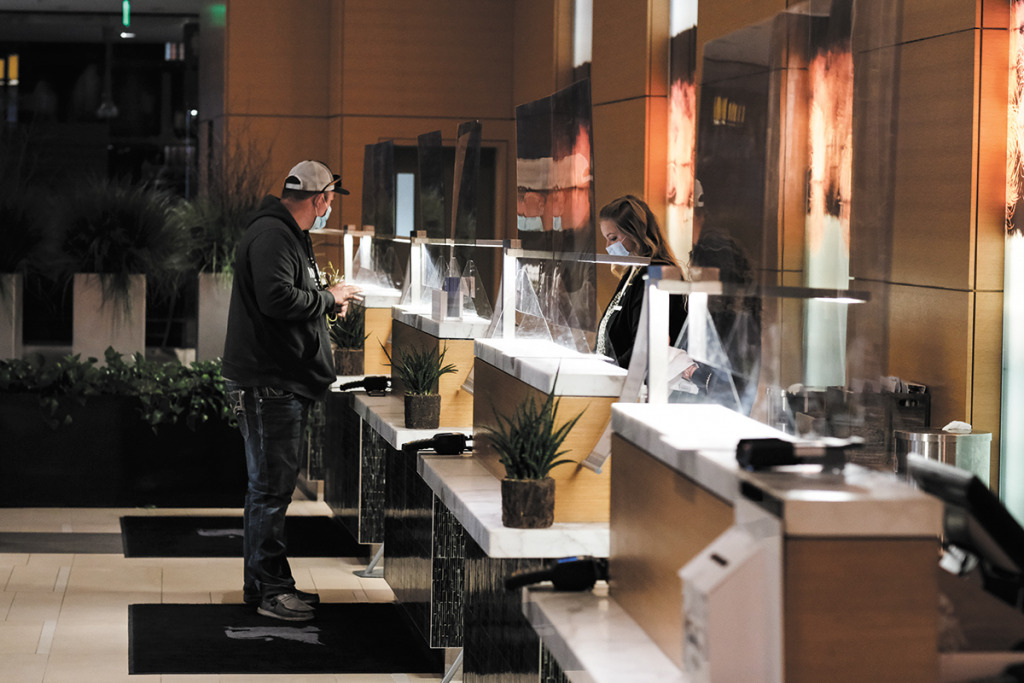 Downtown hoteliers say they're confident they will be well-staffed and ready in six weeks when March Madness comes to town, despite a slew of unanswered questions about how the event will actually unfold.
Five of the city's most prominent hotels, accounting for more than 2,800 rooms, will house the 68 teams in the three-week NCAA Division I Men's Basketball Tournament that tips off March 18. Those are the JW Marriott, Marriott Downtown, Westin, Hyatt Regency and Le Meridien.
Thousands more rooms are likely to be used by other travel parties, including families, broadcast teams, media personnel and event staff. So far, though, the NCAA hasn't finalized what hotels will be used for those groups, creating challenges for downtown properties to adequately staff up in time.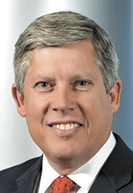 Getting ready for a big event is always challenging, but it has been nine months since the hotels have been fully staffed—and some have simply been closed or working with a skeleton crew.
Phil Ray is general manager of the JW Marriott Indianapolis, which is expected to host at least 26 teams. He said the NCAA and its partner hotels have been discussing event execution for weeks, but some finer details are still not ironed out.
He said the release of the tournament schedule last week has helped the hotel begin to work through its needs. Some hiring is underway, with Ray hopeful he'll be back to at least 60% of typical staffing levels by early March. Current staffing is around 35%.
"We know part of it is just going to be a normal [staffing] ramp-up as we're starting to see business build," he said. "We've got those key positions filled, but it's still a little early to know just even where the major needs are going to be, operationally."
Ray has said he's not "overly worried" about staffing, because plenty of high-quality workers are looking for jobs in the industry.
So far, all the people the JW has brought back have been rehires from pandemic furloughs, although Ray acknowledged some of the industry's talent has left for other jobs.
"It will probably be a mix of everything, but we'll continue to [bring] back our [furloughed] staff first since we don't have to retrain them," Ray said. "We've been very fortunate we haven't had to go to the outside [hires] yet."
For each hotel, staffing needs will fluctuate throughout the tournament, since losing teams will likely leave town almost immediately. CBS Sports, citing an internal NCAA report on protocols in place for the tournament, reported that teams will be limited to travel parties of 34 people, and each person will get his or her own room. Teams with automatic bids will begin arriving Saturday, March 13, while the other 37 at-large teams will be brought in March 14 and 15.
Story continues below graphic.
A much larger scale
Ray said culinary services will be a major focus of restaffing, given that teams will be required to have at least two of their three daily meals provided by their host hotels. Teams will be allowed to cater in a third meal, likely from a pre-selected list of vendors
The JW will likely use staff from other properties in parent company White Lodging's portfolio to help with meal preparation and distribution, Ray said.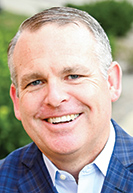 Tournament preparation this year is similar to that of other Final Four years, he said—just on a tighter time frame and a much larger scale. "We've done big events like this before, so we're confident we and the other hotels can pull this off."
Patrick Tamm, president of the Indiana Restaurant and Lodging Association, said the tournament and other events are expected to bring "a welcome increase" to the number of people employed in the hospitality sector—even if the figure will still be nowhere near pre-pandemic levels. He said it's too soon to know how many jobs the tournament will bring back—or how long those workers will keep their jobs.
But he has no concerns about hotels' ability to find enough workers for the tournament.
"We have enough of a lead … that we'll be able to tackle it just fine—it's not like they sprung this on us a week ahead of the event," he said. "At the same time, we all have to start preparing for a variety of contingencies."
Among those, he said, is whether fans will be permitted at any point during the tournament; if that's the case, "hotels will adjust accordingly."
An industry source told IBJ in early January that the NCAA is generally focused on securing permission for fans at the Final Four games—to be played April 3 and April 5. However, the Marion County Public Health Department has so far said "no final decision" has been made about whether general admission will be permitted at any games.
Renting every room
Already, the NCAA plans to rent every room in each of its five team hotels for the duration of the tournament. Renting massive room blocks for big events isn't unusual, and often comes with a heavily discounted rate. But it's rare that entire hotels are rented.
The goal is to create a "bubble" in the downtown corridor that would connect the hotels to practice facilities at the Indiana Convention Center, which will house 12 practice courts. Teams will also be permitted to practice at the tournament venues.
Agreements between the hotels and the NCAA are expected to bar the properties from opening to other guests during the tournament—a bid to ensure limited contact between the teams and the general public. A separate IBJ source said that plan might change, or remaining teams after a certain round might be consolidated into fewer hotels, which could open unused properties for fans if they're permitted.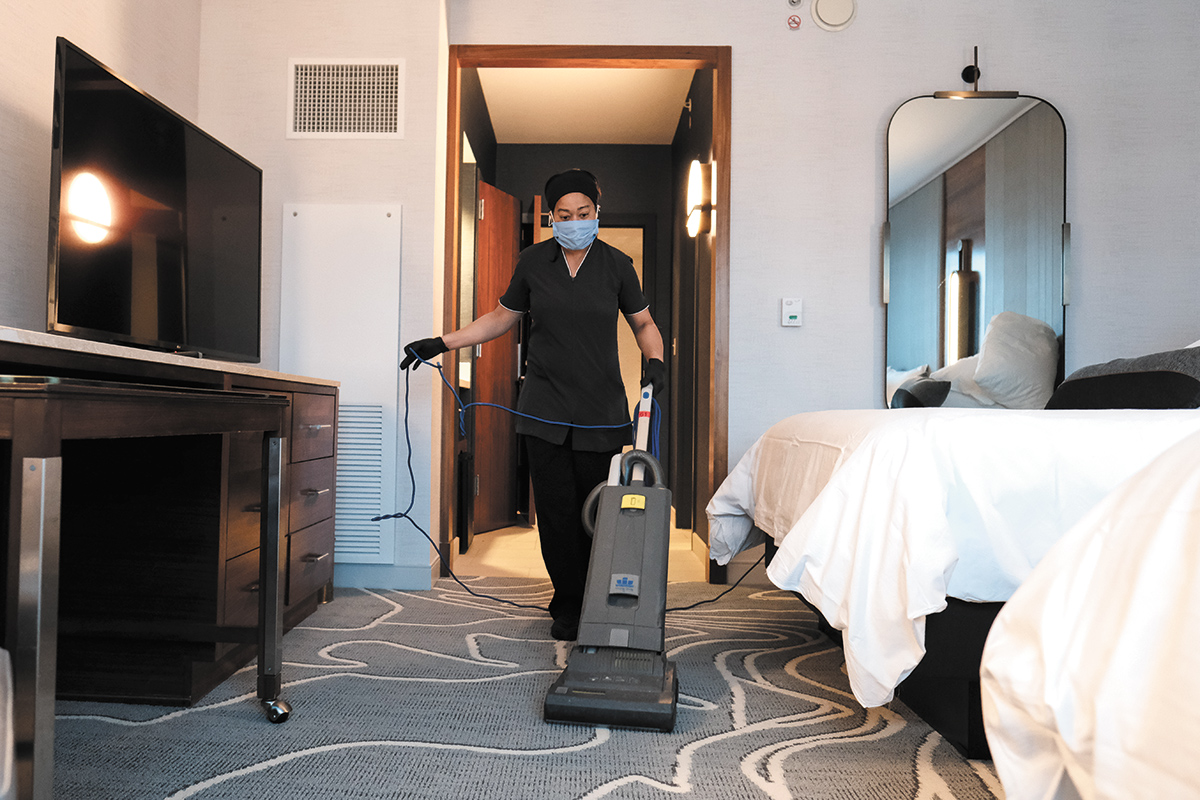 That doesn't mean thousands of additional rooms downtown will go to waste.
The slate of Tier 2, or secondary, hotels has not been finalized, but it's likely several prominent downtown properties will be in the mix. In fact, most of the 7,600 downtown hotel rooms are expected to be used in some capacity, either as an official partner hotel for the tournament or as overflow for fans flocking to the city to be near—if not part of—the action.
Michael Kauffeld, general manager at the Conrad Indianapolis, said he is advising his staff to be flexible throughout the tournament, with hopes for overflow business or to be involved some way directly with the NCAA's efforts.
"There will be plenty of business in the city for everyone," he said, "because the five team hotels are not going to be able to take on additional customers."
The Tier 2 hotels will likely host media, broadcast partners, and families of team members. Each school will be allowed to have up to 420 family members at its games. There's been no indication yet what restrictions will be placed on media or the NCAA's broadcast partners.
"We plan on being filled to capacity over these dates," Kauffeld said. "So, we're already planning out what it's going to take to do that."
Visit Indy's Chris Gahl, who is directly involved in discussions with the NCAA, said plans for the downtown hotel landscape in late March and early April have not been finalized.
"We're helping think through how many more potential hotel rooms would be needed to welcome additional guests outside of those essential visitors participating in the actual games," he said. "Driven by the NCAA, we are anticipating additional information on just how many more hotel rooms, if any, are needed in the coming weeks."
'Move fast and solve problems'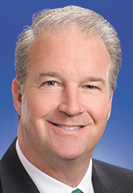 Generally, hoteliers said their frustration over the late push to bring the event to town is tempered by their gratitude the tournament is coming to the city at all—and the boost in business it brings to kick off springtime.
Jim Dora Jr., whose General Hotels Corp. owns the Crowne Plaza downtown along with several other hotels in the city, said he understands that hotels are only one of several factors the NCAA and its partners are discussing.
"I have no malice towards the NCAA," he said. "They're trying to figure out what parameters they can operate under, and until they know and then can tell us exactly what they need us to do, we just have to wait and see."
"Since there's no other demand in the city," he added, "we'll just have to move fast and solve problems and make things happen, but that's what hoteliers do."
He said one of the biggest challenges for his and other hotels is determining how many people to hire.
One problem is that, while downtown is hosting a relatively strong slate of events in the runup to March Madness, those events occur largely on the weekends. At least three more weekend events are on the calendar through early March that could each draw at least 5,000 people downtown. But those events have done little to help with weekday occupancy, which makes staffing more difficult.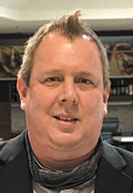 "We have plans; we've been dealing with the ramp-up in business over the weekends," Dora said. "But in all honesty, it's hard to bring a whole bunch of people back to work when you can't sustain that."
Some hotels essentially gave up during much of the pandemic. The Indianapolis Marriott Downtown shuttered for nearly 10 months, with the exception of hosting NFL teams, before it reopened this month for weekend events only.
Bill Cherry, general manager of the Courtyard by Marriott at the Capitol, said the NCAA contacted his hotel about being involved in the tournament in some capacity but didn't specify what that role might be.
He said he is preparing his staff for the best-case scenario, with hopes the bet pays off.
"You just have to go in expecting it to happen," Cherry said. "If it doesn't, it's easier to make the adjustments later, but it's on the calendar. We're planning ahead, assessing what we need to run a full hotel for whatever amount of time—a week, two weeks, whatever it is. We have to be prepared."•
Please enable JavaScript to view this content.