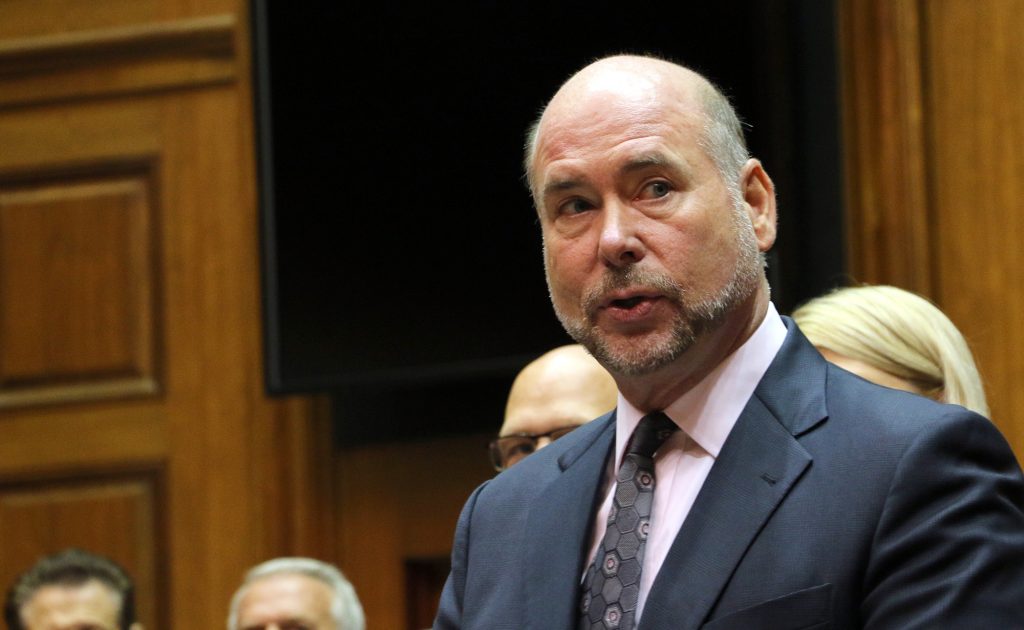 House Speaker Brian Bosma announced Tuesday afternoon he'll step down at the end of the 2020 legislative session—likely in March—and won't seek re-election as he takes a new position in GOP politics.
Bosma, 62, made the announcement during Organization Day, the ceremonial start of the 2020 session. He told lawmakers he will take over as the national chairman of the Republican Legislative Campaign Committee.
The Republican caucus will meet in the next two weeks to choose a speaker-elect, whom Bosma has pledged to work with this session to show him or her "every bit of the job."
Bosma—who is the longest serving House speaker in Indiana history—said his hope is for the chamber's new leader to be sworn in by the full House as session closes.
The 2020 session will mark Bosma's 34th as a lawmaker. He was first elected in 1986 and has served two stints as House speaker, a role he's most recently held since 2010. He represents the northeast portion of Marion County and parts of Hamilton and Hancock counties.
"This is a remarkable place," he said. "Now, I may have changed my mind at the end of the session, but this is a remarkable place where we get along. We may disagree. We may disagree very strongly, but we cast a vote and move onto the next one."
Gov. Eric Holcomb said in a statement that Bosma's phone number will remain on his speed dial as a trusted friend.
"So many know Brian Bosma for his contributions of unparalleled consequence at a time when our state needed strength in the Speaker's chair. Others know him for his incredible capacity to give to causes serving those most in need," Holcomb said. "Speaker Bosma's the type of state leader you don't replace, you only follow."
House Minority Leader Phil GiaQuinta, D-Fort Wayne, that Bosma's public service "demands respect and appreciation."
"I have known Speaker Bosma since I came to the Indiana House back in 2006 and have found him to be a good friend and a worthy adversary," GiaQuinta said. "I can only wish him well in the years to come."
Senate Minority Leader Tim Lanane thanked Bosma "for over three decades of public service."
"While we may not have always agreed on the issues, I have enjoyed working with him in leadership as we have always fought respectably to make the best path forward for Indiana," Lanane said in a statement. "I wish him all the best on his future endeavors."
Under Bosma's leadership, the Indiana House has cut taxes and reduced government regulations. He led the fight for right-to-work legislation, which led Democrats to flee the Statehouse and stay in Illinois in 2011, until Republicans agreed to shelve the legislation. The House then passed the bill in 2012.
Bosma also led the House during great changes in education policy, with an emphasis on charter schools and a private-school voucher program. And in the past, he supported efforts to ban gay marriage.
Still, Bosma said more than 80% of the new laws passed last session received bipartisan support.
Democrats, however, have criticized Bosma for not doing enough over the years for K-12 public schools and for teachers. In fact, thousands of teachers were rallying at the Statehouse demanding higher pay as Bosma made his announcement.
"I'm not done yet, and I look forward to working with my House and Senate colleagues in the upcoming legislative session to take us over the finish line on time and under budget," he said.
Bosma has faced other controversies as well. A former intern for House Democrats accused Bosma of a consensual sexual encounter in 1992 when she was 20 and he was 32. Bosma denied the allegations and the House Ethics Committee dismissed a complaint, citing insufficient evidence.
On Tuesday, most of the comments about Bosma were complimentary.
Indiana Chamber of Commerce President and CEO Kevin Brinegar said in a statement that Bosma's "courageous leadership" on numerous policies—especially those related to business climate, government regulation and fiscal responsibility—directly correlate to the state moving up in national rankings in those areas, making the state a better place for businesses and employees to prosper.
"Over the last two decades, there has been no better partner for the Indiana Chamber in working to move Indiana forward than Brian Bosma," Brinegar said.
Indiana GOP chairman Kyle Hupfer echoed those sentiments, saying the party and state are stronger because of Bosma's leadership and service.
"Speaker Bosma's leadership in the Statehouse has made Indiana more prosperous and improved the lives of generations of Hoosiers," he said in a prepared statement. "We're now a state of balanced budgets, able to make record investments in education and infrastructure, attract jobs from all over the world, and improve the health and wellness of our citizens."
And Senate President Pro Tem Rodric Bray, R-Martinsville, said Bosma "has been a pillar of Indiana's policymaking for decades and has played a huge role in landing Indiana in the enviable position we now find ourselves."
"The speaker will leave enormous shoes to fill, but I know the House of Representatives has many talented individuals who will rise to the occasion," he said. "While I hate to see him leave, I certainly respect his decision, and acknowledge that our work together is not yet done. I look forward to one final productive session alongside the speaker and wish him all the best in the next chapter of his life."
Please enable JavaScript to view this content.