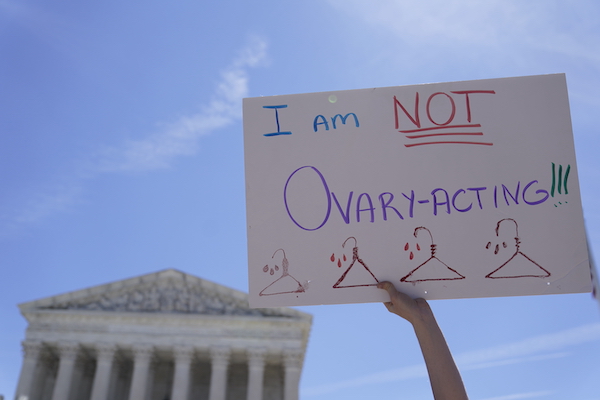 The U.S. Supreme Court's decision to overturn Roe v. Wade has put Indiana business leaders in an awkward position: Do they take a stance on abortion rights or stay silent?
Either choice comes with the risk of alienating a large number of employees, customers and investors in an age when growing corporate social activism has put more pressure on businesses to enter the nation's bruising culture wars.
In Indiana, the situation got even more awkward on Thursday after two company executives came forward to say they did not authorize their signatures on a letter—circulated among Hoosier technology industry leaders and published by The Indianapolis Star—calling on Gov. Eric Holcomb to protect women's reproductive rights.
The letter was later removed from the newspaper's website, and the publication issued a correction, noting that seven business leaders originally listed as signatories had not signed off on it. IndyStar's corrected report said the letter originally listed more than 60 signees. IBJ was unable to independently confirm the number of business leaders who had signed the letter, though it appeared to be dozens.
Since the high court's decision, big-name companies based in other parts of the country—such as Disney, Starbucks and Facebook parent Meta—have announced plans to offer financial assistance to employees who will have to travel out of state for abortion services.
Salesforce, which is based in San Francisco and has a large presence in downtown Indianapolis, has offered to relocate Texas workers concerned about their ability to get an abortion in that state, and supermarket chain Kroger is among a handful of companies offering to pay for out-of-state travel for employees seeking an abortion.
But some of Indiana's most prominent employers, including Eli Lilly and Co., Cummins and Vera Bradley, have not taken a public stance on the issue of abortion rights, at least for now.
Representatives from those companies either declined to comment or did not respond to a request for comment from the Indianapolis Business Journal.
Chad Kinsella, an associate professor of political science and director of the Bowen Center at Ball State University, said Indiana companies are treading lightly, given the Republican supermajority in the legislature.
"You have to be careful politically not to make that supermajority angry," Kinsella said. "They have to walk a very careful tightrope with this."
High-ranking executives are likely to be keeping a close eye on Indiana's Republican-dominated Legislature when it convenes for a special session on July 25 and is expected to enact further abortion restrictions with the blessing of the state's Republican governor.
Holcomb told reporters Thursday he would sign into law any abortion-restricting measures passed by the Legislature during the special session.
Checking the temperature
Businesses aren't the only ones grappling with the controversial issue.
If the decision by statehouse Republicans to delay action on an abortion bill by several weeks is any indication, GOP lawmakers have not reached consensus on what that legislation should look like.
The biggest debate is expected to be over whether to ban abortion altogether or provide exceptions for victims of incest and rape and to protect the life of the mother.
Sen. Vaneta Becker, an Evansville Republican, worries that Indiana could ban abortions for women who are victims of rape or incest.
"I don't think you should say to a rape victim, 'You're going to take this fetus to term,'" Becker said. "I think it's wrong."
Becker said House and Senate leadership are currently polling their members to try and establish a consensus. And she said she's been approached by many of her constituents who, despite conservative views, do not support the Supreme Court's decision to overturn Roe v. Wade.
Laura Merrifield Wilson, an associate professor of political science at the University of Indianapolis, isn't surprised to see lawmakers grappling with the nuances of abortion legislation.
"There's a fairly obvious sizable fissure within the Republican Party between the more moderate, establishment Republicans and those that are more conservative," Wilson said. "We've seen the last few times the legislature has met, particularly since COVID, an antagonistic legislature relative to the governor."
Several Republican lawmakers who spoke with IBJ said they expect Sen. Liz Brown, a prominent anti-abortion Republican, to sponsor abortion legislation. Brown did not respond to IBJ's request for comment.
A bridge too far?
In Texas, Republican lawmakers have introduced legislation that would prohibit companies from doing business in the Lone Star state if they offer to cover abortion costs.
While Indiana companies may be hesitant to take a public stance on the debate over abortion rights, many would at least take issue with the proposed Texas approach, said Kevin Brinegar, executive director of the Indiana Chamber of Commerce.
"We are going to be watching the legislation and hope it doesn't go as far as to restrict what businesses may choose to do in response to any legislation," Brinegar said. "We have a position against government mandates and government interference in benefit programs, including health coverage."
Brinegar said such restrictions would be an interference of interstate commerce laws and notes that federal statute allows companies to stipulate the health care and benefits packages for their employees. He said the Indiana Chamber of Commerce does not hold a position on the issue of abortion rights.
Some entrepreneurs believe business leaders should go a step further.
Jenny Vance, an Indianapolis entrepreneur who handles sales for tech startups, said abortion legislation will hurt Indiana companies trying to attract a competitive workforce.
"Many CEOs that I've talked with in the business community this week care deeply about women's rights," Vance said. "They see this potential change in legislation as a human rights issue that would also have very severe consequences for our state economy."
Some lawmakers, however, believe business leaders should stay away from such legislative debates.
"I think they should stay out of it," said Rep. Jim Lucas, R-Seymour. "With that being said, it's their right to make their opinion heard."
Please enable JavaScript to view this content.