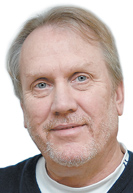 Howey Politics Indiana, the longtime publisher of newsletters and a web site dedicated to politics, announced this week that founder Brian Howey had suffered a fall that resulted in a serious head injury.
Publication of HPI's weekly Thursday newsletter is postponed indefinitely, the company said, but news content, political analysis and opinion pieces by  contributors will continue to be published at the HPI website. HPI social media accounts also will remain active.
HPI's Daily Wire report was not published this week but is scheduled to return Monday.
HPI reported on its website that Howey had a serious subdural hematoma that required surgery to relieve pressure on his brain. HPI said Howey fell several weeks ago and is being treated in St. Vincent Hospital's intensive care unit.
"The prognosis remains good, but Brian faces a recovery of unknown duration that precludes his working and writing at this time," HPI reported.
Howey, 63, launched his own newsletter, then known as The Howey Political Report, in 1994 after leaving the Fort Wayne Journal Gazette. Howey also writes a syndicated political column published in more than two dozen publications statewide. He is a former IBJ columnist.
Please enable JavaScript to view this content.