IBJ Media, publisher of the Indianapolis Business Journal, announced Tuesday that it has acquired Grow INdiana Media Ventures LLC and its Inside INdiana Business brand, which includes television, radio and digital products.
The companies did not disclose the terms of the deal.
The Emmy-award-winning "Inside INdiana Business with Gerry Dick" television show will become a new division of IBJ Media and will continue to air across 15 stations statewide, while "Inside INdiana Business Radio" continues to be carried on 22 stations. Gerry Dick, who created the TV program in 1998, will lead the division.
Both IBJ and Inside INdiana Business will continue to operate separate websites, with IBJ maintaining its focus on the central Indiana economy and business news and Inside INdiana Business focused on business coverage across the state.
IBJ Media CEO and co-owner Nate Feltman said the acquisition fulfills two goals he's had since becoming an owner of IBJ Media in 2017: expanding coverage statewide and moving into video and TV. He said IBJ Media employees, during a strategy process last year, also expressed interest in expanding the company's footprint.
"I've had a lot of respect for the work Gerry Dick has done over the past 20 years," Feltman said. "And it was a heck of a lot easier to work with Gerry on this opportunity than it would be to go out and build it on our own."
IBJ.COM EXTRA
Read about Nate Feltman's desire to foster statewide connections
here
.
Feltman and Dick began initial conversations about a deal some three years ago, but Feltman said the talks became more serious last year. Key to the agreement for both leaders was that Dick would continue to play a role in the company.
"Gerry has a strong following throughout the state—in the private sector, in the public sector, in government and economic development," said Feltman, who served as Indiana's commerce secretary from 2006-2008, during which he appeared occasionally on Inside INdiana Business Television. "I'm excited about the opportunity to work with him, to build out a true multimedia company with his experience on the video side and radio side and our experience on the print journalism side."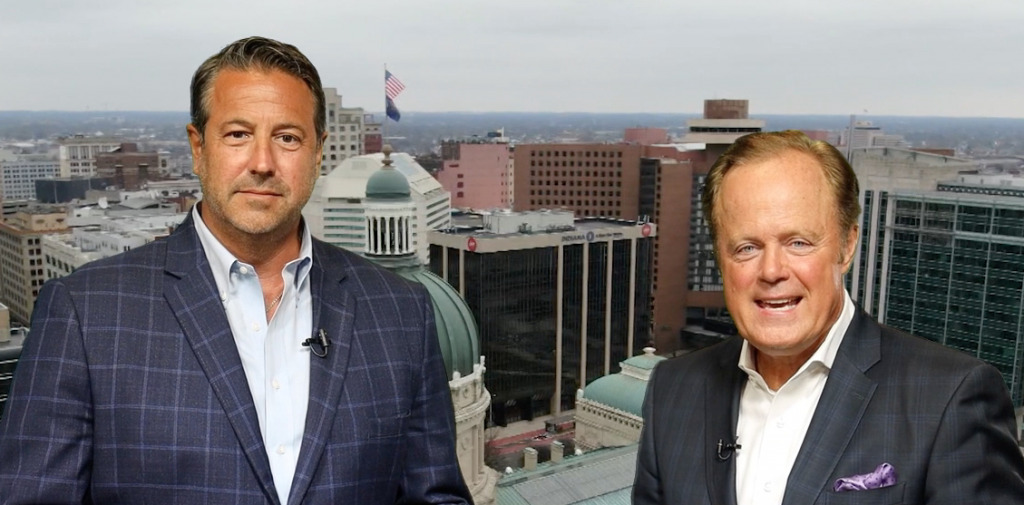 Dick created Inside INdiana Business Television in 1998 and two years later spun it into Grow INdiana Media Ventures, which he co-founded with tech entrepreneur Scott Jones. The company added radio, web and digital news products, including sponsored email newsletters, over the years.
Dick, who became the company's sole owner in 2019, said the acquisition presents new opportunities for both the IBJ and Inside INdiana Business brands.
"In this ultra-competitive environment for business news and information journalism in general, it just made sense on multiple levels to combine our two organizations," Dick said.
Still, he acknowledged, the decision to sell the company to IBJ was somewhat emotional while still an easy call. "I was just thinking, 'Man, if we can make the numbers work, there are a lot of places we can take this,'" he said. "This is a deal that makes sense for the future."
The acquisition adds 12 employees—including newsroom staff as well as those who work in sales and broadcasting—to IBJ Media's roster of 44 people.
IBJ Media dates to 1980, when Indianapolis entrepreneur John Burkhart and St. Louis businessman Mark Vittert launched Business Journal Publications. The first weekly issue of IBJ published on May 19, 1980.
In 1986, Business Journal Publications sold IBJ and other holdings for $40 million to publicly traded American City Business Journals. The newspaper traded hands again in 1988 before Indianapolis entrepreneurs Mickey Maurer and Bob Schloss bought it in 1990, shortly after the company launched The Indiana Lawyer, an every-other-week newspaper about the legal community.
In 2017, Maurer and Schloss sold one-third of the company to Feltman, who expanded his ownership to 50% in 2020, when he became CEO. In January, Feltman also took on the roles of publisher of IBJ and The Indiana Lawyer.
Feltman said the acquisition of a company focused on broadcasting is not meant to move IBJ Media away from print.
"Just the opposite," he said. "In fact, we're at a 10-year high for [IBJ] print subscribers, which has been growing significantly over the last three years—up by about 40%. So we will continue to invest in and to grow our print."
In addition to its print publication, which features in-depth stories and columns, IBJ publishes breaking news stories daily on its website that are emailed to readers through more than a dozen newsletters. It also hosts two podcasts, several awards programs honoring central Indiana leaders and a Power Breakfast series with panels featuring industry experts in health care, life sciences, real estate and technology.
Feltman said the IBJ and Inside INdiana divisions will begin looking for ways to work together to provide more expansive coverage.
"We hope the regular IBJ reader will start to see some differences, some additions, fairly soon," he said. "And I'd like to see some integration on the Inside INdiana Business side as well."
Please enable JavaScript to view this content.