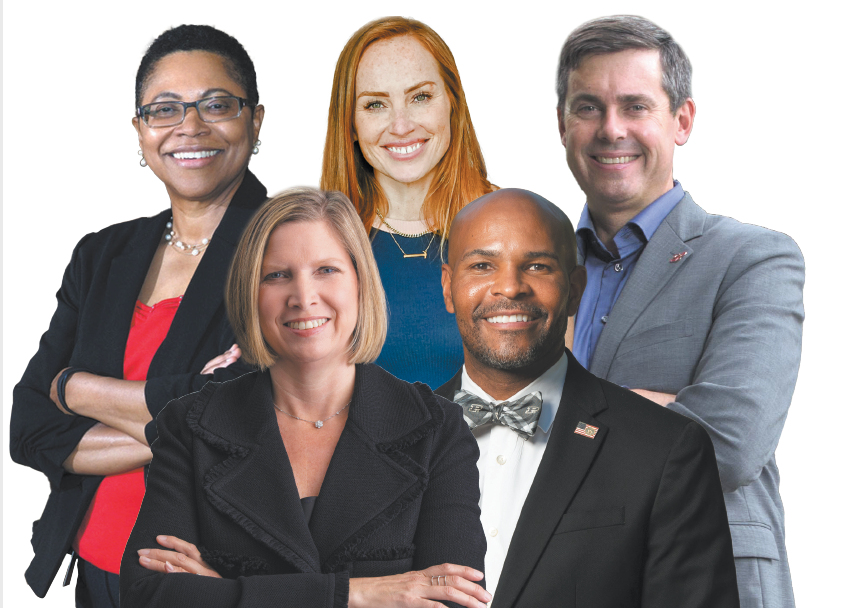 IBJ Media has named its inaugural Indiana 250, a list of the state's most influential and impactful business and community leaders, representing public and private companies, law firms, universities, not-for-profits, government and community organizations.
The list was compiled by the executives, editors and newsroom staffs at IBJ Media's three news brands—Indianapolis Business Journal, Inside INdiana Business and Indiana Lawyer—after a monthslong process that included reviewing nominations, researching Indiana organizations and interviewing community leaders across the state.
IBJ print subscribers will receive a copy of a special Indiana 250 magazine with their July 22 issue of IBJ. Subscribers to IBJ, Inside INdiana Business and Indiana Lawyer can read profiles of the Indiana 250 honorees at Indiana250.com.
IBJ Media CEO Nate Feltman said in a letter he wrote in the Indiana 250 magazine that most of the people on the influential list have been involved across business and their communities. He said the honorees are "using their influence and experience in business to help foundations, arts organizations, economic development groups and more do their jobs even better."
"We want to celebrate the work of these outstanding Hoosiers—including those who have spent entire careers serving the state and its people and those who are just getting started but are already making an impact," Feltman wrote.
IBJ Media is hosting an exclusive reception to honor the Indiana 250 on Thursday night on the Ohana floor of Salesforce Tower in downtown Indianapolis. Gov. Eric Holcomb is scheduled to speak at the event.
The Indiana 250 list features high-profile CEOs including Dennis Murphy, CEO of Indiana University Health; Gail Boudreaux of Elevance Health (formerly Anthem Inc.) and David Ricks of Eli Lilly and Co., as well as entrepreneurs, including First Internet Bank's David Becker, Keystone Corp.'s Ersal Ozdemir, and High Alpha's Scott Dorsey and Kristian Andersen.
Leaders from hospitality, law, media, manufacturing and agriculture are also on the list. Elected officials were not eligible.
Feltman said the Indiana 250 is "more than a directory or an honor roll. It's a way to help Hoosiers in one part of the state learn about leaders and organizations in other areas of the state. We hope the Indiana 250 will create a bond between influential Hoosiers and help them work together toward a stronger Indiana."
To that end, leaders from communities across the state—such as Kem Krest's Amish Shah of Elkhart, farmer Kip Tom of Leesburg, Berry Global CEO Tom Salmon of Evansville, DePauw University President Lori White of Greencastle and Hillenbrand CEO of Batesville—are on the list as well.
Indiana 250 Editor Lesley Weidenbener, who is also editor of IBJ, said the selections were not pre-determined by companies or titles. Instead, the goal was to find people who are making an impact in their industries and their communities—most often in both.
Many of those on the list are improving Indiana through the arts, the law, philanthropic work, economic development efforts and community-building. Among them: Mali Jeffers, co-founder of cultural startup GangGang; Darrianne Christian, chair of the Newfields board; Loretta Rush, chief justice of Indiana; Brad Chambers, the Indiana commerce secretary; and philanthropist Marianne Glick.
"By its nature, this is a subjective list," Weidenbener said. "We know it's not comprehensive and we're confident we have missed some great people. But our goal is to celebrate leaders who are making a difference in Indiana. And next year, we'll add new names and find additional people to honor."
Please enable JavaScript to view this content.