IBJ announced Friday it is launching a new podcast—The Freedom Forum with Angela B. Freeman—to address diversity and inclusion efforts within the central Indiana business community.
The monthly podcast, which will begin airing later this summer, will be hosted by Angela Freeman, a Barnes & Thornburg partner specializing in intellectual property law. Freeman, a former molecular biologist at Eli Lilly and Co., was the first Black president of the not-for-profit Women & Hi Tech.
She was a guest on the IBJ Podcast a year ago, discussing the importance of hiring and nurturing a diverse workforce, and was a panelist on IBJ's Technology Power Panel earlier this year.
IBJ Editor Lesley Weidenbener said Freeman was an obvious choice to host the podcast, given her breadth of experience in business, law and technology.
"Angela has a dynamic and engaging personality that we know will connect both with listeners and with guests," Weidenbener said. "And her own story coming from a rural community in Kentucky and breaking gender and race barriers throughout her career gives her a great perspective in which to talk about inclusion efforts."
IBJ Publisher Nate Feltman said the podcast is an effort to contribute to a larger community conversation about diversity.
"Business leaders in our community want to make changes in this area but they don't always know how," Feltman said. "We hope the podcast can give leaders the knowledge and the confidence they need to push forward in their diversity efforts."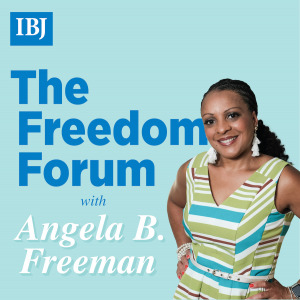 IBJ talked with Freeman about why she decided to add podcast host to her resume.
Why did you agree to host?
The opportunity. It has never been a dream of mine to host a podcast, or go to law school, or become a scientist, or be the first African American president of Women & Hi Tech—but those opportunities were presented to me.
I've been blessed to be successful at things that I get excited and authentically passionate about, like increasing diversity, equity and inclusion of women in STEM, law and business.
What is your primary goal?
A primary goal of the podcast is to educate and empower the Indianapolis and statewide Indiana business community around ways we can better reflect, leverage and appreciate the exponential power and profitability produced when diversity, equity and inclusion is the corporate and cultural law of the land.
Who do you want to have as guests?
My corporate and community advocacy and engagement for the last two decades has focused on advancing women in STEM and law. So, certainly, I hope to have strong business leaders, entrepreneurs and venture capitalists who are driving their industries by being change agents for diversity, equity and inclusion. However, I also hope to hear from some of our social, political and/or cultural influencers that are impacting businesses and our city's economy in nontraditional ways.
How will your own experiences influence the podcast?
I am an African American woman who grew up in rural Kentucky, went to college and grad school in Louisville, and came to Indianapolis, where I've established myself over the last 20 years. I've had a career that transitioned from research science to intellectual property law.
I'm also a wife, a basketball mom and a steadfast advocate for equity and equality for all. So, with all of that, I hope to bring some real talk and real humor as we discuss topics and issues related to diversity, equity and inclusion in business.
I expect it to be a very authentic program as, frankly, I really don't know any other way to be.
Who do you hope listens?
Everyone. But particularly those who have power or privilege and are willing to use it to make positive change for all.•
Please enable JavaScript to view this content.