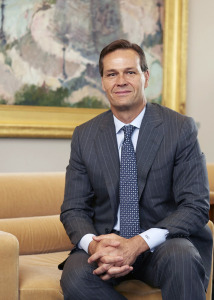 Indiana Secretary of Commerce Brad Chambers has a vision for the state to "shoot higher" in its economic development efforts, which he outlined Thursday morning in a five-point strategy.
Chambers officially presented the plan—called the 5 E's—as part of his speech at IBJ's Engage Indiana 2021 event, in partnership with the Indiana Economic Development Corp.
The game plan is made up of a host of aspirational goals that boil down into five themes—Environment, Economy of the Future, Entrepreneurship, Energy and External Engagement.
Following his appointment as secretary of commerce and president and CEO of the IEDC in June, Chambers has said he wanted the state to take a qualitative rather than quantitative approach to business attraction and retention during his tenure.
He pointed to recent Indiana "wins," from its 18th straight balanced budget and the automatic tax refund Hoosiers will get next year, to a record year for new business investments.
"But the question is, winning against who?" Chambers said. "Who are we comparing ourselves to? Just our neighbors Illinois, Kentucky, Ohio? Or should we compare ourselves to the best-performing states for growth and economic development in the country?"
The first part of the plan, Environment, focuses on encouraging people to "live, work, play, study and stay" in Indiana, Chambers said. Central to this is the state's newly launched $500 million Indiana Regional Economic Acceleration and Development Initiative, also known as the READI regional grant program.
Seventeen regions representing all 92 counties across the state formed regions to apply for up to $50 million in state matching grants for various projects aimed at retaining, developing and attracting workforce talent through strategies designed to boost innovation, entrepreneurship and improving quality of place and life.
The project requests submitted total more than $1.5 billion, more than double the program's budget, and the matching investments total around $15 billion, 10 times more than the IEDC predicted, Chambers said.
Economy of the Future hinges on looking to industries of the future. Chambers said Indiana is strong in the manufacturing sector, but there needs to be a focus on taking the next step. He pointed to adding higher-growth industries such as those involved in artificial intelligence, robotics, life sciences and micro-electronics.
As for Entrepreneurship, Chambers said the state wants to create a "user-friendly road map" to starting a business through abundant resources, information, mentorship and financial investment.
"Our goal is to become a nationally recognized landing pad for entrepreneurs and, as a result, increase new business formation," Chambers said.
The Energy plank, which includes focusing on transitioning Indiana to more renewable energy, is something Chambers said is inevitable. He said he has heard from businesses that will not locate in places without access to clean energy.
External Engagement focuses on promoting Indiana as a place to do business. Chambers called it "telling the Indiana story."
"All good businesses need a marketing regimen, and we are a great business," he said. "We need to tell our story. We need to stick our chest out more and tell our story."
Chambers added that two extra E's he intends to focus on are Equity and Education.
A panel discussion at Thursday's event with business, education and community leaders around the state echoed Chambers' sentiments for Indiana to take bolder steps and a new approach toward economic growth.
The panelists—Indiana University President Pamela Whitten, Fort Wayne Mayor Tom Henry, Ice Miller partner Melissa Proffitt, Cook Group CEO Pete Yonkman, Develop Indy Vice President of Economic Development Portia Bailey-Bernard and Central Indiana Corporate Partnership CEO David Johnson—gave their different perspectives on how to approach economic development and growth, centering on the "5 E's" plan.
One section of discussion focused on diversity, equity and inclusion in attracting economic growth.
Yonkman said many metrics of economic development are geared toward STEM careers and high-end jobs. But that leaves out a lot of communities and people. There needs to be new economic development metrics, he said. For example, a $100 million investment to build mixed-use developments in an area with a median income level of $24,000 is likely to exclude existing community members.
"We need different sets of tools to develop these communities," Yonkman said.
Bailey-Bernard said economic development goes beyond the basics of numbers, jobs and total capital investments. She said Develop Indy, in partnership with CICP and the Indy Chamber, found that other job-advancement barriers include child care, training and transit.
She said, for example, Greenleaf Foods, a plant-based food manufacturer in Indianapolis, is donating at least 5% of its savings from tax abatements from the city to child care, training and transit access for employees.
"That's what our city [and] our state needs to be—not only strong, but inclusive," Bailey-Bernard said.
Please enable JavaScript to view this content.