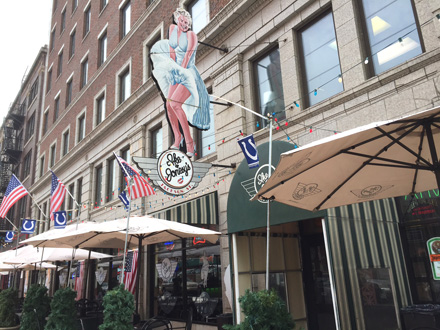 The new year will be the end of the line for downtown nightlife institution Ike & Jonesy's as the owner of the building that the bar has occupied for 35 years redevelops the property as a boutique hotel.
The owners of Ike & Jonesy's, 17 W. Jackson Place, advertised last week that it will close after its New Year's Eve party and a "Last Hurrah Celebration."
"All things must come to an end, and it's our time to leave gracefully," the bar posted on its Facebook page.
Ike & Jonesy's opened on the ground floor of the historic One Jackson Square building in 1984, run by owners Rick Eichholtz ("Ike") and Linda Jones Eichholtz ("Jonesy"). It plays on a sense of nostalgia, packed with memorabilia, serving diner-style food and featuring an iconic Marilyn Monroe cutout above its entrance.
The building was purchased for $2.62 million in 2016 by an affiliate of Sun Development & Management Corp., which told IBJ at the time that it hoped to restore the 95-year-old structure to its original use as a hotel.
It initially planned to create a location for Cambria Hotel & Suites for Choice Hotels. In 2017, IBJ confirmed that Sun instead was redeveloping the building as a 110-room hotel for Hilton's new Tapestry Collection brand.
Sun CEO Bharat Patel told IBJ in 2017 that Ike & Jonesy's would be part of the redeveloped hotel, which he estimated could cost between $15 and $18 million to develop.
In an interview with IBJ on Monday, Rick Eichholtz, 62, said he could not disclose the terms of the bar's exit from the property but said it was a mutual decision with the building's owner.
"We're leaving on good terms," he said.
A litany of physical problems has slowed him in recent years, Eichholtz said. He wasn't sure what he would do next, although he said he had been talking with other people about potentially partnering on ventures.
Patel has not responded to an IBJ request for comment.
Sun's website still lists the Tapestry hotel in One Jackson Square as a project under development.
Last week, IBJ reported that the $157 million mixed-use project slated for the Nickel Plate District in Fishers will include a five-story, 116-unit Tapestry. A Hilton representative told IBJ that the brand had another location planned "near downtown" Indianapolis and that it was expected to open in 2022. She declined to reveal its exact location.
Please enable JavaScript to view this content.